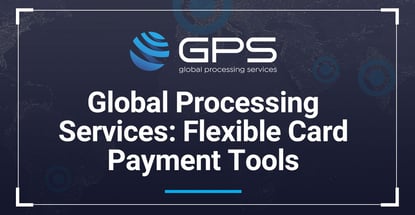 In a Nutshell: Smaller institutions that offer intuitive and targeted customer payment experiences are now competing with legacy financial providers for market share. Behind the scenes, many of those emerging fintech brands leverage the highly flexible payment platform provided by Global Processing Services (GPS), GPS Apex. The company's technology integrates with more than 40 issuing banks and partners and over 180 fintech providers in 60 countries. GPS is also certified by Visa and Mastercard to process and manage credit, debit, and prepaid card transactions globally.
As the digital transformation in financial services gains momentum, traditional brick-and-mortar institutions are closing branches, and online banks are rising to compete with legacy providers.
One company, Revolut, provides app- and card-based spending, budgeting, and investment management services to nearly 13 million customers globally. Another provider, Starling Bank, helps more than 2 million UK consumers and businesses through its industry-leading app and card system that replaces traditional banking services.
However, Revolut, Starling Bank, and many others aren't doing it on their own. Instead, they're building new services on a foundation provided by Global Processing Services (GPS). The platform manages Visa and Mastercard credit, debit, and prepaid card transactions for more than 40 issuing banks. GPS enables digital banks, ewallets, and more than 180 fintech companies to quickly innovate, scale, and compete.

"GPS offers so much more functionality for even the most discerning cardholder," said Matt Clare, GPS Chief Operating Officer.
Because GPS clients aren't bound by legacy infrastructure, they can innovate far more readily than traditional competitors.
According to Clare, European legacy banks are celebrating offering customers the ability to freeze their cards when lost or misplaced, but they're coming a little late to the party.
"GPS has been doing that since 2011," he said.
GPS occupies a space on the cutting edge of a digital restructuring in financial services and the consumer and small business driven move away from bank branches.
"Those branches and the restructuring represent significant cost, and that money is better spent on technology and innovation to drive much improved service and customer retention," Clare said.
Delivering Performance and Scalability to Diverse Clients
The locus for the company's innovation is the GPS Apex platform, which seamlessly delivers flexibility and control to clients ranging from global players like Revolut to small startups.
GPS Apex supports the full range of card processing options (including physical and virtual cards, and device-based wallets such as Apple Pay and Google Pay) with the firm's issuing partners. GPS Apex supports more than 150 currencies and local market specifics such as PSD2 in Europe, and deferred settlement in Japan.
The platform's easy scalability and simple API integrations allow clients to efficiently onboard and launch with services that fragmented legacy infrastructures may struggle with, including offering card acceptance rules around specific types of merchants, types of transactions, as well as monetary, geographical, or time-based limitations on transactions.
"With GPS Apex, you can narrow the acceptance of your Visa card or Mastercard right down to one merchant," Clare said. "That could be a fantastic anti-fraud control if the product is a business card with a very specific purpose — with one supplier, for example. Or, you could have it accepted everywhere in the world."
Those flexibilities also help fintech providers and their customers respond quickly to marketplace dynamics and shifting consumer needs. With the COVID-19 pandemic imposing shutdowns and social and commercial restrictions, for example, GPS Apex makes many novel choices possible.
"Using the GPS platform, our clients can lock cards down, so users can purchase only from a limited whitelist of retailers near where they live," Clare said. "Or, spending could be limited to, say, pharmacies and supermarkets, and there could be limits on that. In short, if a customer is unwell, trapped at home, or mistrustful of new technologies, we can provide that level of assurance."
Real-Time Data Feed Helps Address Chargebacks and Mitigate Fraud
GPS Apex is also capable of governing the granular details of transactions in real time. Through its External Host Interface (EHI) technology, the platform supports customized decision-making logic and authorization rules in a wide variety of use cases.
That means that while GPS can act strictly as a card issuer processor in effectuating transactions, it can also open up governance over some or all of those processes to clients. How the technology is implemented with each client determines the available market differentiation opportunities.
"When you transact with Visa or Mastercard through Citibank or Wells Fargo, those banks hold your balance and respond directly with approvals and declines," Clare said. "What GPS can also do is conduct numerous checks in milliseconds: card number, account status, expiry date, PIN etc. — and then send rich information on to our clients so they can participate in the authorization decision. This has numerous use cases, including multiple currency wallets, paying with loyalty points, or even a commodity such as gold."
The GPS platform can mark the transaction as approved while not holding a record of the end customer's balance because the consumer has various wallets that may include gold or digital currencies. After users select how they want to pay for the transaction, they can approve or decline.
EHI goes far beyond even that, however, granting sophisticated fraud mitigation and chargeback protection capabilities in addition to transactional control.
"We send 150 fields of data — everything from the amount, the store, the currency, and the merchant category code right through to detailed data for matching when a chargeback or presentment comes in," Clare said. "All of that allows our clients to create highly refined fraud rules for analysis and provide a lot of detail to their cardholders."
Payment Technology Fuels the Cashless Economy
The more information cardholders have about their transactions, the less likely they are to find themselves in a position to initiate a chargeback in the first place. So, there's no downside to all of this data sharing, Clare said.
GPS Apex offers transparency into the names and locations of merchants appearing on account statements — and all of its data-sharing capabilities regardless of whether GPS acts to authorize a client's transactions.
"We address both the process of raising a chargeback, when that's necessary, while also alleviating the anxiety of the customer even having to call customer service," Clare said.
GPS handles those, and many other variables, on a case-by-case basis as part of its efficient onboarding and client service processes. GPS implementation managers work with clients, schemes, issuers, technology, and other corporate partners. Every implementation is unique.
"Our clients can go live in two months," Clare said. "That does require the wind behind us, thorough preparation, an intense focus, and experience on the client side."
Meanwhile, the GPS share of the alternative finance space grows as more of its clients achieve a competitive presence and the industry continues to transform.
"I think we're going to continue to see cash disappear, and there are some good stories there," Clare said. "We're starting to see cashless payment methods reach areas of the economy where cash has traditionally been used. And as we know, wherever there's cash, there's an opaqueness in the economy."
GPS sees a bright future in the industry by helping new players get up and running and breathing life into economies in parts of the world where fintech has yet to reach.
Advertiser Disclosure
CardRates.com is a free online resource that offers valuable content and comparison services to users. To keep this resource 100% free, we receive compensation for referrals for many of the offers listed on the site. Along with key review factors, this compensation may impact how and where products appear across CardRates.com (including, for example, the order in which they appear). CardRates.com does not include the entire universe of available offers. Editorial opinions expressed on the site are strictly our own and are not provided, endorsed, or approved by advertisers.