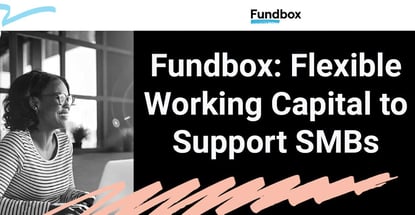 Our experts and industry insiders blog the latest news, studies and current events from inside the credit card industry. Our articles follow strict editorial guidelines.
In a Nutshell: More than 80% of small businesses fail due to poor cash flow management. But traditional lenders tend to neglect SMBs in favor of the higher end of the market. Fundbox provides flexible capital management solutions through its automated lending platform and partnerships to help small businesses optimize cash flow. Working lines of credit from Fundbox help SMBs get to the next level, earning the firm our Editor's Choice™ Award.
For small businesses, limiting access to capital is like limiting access to oxygen. Especially for companies with a growth agenda, cash flow is vital for survival because there's often a mismatch between when they deliver services and when they get paid. Lack of funds during downtimes means SMBs may miss out on growth opportunities or struggle to make ends meet.
Poor cash flow management is one big reason most small businesses fail before getting off the ground.
Traditional bank lenders aren't necessarily eager to solve that problem in a way that satisfies SMB needs. As do all businesses, banks tend to focus on the safest bets, which in the lending world means the largest, most well-established firms with the strongest track records of success.
The result is a chronic lack of access to short-term capital — and a lot of lost economic potential — among the tens of millions of up-and-coming firms with fewer than 20 employees.
Since 2013, Fundbox has leveraged its streamlined fintech platform to help 500,000+ small businesses optimize cash flow and manage expenses with a revolving line of credit of up to $150,000.

Fundbox offers native working capital and spend management solutions and integrates with many prominent third-party providers to bring businesses faster, easier access to credit.
"Our mission is to unlock growth for millions of small businesses by giving them financial stability and peace of mind," said Fundbox CEO Prashant Fuloria. "They view us as a partner that understands their business, offers personal service, and follows through."
Those values help more small businesses generate growth and move the economy forward. By assisting SMBs in meeting everyday challenges such as payroll, inventory, purchasing, and maintenance, Fundbox has earned our Editor's Choice™ Award.
Reliable Capital to Cover Cash Flow Gaps
Beyond the need for a reliable flow of capital to cover cash flow gaps, small businesses also need payment flexibility and confidence that their finances are in safe hands.
Securing a revolving line of credit from the secure and automated Fundbox platform is quick and easy, with a decision available in as little as three minutes.
Applying for a loan from Fundbox does not impact credit score. Fees are clear, simple, and transparent. Customers always know what they're getting and how much they're paying.
In a 2022 survey of small business trends, Fundbox discovered that 40% of SMBs would close in two months if cash flow dried up today, and 74% of small business owners reported experiencing a cash flow issue in the past year.
Fundbox solves those day-to-day, week-to-week working capital needs, providing on-demand capital for customers to use in their routine operations and spend management solutions that allow them to defer payables.
Funds can be available as soon as the next business day. The platform's dashboard interface is easy to use on the web or via the app. And users can set up a new repayment plan each time they draw funds, with no prepayment penalty.

With Flex Pay, Fundbox gives users three additional days to pay essential business expenses with no added fees. And upgrading to Fundbox Plus unlocks 20% lower fees, more time to pay, and exclusive benefits.
That level of customer experience creates sustained usage. Fundbox's median repeat line of credit customer draws more than nine times a year and turns over their credit line 3.6 times a year.
"Our customers stick with us not just because they trust us but because of our service," Fuloria said. "The experience we offer drives them to use more products, more frequently."
Helping Partners Deliver Faster, Easier Credit Access
The Fundbox Capital Platform acts as an embedded working capital provider, helping leading lenders such as Stripe, Intuit QuickBooks, and FreshBooks attract and retain customers.
By integrating its technology within other business systems, Fundbox meets customers at their exact moment of need and provides an experience designed around how they work.
For example, deep integration with QuickBooks — one of Fundbox's earliest partners — enables Fundbox to leverage Intuit data to better qualify its customers. That improves the customer experience within Intuit, as only prequalified applicants see the Fundbox option. QuickBooks users access Fundbox without leaving their portal.
Partnerships with businesses such as Alignable, a business referral network, and Zoho, a cloud software suite, make learning about working capital easier. Fundbox provides discussion forums, live Q&A sessions, and other resources to assist entrepreneurs on those platforms.
Fundbox is also part of the Stripe App Marketplace, which enables it to tap into the substantial number of merchants that already use Stripe for their payment needs.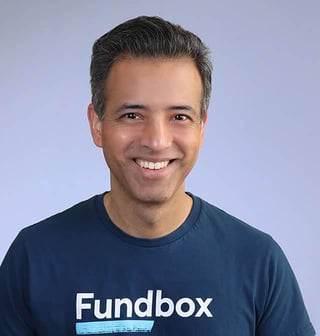 "These partnerships are part of our broader commitment to embed working capital solutions within the platforms small businesses use every day," Fuloria said.
In addition to improved customer acquisition and retention, partners benefit from Fundbox's seamless onboarding and quick decisioning capabilities, which help them deliver a differentiated customer experience.
Credit customers enjoy the same experience and fee transparency they would receive if interacting with Fundbox natively. In return, a partner marketplace housed on the Fundbox website offers customers savings on essential small business services.
"We're continuously exploring new opportunities to serve more businesses, and we believe growing our network through partnerships, in addition to expanding our product platform, will be key to achieving this," Fuloria said.
Fundbox: Unlocking Growth for Small Businesses
Most entrepreneurs get into business because they're following a passion to build something of their own. Thinking about the financial technicalities involved in running a company may be their least favorite part of being a business owner.
To help customers keep their eyes on the prize, Fundbox communicates with them through focus groups. It also solicits direct feedback and analyzes support calls to glean insights into their day-to-day challenges.
Furthermore, the Fundbox executive team listens to customer calls in regular meetings. In those calls, the group quickly recognizes how often small business owners must juggle multiple priorities.
"You'll hear them talking to vendors, customers, employees, and family members, and many times you'll hear a baby crying or children playing in the background," Fuloria said. "Small business owners don't have time to spare — they just want fast solutions, and they need things to work the first time around."
Fundbox Insights helps customers achieve that goal by providing cash flow predictions based on transaction history and a unified view of multiple business bank account balances. The Insights product also alerts when it predicts that cash flow may fall below a threshold.
Insights is free for users regardless of whether they have a Fundbox credit line.
One customer who started a marketing consultancy after years of working at large agencies reported that what she missed the most about working in a structured corporate environment was the convenience and simplicity of having a finance department she could turn to for answers.
That's where Fundbox is moving — toward a comprehensive suite of financial tools and products that serve the needs of small business owners.
"Access to flexible working capital is critical," Fuloria said. "We're focused on expanding our product platform beyond transactional products and building more intelligence-based solutions to help our customers make more informed decisions."