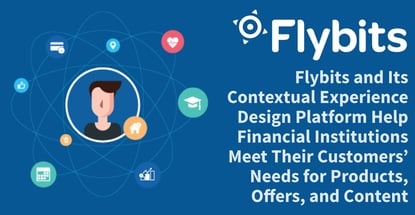 In a Nutshell: Artificial intelligence is wielded in a number of ways in today's tech-oriented marketplace. But Flybits isn't using it to let people know their bank balance is low or when to pay a bill. Instead, the platform uses its contextual experience design platform to maximize opportunities for clients and their customers by offering the right products and services at just the right time. Flybits can use the rich data collected by financial institutions to know the best time to present a customer with a lending opportunity, credit card perks, or wealth management solutions, and deliver it on their highly engaged digital channels. The company works closely with its clients to refine its platform and deliver a product that will provide the greatest value to financial institutions and their customers.
Remember going to the bank? I do — kind of. It was always a hassle and nobody ever looked happy to be there.
Thanks to the internet and rapid developments in digitizing products and services, many consumers can meet most of their financial needs without stepping foot in a bank. Most folks are aware of their bank's basic online banking options and perhaps some modern investment tools.

But it's probably safe to say that a significant number of consumers are unaware of the breadth of financial products and services available to them, and the ease in which they can access them.
That's where Flybits comes in. The B2B platform specializes in helping clients in the finance industry better meet their customers' needs — even before the customers know what their needs are.
"When our CEO — Hossein Rahnama — was working on his Ph.D., he was focusing on something called context-aware computing which is the notion of how context can be used to serve up content to people, rather than them having to look for it," said Justine Melman, Vice President of Marketing and Communications at Flybits.
The basic hypothesis is that, instead of someone searching for something on Google, companies can proactively give users what they know they will be looking for. Beyond that, companies can give their customers information about products and services that they may not be aware of, but could be of great value to them.
Flybits launched in 2013 with its context-aware solution, Melman said, and at the time was essentially an industry-agnostic company. But over time, Flybits narrowed its focus to the rapidly evolving finance industry, where it could make the greatest impact and deliver the most value to clients.
How the AI-Based Platform Works to Anticipate and Meet the Needs of Customers
The secret to the Flybits platform is how it uses artificial intelligence to the benefit of its clients.
Melman explained that there are numerous platforms offering AI solutions today and many companies access these services without necessarily understanding what it is they are actually looking to achieve.
"You can't have AI just for AI's sake," she said. "Unless you have the structured foundation of a data ecosystem to power it, you're just kind of throwing money around without being prepared for how you can effectively use a tool to make a really impactful business change."
That's exactly why Flybits works so well for clients in the finance industry. Banks and other financial institutions tend to have a lot of rich data regarding their customers' financial information. Melman said it may simply be a .CSV file, or it may be fragmented due to multiple legacy systems working together, but Flybits can unite the data in an effective way.
"We are very well equipped to work with whatever their data capabilities are," she said. "We're able to facilitate the assembly and aggregation of all of that data to make it something that's really easy to use for their internal teams as they're designing experiences. We can help them bring this data together and normalize it."
And, in recent years, more and more financial institutions have begun to realize just how valuable the data they're collecting can be.
"Banks realized that with the evolving expectations of customers in the age of Amazon, Uber, and Siri, their digital channels were not effectively being used to create these deeper experiences and engagements for customers," Melman said. "They had not been maximizing the value and use of these channels."
With Flybits, these institutions can not only gain a comprehensive view of a customer's data, but they can also leverage it to help the customer and benefit the company at the same time.
"Cardholders jump from card to card because they don't receive a differentiated, highly tailored experience — leading to lost revenue for a financial institution and low customer satisfaction," according to Flybits.
With the help of Flybits, institutions can understand what the customer's needs are in the moment and make sure they're sending the products or offers that they really need at that time in their life, Melman said.
Flybits Works for an Array of Financial Services, Including Lending, Card Services, and Wealth Management
Melman illustrated how Flybits is more than AI for AI's sake through a number of real-world uses of the technology.
One of the company's prominent case studies involves the TD Bank Group, which is one of the top 10 banks in North America by number of branches.
"TD selected Flybits to help generate personalized, meaningful, and valuable interactions with its Canadian customers beyond the branch," according to the published case study. "Only one year after launch, 1.2 million users have embraced Flybits' innovative technology."
Just one example of this is how TD has been able to connect house hunters with mortgage specialists.
"Using geolocation technology, users of the TD for Me can pull up a list of nearby, available mortgage specialists and contact them via email or phone call," according to Flybits.
Similarly, other Flybits clients are able to unlock exclusive travel experiences for premium credit cardholders.
"Powered by transaction and geolocation data, Mastercard customers traveling abroad will be offered luxurious hotel bookings, access to airport lounges, and exclusive events in global destinations," according to the company.
The Flybits platform can also deliver pertinent and timely advice to investors that can "help active investing customers to build a diversified, income-oriented investment strategy," according to the company. "For instance, anticipate customer interest in high dividends from GICs from recent investment behavior coupled with bonus influx from work."
These are just a few examples that help demonstrate how Flybits can leverage rich data to deliver products and services to consumers at just the right time.
The Customer Success Team Actively Gathers Feedback from Clients
With its foundation in innovative technology, Flybits continues to look for new ways to help meet client needs.
"Our customer success team is actively gathering feedback from customers," Melman said. "Our approach is that we don't just have a solution that we hand off to a customer — we consider ourselves to be a partner in innovation."
She said Flybits maintains a strong focus on working with its customers to make sure the solution is equipped to fit their needs.
"Obviously, it's something that we have to be able to do at scale," Melman said. But, we are very much active in the implementation of our solution and setting our customers up to have continued success with it."

This includes working with the customers' development teams, marketing teams, and business units to strategize around the right use cases and how to effectively use Flybits for achieving their business objectives as well as their customers' objectives, she said.
This careful strategy allows cardholders to have more valuable experiences that build trust and loyalty with their financial institution, and the institution is in a position to become a long-term trusted advisor, according to the company.
"We're really well-positioned to work with everybody from top-tier banks to smaller credit unions — any level of organization that is focused on improving the customer experience with personalization and has digital channels for their customers," Melman said. And, at this point, she said she hopes that basically any financial institution has some kind of digital channel available.
Having a company like Flybits on your side — to deliver products and services to customers at just the right time and on the channels they're most likely to engage with — may be the key to standing out among a crowded and competitive marketplace of financial services.
Advertiser Disclosure
CardRates.com is a free online resource that offers valuable content and comparison services to users. To keep this resource 100% free, we receive compensation for referrals for many of the offers listed on the site. Along with key review factors, this compensation may impact how and where products appear across CardRates.com (including, for example, the order in which they appear). CardRates.com does not include the entire universe of available offers. Editorial opinions expressed on the site are strictly our own and are not provided, endorsed, or approved by advertisers.