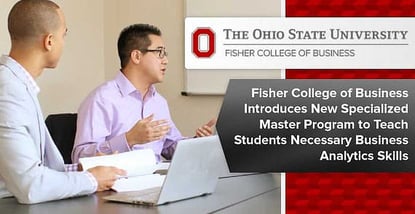 In a Nutshell: Data helps drive decision-making across most industries today — and retail is no exception. But many organizations lack staff with the right mix of business and analytics expertise to study that data and produce actionable insights. The Ohio State University Fisher College of Business established the Specialized Master of Business degree program in Business Analytics (SMB-A) to help professionals develop that skill set. The SMB-A program is geared toward working professionals who are looking to enhance or change their career path to become the data-savvy managers retailers now rely on to guide business decisions. The 10-month program begins in the fall of 2018 and includes both online and classroom learning in core business and analytics courses — as well as subject-specific electives. Ohio State University is currently accepting applications and seeking partners to sponsor the program or serve on the its advisory board.
Waleed Muhanna and Greg Allenby saw a need in the modern workforce, and they were well-positioned to do something about it. The pair of faculty members at The Ohio State University Fisher College of Business crafted the Specialized Master of Business degree program in Business Analytics (SMB-A) to develop professionals with skills in both business and data analytics that modern retailers need to survive — and thrive — in the digital age.
Waleed describes this new breed of professionals as data-savvy managers.
"A shift in the economy has led to the increased digitization of business to the point where a lot of companies have become data rich but knowledge poor," said Waleed. "There's a huge demand for people with the knowledge and skill of transforming that data into useful insights that improve business decisions. Those are what we refer to as data-savvy managers and our program is principally designed and targeted to preparing world-class managers to meet the pressing market demand."
The demand for those skills is already apparent as companies collect and analyze data to inform decision-making in areas such as hiring, inventory management, advertising, marketing, product selection, and customer service and engagement.
A McKinsey Global Institute report projected a shortage of nearly 200,000 US workers with deep analytical skills by 2018 and a shortage of 1.5 million data-savvy managers with analytics skills.
Greg and Waleed said the program is geared toward working professionals looking to enhance their skills for upward mobility or enter the in-demand field of analytics.
Waleed said professionals with backgrounds in engineering, economics, and IT will be well prepared for the rigors of the program and stand a greater chance of being successful.
"Those individuals typically have great technical skills. The training for an engineer is pretty rigorous. They know a lot about math, physics, and things related to their engineering specialty," Greg said. "But they don't know how to translate that into business insight. That's what Waleed and I are good at, and we want to train our students to frame up problems, investigate areas of interest, and know what to look for."
The 10-month program is currently accepting applications with classes set to start in fall 2018.
A Blended Curriculum Designed to Leverage Online & Classroom Learning
Greg, a professor of both Marketing and Statistics, and Waleed, a professor of Accounting & Management Information Systems, designed the SMB-A program based on their academic areas of expertise and expert need. All courses will be taught by Greg, Waleed, or another full-time Fisher faculty member.
The structure will be 75% online learning and 25% classroom instruction through day-long Saturday sessions.
"This blended approach is intended to leverage the benefits of both modes of delivery to improve the learning for the student," Waleed said. "It offers the convenience of online without sacrificing the advantages of the traditional face-to-face instructional environment."
The Saturday sessions will include a catered lunch speaker series that will also serve as an opportunity for students to network with one another, potential employers, and influencers in the field of analytics.

The 31.5 credit hour curriculum spans the fall and spring semesters and the first term of the summer semester. It includes 10.5 hours of core business courses designed to expose students to fundamental concepts such as accounting, finance, management economics, leadership, and organizational behavior. Waleed said that foundation will prepare them to interact with other professionals and lead an organization's business analytics team."
"We marry that business core with an analytics core," Waleed said.
Twelve credit hours of core analytics and data management include statistics and probability as well as data management to educate students on how to organize, aggregate and visualize data. Descriptive analytics classes cover methods and techniques for analyzing historical data. Predictive analytics will focus on using data for forecasting, such as projecting which type of consumer is most likely to use a coupon or default on a loan. Prescriptive analytics deals with using data to determine what path a business should take next.
Options for electives include courses on the use of analytics in sport, human resources, micromarketing, macromarketing, and fraud. Greg will also teach an elective in Bayesian statistics, another area of his expertise.
The final three credit hours will be the Capstone Project, a large research project students work on throughout the program before a summer presentation.
"It's not about getting this material into their head; it's about getting this material into their heart. If you make it personal for them, so they are vested and know the context and understand the solution, then they become evangelists for analytics." — Greg Allenby, Professor of Marketing and Statistics at the Ohio State University Fisher College of Business, on how he teaches students
The entire program is designed to show students the real-world applications of what they're learning. Greg said the students who are also professionals will be encouraged to bring a problem from their industry or firm, as well as the related data, to class for discussion and investigation.
"I am looking forward to engaging them in the classroom as I teach a topic, to turn around and say, 'Let's think about how this is going to apply to your projects,'" he said. "That's a very fun teaching environment because it's personal to every student, and it's new to every class. It's not about getting this material into their head; it's about getting this material into their heart. If you make it personal for them, so they are vested and know the context and understand the solution, then they become evangelists for analytics. That's exactly the type of people you want in an organization."
Partners Dedicated to Training the Next Wave of Professionals
With the program's first students starting in the fall, Ohio State University is currently looking for partners and sponsors who share the school's passion for training the next wave of business analytics professionals.
Companies that serve on the SMB-A program advisory board can provide input on the effectiveness of the program and introduce ideas for improvement. They may also identify high potential employees and pay for them to go through the program by way of a tuition assistance arrangement.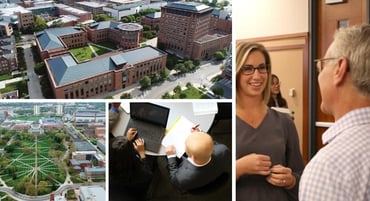 Businesses may also underwrite and plan one of the Saturday "lunch and learn" sessions and send representatives to the event to showcase employment opportunities. The SMB-A program also allows companies to have a student conduct a Capstone research project related to a real-world scenario their organization is facing.
Those students would sign confidentiality agreements and agree not to publicly disclose the details of the project.
SMB-A: Preparing the Data-Savvy Managers Retailers Need
Today, retail and other industries are increasingly using data to drive business decisions. At The Ohio State University Fisher College of Business, the faculty is well-positioned to offer a degree that helps professionals find those jobs.
"Analytics are what we live and breathe in academia, especially at Fisher. Now that data is readily available and industries have come to realize its tremendous value, we can train the future leaders who can help those companies leverage the data for competitive advantage," Waleed said. "We've always been passionate about analytics. The opportunity is there to take our knowledge and disseminate it to future data-savvy managers."
Retailers are seeing technology transform their industry into a more consumer-centric model, where economies of scale are shifting to economies of scope, Greg said. In that environment, the mix of business and analytics skills is particularly important.
"Retailers need to see how consumers view the world and leverage that within the supply chain," Greg said. "That means they need people who can conceptualize and understand where demand comes from and anticipate what's coming next. Analytics is the key to all that."
Advertiser Disclosure
CardRates.com is a free online resource that offers valuable content and comparison services to users. To keep this resource 100% free, we receive compensation for referrals for many of the offers listed on the site. Along with key review factors, this compensation may impact how and where products appear across CardRates.com (including, for example, the order in which they appear). CardRates.com does not include the entire universe of available offers. Editorial opinions expressed on the site are strictly our own and are not provided, endorsed, or approved by advertisers.