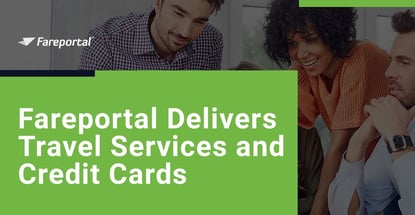 In a Nutshell: Consumers often become overwhelmed with options when booking travel, especially when all they need are price comparisons and transparent service. Fareportal sets itself apart from many other online travel companies by focusing on customer service call centers staffed by knowledgeable agents who can help travelers secure the best options. Fareportal has a long history in travel technology, and it operates two award-winning online travel agencies, OneTravel and CheapOair — both of which offer flagship travel credit cards.
Many travelers who book trips online are familiar with that feeling of hesitation just before they commit to purchasing tickets. Common questions from those deal-seeking consumers often include:
Is this really the best deal available?
Should I be taking a different airline for my return flight?
Do I have to pay this baggage fee?
Many travel platforms don't offer users easy answers to those questions. That's why Fareportal aims to change the dynamic with a business model that marries traditional, in-person travel-agency service with the convenience of booking travel online.
Fareportal offers 24/7 booking and personalized service through its leading hybrid travel agencies, CheapOair and OneTravel. Customers can also receive support anytime in over 20 languages from more than 2,300 trained and certified travel agents.

The company also has other robust travel-related offerings through partnerships with more than 1 million hotels and hundreds of car agencies in North America, Europe, and Asia. But flights are Fareportal's primary focus, and it has more than 600 airline partners worldwide.
"Naturally, we have robust hotel and car rental offerings, but our heritage is flights," said Kathi Moore, Vice President of Branding and Communications at Fareportal. "We've spent a lot of time aggregating consolidator fares and creating technological innovations that allow us to fuse fares together across carriers. That means our customers have the largest selection of possible itineraries, which is what allows them to achieve the best possible pricing."
Both CheapOair and OneTravel offer many of the same services, but they cater to slightly different consumer groups. Each brand tailors its efforts to bring the most value to its respective customer base. According to Moore, CheapOair customers tend to be value-conscious, while OneTravel's audience is likely to be shopping for an end-to-end travel experience.
Many of those consumers enjoy CheapOair and OneTravel's Visa credit card products, as well. The cards have features aimed at each platform's audience, but both come with no annual fee and offer attractive travel rewards and incentives when booking through either brand.
"Whether it's flights or our credit card offers, our buyers are very value-conscious. And we do our best to target the right people with the right offers," said Moore.
CheapOair and OneTravel Offer Personalized Service
Most travelers are accustomed to communicating with companies on digital platforms through email or chat — whether they're ordering a new pair of running shoes or checking a bank account balance. Digital communication is currently the standard for many businesses in the travel industry. Speaking directly with a customer representative over the phone has become the exception rather than the norm.
Chatbots and FAQ sections on company websites have largely replaced phone communication. But there is simply no substitute for an old-fashioned conversation — especially when it comes to having questions answered before making a purchase.

Fareportal understands that and provides the type of customer service that was once the standard before the dawn of the internet. CheapOair and OneTravel offer customers access to its highly trained travel agents who are ready to help over the phone anytime.
"From our inception, it's been our intention to provide a phone number to make it easy for people to find us," said Moore. "When a customer picks up the phone and calls, they get a highly personalized level of service. We've always been proud of our customer service record, and it remains a big area of focus for us."
That level of direct service through its call centers has earned the company plenty of customer praise and industry accolades. In 2021, Fareportal was awarded a Stevie Award for Customer Service Department of the Year. Fareportal has also won American Business Awards and others for its service many times in previous years.
Rewards Credit Cards Deliver More Travel Benefits
As most seasoned travelers know, rewards credit cards offer ways to save on everything from flights to car rentals — and many non-travel-related purchases. Making the right choice can mean the difference between receiving additional perks for less and leaving money on the table.
CheapOair and OneTravel give travelers a wide range of incentives to use their branded Visa credit cards. There is not a significant difference in the basic functionality of the two cards.
The CheapOair Visa card has no annual fees and offers up to 7X points on every dollar spent on CheapOair.com. In addition, cardholders can choose between earning points from car, hotel, cruise, and airline bookings or six months of interest-free financing on any CheapOair purchase. The financing option is attractive for frequent fliers.
Both the CheapOair and OneTravel cards provide ways to garner sizable discounts on a variety of travel expenses. When choosing any credit card, the choice all comes down to which card fits a traveler's budgetary and personal preferences.
Watch on
The point earning structure is exactly the same for both cards. It's one point earned per $1 spent on airline tickets plus six points per $1 spent if you pay with the Visa card. So seven total points per $1 spent on air travel when using the card.
One of the biggest perks the CheapOair and OneTravel cards have in common is a $50 statement credit on any purchase of $500 or more during the first 90 days of opening an account through either brand. That is a nice incentive for anyone considering booking a flight with one of these cards for the first time. Both cards also offer a very convenient instant approval and instant purchase capability.
"Our cardholders love the ease of use," said Moore. "We have an apply-and-buy feature so that a customer can actually apply for the card and get their approval instantly and immediately use the card for a specific transaction. The $50 statement credit on purchases of $500 or more as part of the initial offering is very attractive to our customers because it's a direct financial benefit."
If travelers already consider booking their next trip with CheapOair or OneTravel, doing so with either of the brand's travel credit cards is a smart way to save money and start working toward their next big adventure.
Fareportal: Focus on Value Empowers Consumers
As travelers continue to learn to navigate the world during and beyond the COVID-19 pandemic, CheapOair has its finger on the pulse of what is useful to its customers. And relevant content is another way that Fareportal brands provide value to savvy travelers.
It's not uncommon for online travel agencies to feature blog content on their sites and social media accounts. But that content can be hit or miss in terms of the actual value it has for travelers.
CheapOair features an informative blog called milesaway, which it fills with helpful tips and updates travelers can use, regardless of their destination. Some of the timely topics covered in the blogs include "How to protect yourself at theme parks in the era of Coronavirus" and "9 lesser-known beach destinations."
Another noteworthy practice is how CheapOair and OneTravel combine fares across airlines and know how to book customers on different flights, based on their cost-effectiveness.
"Because of our heritage of focusing our attention to value, we have been innovators in combining fares across airlines," Moore said. "So, rather than purchasing a ticket on Airline X from Point A to Point B, you might be able to save money by using Airline X one way but using Airline Y coming home. These offerings are part and parcel of all of our brands, and we believe it's things like that that allow customers to achieve a great deal on their ticket purchase."
Fareportal's CheapOair and OneTravel brands employ dynamic methods in saving their customers money, and they take a great deal of the guesswork out of the equation by providing personal help for travelers.
"We've always been proud of our customer service record, and it remains a dedicated area of focus for us."
Advertiser Disclosure
CardRates.com is a free online resource that offers valuable content and comparison services to users. To keep this resource 100% free, we receive compensation for referrals for many of the offers listed on the site. Along with key review factors, this compensation may impact how and where products appear across CardRates.com (including, for example, the order in which they appear). CardRates.com does not include the entire universe of available offers. Editorial opinions expressed on the site are strictly our own and are not provided, endorsed, or approved by advertisers.