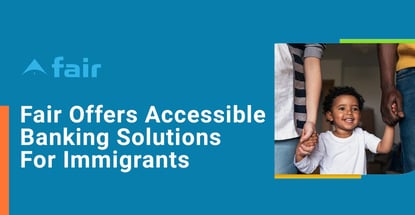 Our experts and industry insiders blog the latest news, studies and current events from inside the credit card industry. Our articles follow strict editorial guidelines.
In a Nutshell: Fair is a banking solution that aims to be transparent and easy to use in a new age of banking. There are no account fees, wire transfer fees, or ATM fees. Fair is a membership-based neobank, so it has no physical branches, and paperwork and services are processed online. Fair offers a spending account with a debit card and a Wealth Building Account that pays dividends of up to 4% of the account balance annually.
Fair founder Khalid Parekh is no stranger to success. Parekh is the founder and CEO of AMSYS Group, a technology company with an enterprise value in the hundreds of millions. 
And Parekh now uses his expertise in technology to tackle the problems millions of Americans face in the banking industry with Fair, which Parekh proudly describes as a pro-consumer and ethical finance company.
The first step toward accomplishing that objective was to eliminate fees that can cost the average person more than $100 a year. Fair membership is open to almost anyone in the US. There are no inactivity fees or stop payment fees, and no fees for exceeding withdrawal amounts.
"We're trying to simplify the banking process and eliminate all the complicating issues people usually face," Fair's Head of Growth Nate Eslinger said. "We have positioned ourselves to eliminate those problems by being transparent and offering practical products and services our members will use on a daily basis."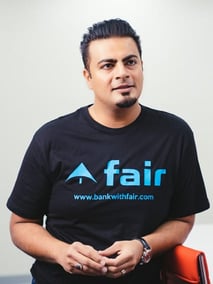 The next step was making it easy for anyone to create an account and access basic financial services. This step is personal to Parekh, who struggled to open a bank account when he came to the U.S. from India 23 years ago.
Once he did get an account, Parekh had even more trouble sending money back home to his family. That experience inspired the decision to include free unlimited international money transfers with Fair membership.
As the company's founder, Parekh does not take a salary from Fair. Instead he sees the venture as a mission to create a banking solution for people of all races and backgrounds.
Building Wealth through Unique Accounts
Fair offers different products than those available at traditional banks. Instead of a savings account, Fair has a Wealth Building Account that earns up to 4% annually in dividends with no minimum balance or cap. That is a considerable jump over the average 0.4 to 0.6% return typical high-yield savings accounts offer. This allows anyone, regardless of their cash position, to begin earning meaningful returns.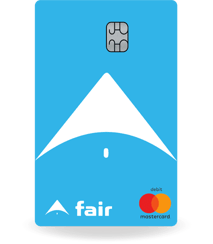 Fair told us they don't plan to reduce the payout rate, and they won't pass on principal losses to their Wealth Building Account holders.
Fair calls its other account a Spending Account. This account comes with a Mastercard debit card and can be used anywhere Mastercard is accepted.
All of Fair's services are available to members and come with no added costs or hidden fees.
"Fair was inspired by those primary pain points for people: the hidden fees, the difficulty in understanding what it's going to cost you," Eslinger said. "So we addressed a lot of that right out of the box." 
Providing Easy Access to Banking Services
Signing up for Fair's banking solutions does not require physical paperwork or visiting any brick-and-mortar locations. The entire signup process takes place online.
U.S. government regulations require Fair to ask for identification verification when someone opens an account as a way to fight the funding of terrorism or money laundering. But people looking to open an account do not need to be a U.S. citizen or permanent resident to become a member.
Fair will ask for a name, address, date of birth, and a government ID number. It may also ask to see a driver's license, passport, or another identifying document.
Banking services are still available to partially verified members, albeit somewhat limited. Fair restricts the full use of a card account, but members can still use the card for in-store purchases.
Real-time help is available from the Fair team for people who get stuck in the application process. Once connected, a representative will provide a walkthrough on how to complete the application.
People signing up can also pause the account sign-up process at any time. Fair will remember where the application was paused, so prospective members do not need to start the process all over again.
As a neobank, Fair does not have any brick-and-mortar locations, and its banking services are entirely online. Spending Account deposits are safe and FDIC insured up to $250,000. Wealth Building Accounts are SIPC insured up to $500,000.
Members gain access to free ATM services at more than 55,000 locations through Allpoint. The company has a page on its website showing where to find the closest ATMs.

As do many other neobanks, Fair can get members their direct deposits up to two days earlier than traditional banks.
"It's your money," Eslinger said. "A lot of employers will post the checks and make it available two or three days out. There are tools in place that make it easy to verify those funds and make it available to people sooner.
Banking Solutions with Ethics in Mind
It's not enough for Fair to offer a transparent banking solution with no hidden fees.
The dividends distributed to Wealth Building accounts come from investments Fair makes with its assets. The company follows a strict policy of socially responsible investing, meaning Fair only invests in companies with no negative social impact.
Fair also follows environmental, social, and governance investing in measuring the sustainability of investments. And the company donates 2.5% of its profits to the UN Refugee Agency and other similar organizations.
"We're not investing in companies that are exploiting their employees, doing something harmful to the environment, or anything that would have a negative social or environmental impact," Eslinger said.
Fair plans to expand its offerings in 2022 with new products that boost credit scores, including reporting consistent debit card bill payments. Also to come are loan products that will have a credit-bureau reporting component to help members improve credit scores.