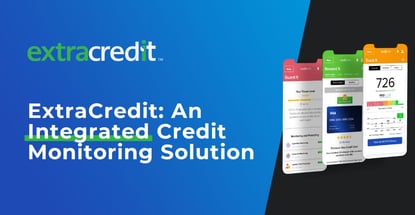 In a Nutshell: The ExtraCredit offering from Credit.com combines all the tools consumers need to manage their credit journey in one intuitive app. Users can report rent and utility payments, safeguard their identity, track their FICO® scores, and even earn cash rewards. Those dealing with financial setbacks also receive access to discounted credit repair services. For helping consumers achieve their credit management goals through accessible technology, ExtraCredit from Credit.com earns our Editor's Choice™ Award.
With so many credit and rewards products on the market today, many consumers wonder if they are choosing the right financial opportunities. At the same time, consumers face a growing challenge of monitoring their credit history and scores while protecting against fraud and identity theft.
Those who lack access to financial products may just need to get their credit scores back on the right track. However, without the right credit tools, they may find themselves stuck in a debt cycle.
There hasn't been a solution that provides consumers with the tools they need to tackle all of those challenges from one interface. ExtraCredit, a new product from the team at Credit.com, changes that by helping users cost-effectively build, manage, and protect their credit while receiving personalized offers and earning cash rewards.

Since 1996, the experts at Credit.com have provided critical information and insights to consumers interested in improving their credit scores and financial outlook.
"Our mission has always been to educate consumers on personal finance and credit," said David Lord, Credit.com General Manager. "Now with ExtraCredit, we have a product where we can act directly on behalf of our customers."
ExtraCredit can help consumers learn the steps they need to take their credit to the next level with its comprehensive tools, trackers, and security features, no matter where they are on their credit journey. For allowing users to seize control of their credit and financial journeys, ExtraCredit from Credit.com earns our Editor's Choice™ Award.
Comprehensive Value in a Single Integrated App
The Credit.com team introduced the free Credit Report Card, which gives users a letter grade in each of the five key factors — payment history, credit utilization ratio, credit age, credit account mix, and credit inquiries — that help determine their credit standing. The Credit Report Card put power back into the hands of consumers. Now, Credit.com offers the ExtraCredit app to help them know how to get over the next hurdle.
"It just made sense — what else do people want on their report card in school?" Lord said. "ExtraCredit is all about building, protecting, giving access, and giving cash."
The ExtraCredit suite of tightly integrated features covers the entire credit spectrum — and currently includes a 30-day free trial period. For users whose credit ambitions temporarily exceed their abilities, Build It provides tools for reporting rent and utility payments directly to the major credit bureaus.
"Those are the biggest bills most people pay until they become homeowners," Lord said. "But they don't get any credit for it."
In addition to receiving credit recognition for bills they already pay, Build It users also gain access to beneficial credit profile-building offers.
Watch on
The app also offers Guard It, ExtraCredit's comprehensive identity protection system. Guard It combines $1 million in ID theft insurance with dark web scans and proactive security alerts. It beats competitors with its real-time monitoring that can prevent damage to your credit from occurring.
The Track It reporting tool then steps in to provide a deep dive into the numbers lenders see — not just the superficial view that basic credit reports typically offer. Monitoring and alerts provide higher-level insights to 28 official FICO® scores reported by the three bureaus.
"Most people don't even know you have 28 FICO scores — they think the free score they get on the web is what underwriters — lenders — use," Lord said. "Then, they try to get a loan or rent an apartment and wonder why they're being charged a higher interest rate or being denied."
Receive Rewards on a Reloadable Credit.com Card
ExtraCredit's Reward It feature is where the user's small investment in ExtraCredit pays off in tangible returns. ExtraCredit offers a $5 bonus just for signing up, and users receive a reloadable Credit.com card.
"We're passing bounties down to the consumer instead of keeping them for ourselves," Lord said. "When you decide on a product offered on the site or on the app, we're passing that money on to you, the consumer."
Each ExtraCredit offering is dynamic, and the Credit.com team is committed to continually refining and extending its available tools. That pledge takes on additional significance with Reward It. Credit.com continually adds partnerships in response to consumer demand.
These aren't just generic offers; they are tailored to each consumer. Reward It starts by analyzing the user's credit through an internal algorithm identify offers that are relevant to the individual account holder. Users can then select offers that make the most sense for them from a customized list.
Partnerships are currently concentrated in the personal finance and home services categories, but nothing is off the table. And users are ultimately in charge of where the rewards system goes.
"There are all kinds of rewardable products to help you, including home security, credit cards, loans, mortgage, and insurance — and we're adding three or four offers every week," Lord said. "It's still in the early stages, from an offer standpoint, but it's meaningful."
Restore It completes the ExtraCredit suite by offering an exclusive discount on Creditrepair.com credit repair services, or other leader in credit repair if Creditrepair.com isn't available in their state.
Step-by-Step Support on the Way to Credit Mastery
ExtraCredit offers its comprehensive services, and all the other components of the app, at a competitive price point. In fact, products and services that compete with any one of the five features offered by ExtraCredit can cost more than the entire ExtraCredit suite.
As a paid product, ExtraCredit is the latest iteration of Credit.com's commitment to providing broad-based consumer credit information and educational resources to consumers. Newly improved free services available at Credit.com include dynamic educational content pegged to the individual user's credit status. The company has also secured partnerships with tax service providers and others in the financial space.
"The free product also tells you exactly what makes up your Experian VantageScore," Lord said. "It gives you a grade on each of the five areas of your score — utilization, inquiries, and so on — and tells you where you're good, where you're falling short, and what you can do to improve."
ExtraCredit customers know how to enjoy the freedom of certainty and protection against credit pitfalls while accessing rewards opportunities that pay off.
"It's a comprehensive value proposition that we're delivering," Lord said. "People come in and want one service, but they realize they need all of these other features."
ExtraCredit helps consumers make measurable progress with their credit, no matter where they start. And it offers tools in one efficient, effective, and affordable suite of products.
Advertiser Disclosure
CardRates.com is a free online resource that offers valuable content and comparison services to users. To keep this resource 100% free, we receive compensation for referrals for many of the offers listed on the site. Along with key review factors, this compensation may impact how and where products appear across CardRates.com (including, for example, the order in which they appear). CardRates.com does not include the entire universe of available offers. Editorial opinions expressed on the site are strictly our own and are not provided, endorsed, or approved by advertisers.