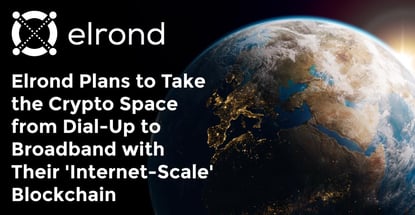 In a Nutshell: Although blockchain technology creates a lot of exciting opportunities for a wide range of industries, even enthusiasts admit that most of the current blockchains have serious deficiencies. Elrond is a new blockchain that is seeking to disrupt the ecosystem by overcoming those deficiencies with an infinitely scalable, efficient, and low-cost blockchain. Elrond encourages users to take advantage of the company's staking opportunities as a way to not only support the ecosystem but to earn passive income. As the blockchain plans to go live, it takes a hands-on approach in working with partners to determine how it can best serve each client and create a tailor-made plan and delivery timeline.

Blockchain technology brings the potential for improving efficiency and lowering costs to a wide range of industries, including finance, travel, hospitality, and supply chain.

But even some of the biggest blockchain advocates — including Elrond CEO Beniamin Mincu — agree that the technology is hard to use and complicated to build upon. And that's exactly why Mincu and his team created Elrond.

"Elrond is a team of people excited about blockchain who deeply care about the potential of the technology but see a lot of inefficiencies with it, chief of which is performance — slow transaction execution and small throughput — cost, and scalability," Mincu said.

He said Elrond seeks to address all of these problems through its public, developer-friendly, and efficient blockchain. At the same time, Mincu said the company hopes to retain the achievements of certain projects in the space, such as Ethereum and the ecosystem surrounding it, by building compatibility with those projects into Elrond's core.

The people behind Elrond are entrepreneurs, researchers, and developers with diverse backgrounds in numerous startups and international corporations. The Elrond team's combined expertise could be used to build rockets, Mincu said, but instead they focused on building a blockchain.

That's because they believe blockchain technology truly has the potential to change the world. But the most popular examples of blockchain — at this point — remain slow and inefficient.

Elrond was born in 2017 after raising $5 million in funding based on its clearly laid-out plan for success.

Today, the company's website describes Elrond as "a highly scalable, fast and secure blockchain platform for distributed apps, enterprise use cases and the new internet economy."

Mincu sat down to discuss some of the finer points of Elrond, including how it is different from other leading blockchains and how users can benefit from the company's staking program.

Innovations in Speed and Interoperability Position the Platform to be the Internet-Scale Blockchain

"Elrond will be able to bring about the actual change promised by blockchain technology so far, which to this day remains only a potential, due to adoption barriers such as performance, cost, and usability," Mincu said.

Mincu laid out some of the main differentiating factors that make Elrond stand out among its blockchain competitors.

"Speed — 20-second transaction finality (on Elrond), compared with six to seven minutes for Ethereum and 30 minutes for Bitcoin," he said. "Throughput — 15,000 transactions per second at start, compared with seven for Bitcoin and 15 for Ethereum."

The Elrond blockchain is also endlessly scalable, Mincu said.

"Each shard adds 3,000 more transactions per second without a theoretical maximum," he said. "The more nodes join the Elrond network, the more transaction volume it can handle."

The company also made sure to consider ease-of-use when developing the blockchain.

"We build key end-user oriented products to enable easy onboarding and meaningful technology integration," Mincu said. "And, from the development side, programmers who are new to blockchain will find our tools extremely familiar and easy to work with, so the time of onboarding non-blockchain developers is drastically decreased."

Elrond's energy efficiency is made possible through its Proof of Stake consensus mechanism, Mincu added, which he said is orders of magnitude more efficient than the Proof of Work mechanisms that Bitcoin and Ethereum use.

"By delivering a Layer 1 (native blockchain) solution that is in every way compatible with Ethereum, has additional new features and tools, and operates at blazing fast speeds, Elrond will unlock the potential in DeFi (decentralized finance) initiatives by accelerating their execution at a fraction of the cost," Mincu said.

Users Can Pre-Stake with Elrond Now to Earn Rewards in the Future

Mincu also emphasized how Elrond can facilitate passive income via staking.

"Elrond is a proof-of-stake based blockchain platform where a set of validators are incentivized to secure the network by locking an ERD (Elrond's native token) stake, running a node, processing transactions, producing blocks and reaching consensus," according to the company.

And validators are rewarded for their contributions or penalized for malicious behavior within the network.

"Running a computer with Elrond software is a trivial task and allows anyone to participate in the new economy and earn passive rewards by 'leaving their computer on' for casual users, or setting up serious staking infrastructure for professional grade validators," he said.

The company is currently encouraging people to become involved through Elrond's pre-staking process, which is the first phase of the blockchain's bootstrapping process, according to the company.

"Thus it is an important preparatory phase in which all ERD holders (Elrond's native token) are incentivized to support the Elrond network and mainnet launch, by locking their ERD into a smart contract, contributing to reach the necessary economic security threshold, and earning rewards without being required to run a validator node," according to the website.

By pre-staking, users are supporting the launch of a "game-changing technology," joining a passionate community, and earning competitive rewards, according to the Elrond website.

The pre-staking process unfolded in 10 successive waves, every three days over the course of about a month. The 10th and final wave unfolded in early 2020.

"A maximum total amount of 5 billion ERD will be accepted for staking during the 10 waves," according to the company website. "Withdrawals will only be possible 30 days after the start of the pre-staking process. After that, withdrawals are possible, with a 7-day unbonding delay, during which rewards are not accrued."

The reward rate will be between 17% and 32%, annualized, according to Elrond.

How Elrond Works with Clients to Discover the Best Ways Blockchain Can Benefit Their Business

The company positions itself as a blockchain that can elevate businesses.

"Elrond is an easy to integrate blockchain with unprecedented scalability, high speed, and low transaction cost," according to the website. "We strongly believe blockchain integration should happen only if it creates real value."

The company proposes that it can help potential clients optimize costs, add security and transparency, or discover new business models.

This is accomplished through Elrond's hands-on approach with clients to determine what is best for them.

The blockchain company recommends that interested companies should set up an exploratory call with an expert from Elrond. That Elrond expert will then work with the company to identify unique business opportunities, and then develop a tailored solution with measurable results.

Elrond will also define the timeline and cost to delivery, according to the website. And finally, "We deliver, and together we evaluate the results."

The company also recently announced that Samsung will now support Elrond's ERD token on its blockchain wallet, Mincu said.

"We are very proud of our collaboration with Samsung, whose strategic approach towards blockchain technology is a perfect fit for our platform, as it will enable the millions of users of Samsung mobile phones to directly engage with the Elrond network and software integrating it in a simple, secure and meaningful way," he said.

To further showcase the blockchain's capabilities, the company is working on a mobile game for the Samsung ecosystem — the Battle of Elrond — where players can earn ERD and spend it outside the game.

"This integration will allow any mobile games and products developer to create more value for their customers and retain more of the value they themselves create, by capitalizing on one of the main benefits of blockchain: disintermediation," Mincu said.

He said Elrond is also continually working to build its community of users and supporters.

"We engage with our community of supporters, validator node operators, developers, traders and investors directly, via Medium, Twitter, Telegram, LinkedIn, email and Facebook, as well as crypto specific tools like Signal (Blockfolio) and Delta," he said. "We are seeing increased growth on all the aforementioned channels and are looking forward to an explosive growth once we will launch our already working product in a live environment."

With its testing phase showing positive results, Elrond demonstrates great potential to truly revolutionize the blockchain space, which is — of course — the company's goal.
Advertiser Disclosure
CardRates.com is a free online resource that offers valuable content and comparison services to users. To keep this resource 100% free, we receive compensation for referrals for many of the offers listed on the site. Along with key review factors, this compensation may impact how and where products appear across CardRates.com (including, for example, the order in which they appear). CardRates.com does not include the entire universe of available offers. Editorial opinions expressed on the site are strictly our own and are not provided, endorsed, or approved by advertisers.