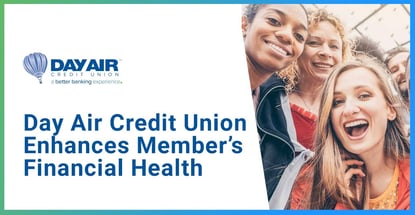 In a Nutshell: Day Air Credit Union has been an important part of the Miami Valley and Greater Dayton, Ohio, region for more than 75 years. The credit union offers an array of financial products and services suited for people in all financial situations. It also provides robust financial literacy resources for members of all ages, and maintains a financial education program to help people recently released from incarceration reenter society. Day Air Credit Union also gives back to the community through a number of partnerships, volunteer hours, and monetary support.
Credit unions have been an important part of the financial institution landscape in the U.S. since they began gaining prominence in the early-to-mid 20th century. As nonprofit, membership-based organizations, credit unions offered an appealing alternative to big banks. Credit unions are often geared toward providing a more personalized touch, and because of their business model, they can often provide very competitive rates on financial products and services.
Day Air Credit Union fits the bill on all these counts. The institution has been serving communities in the Miami Valley and Southwest Ohio region for more than 75 years.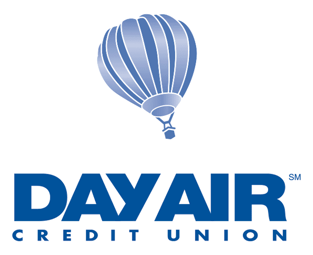 "We were founded in 1945, and since then we've been going strong," said Joe Eckley, Day Air Credit Union's Director of Marketing. "We serve all nine counties in the Miami Valley, in the greater Dayton area. When we first started, we served the Gentile Station of the Air Force. And we have expanded, obviously, to be a community charter since then."
This means Day Air Credit Union membership is open to anyone who lives, works, or plays — as Eckley puts it — within the greater Dayton area. The credit union maintains a branch at the local VA that focuses on the needs of military veterans, and it also maintains a presence at the University of Dayton campus.
And, even after all this time, Day Air Credit Union is still growing and finding exciting new projects to be a part of.
"We have just over 47,000 members, and we're $570 million in assets," Eckley said. "And we recently did a naming rights agreement with the minor league baseball team in the area, the Dayton Dragons. So we are now the proud representatives of Day Air Ballpark, which is a really big deal in the Dayton area."
He said the Dragons have the longest sellout streak in professional sports in North America.
"We're excited to have our name on that ballpark," Eckley said.
We spoke to Eckley and Chief Experience Officer Jannell Eichstaedt about Day Air Credit Union's array of financial products and services, financial literacy efforts, and giving back to the community.
Offering Credit Cards and Loans Geared Toward People in All Credit Ranges
While progress and growth have been constant throughout Day Air Credit Union's existence, its mission remains the same — to enhance members' financial well-being.
It does this in a variety of ways, including the financial products and services it offers. The credit union likely has something for everyone, whether it's a credit card, a loan, or simply a checking account.
"We have two credit cards — we have a Platinum Rewards Card and a Platinum Low-Rate Credit Card," Eichstaedt said. "Our low rate credit card is a really good fit for revolvers — those individuals that are carrying a balance month over month. We know that we're giving them the best rate possible."
Eichstaedt said that, as a CDFI-designated organization, Day Air Credit Union really targets underserved communities. One way it does this is through its low-rate card, which often fits their financial needs.
The Platinum Rewards card, on the other hand, is geared toward users who are looking to build up their card rewards and who generally pay off their balance every month.
In addition to its low rate card, the credit union has geared other products toward underserved communities and those who may be working on rebuilding their credit.
Eichstaedt said this has included an auto loan program in which the credit union would also provide the member with a credit card.
"We would offer a low-limit credit card, just to give them an additional trade line to help them start building up their credit," she said. "If we're going to give them a car loan, why wouldn't we help them with another credit line?"
Day Air Credit Union also offers a secured credit card for members in certain financial situations, Eichstaedt said.
Providing an Array of Financial Literacy Resources
Day Air Credit Union also works to make sure its members have access to valuable financial literacy resources.
"We have a business development team that does quite a bit of financial literacy, from the youth up to our senior members," Eichstaedt said.
The credit union also runs a program for recently incarcerated individuals who are reentering society.
"It's to help them learn about credit, then learn how to interview for jobs," Eichstaedt said. "And we have an online course that we offer them."
Watch on
Day Air Credit Union also offers a variety of free programs for members and the general public.
"Our free financial education programs focus on helping you develop responsible money management skills so you can build a financially healthy life," according to the credit union. "Learn how to save and spend money wisely, use and manage credit, stay out of debt, overcome financial crisis, and achieve monetary goals."
Eichstaedt said the institution also provides a credit counseling service to help members understand and improve credit.
"It's called the Credit Score Enhancement Program," she said. "Anybody can schedule an appointment with any of our credit score specialists. Members can come in and we'll go over their credit and then talk to them about what's causing a certain issue or how we can bring scores up."
The credit union also maintains a blog that provides valuable information that can enhance the financial lives of its members. Recent topics covered include paying taxes and paying down credit card debt.
It also published a central hub in April — Financial Literacy Month — for discovering other financial literacy resources.
Giving Back to the Community is a Top Priority
"We are the largest financial institution that's headquartered in Montgomery County now, and we're not taking that lightly," Eckley said.
That means engaging with and giving back to the community in a number of ways.
"Our pledge is to be the financial resource for the communities that make up the Miami Valley. Our neighbors influence our daily decisions and fuel our passion for giving back. They are the reason behind our commitment and inspiration for being a premier credit union," according to Day Air Credit Union.
"We're investing in the community through the ballpark, we're giving back through various charities and organizations," Eckley said. "And we're strengthening our financial literacy education to everyone in the area. It's just core to who we are."
Day Air Credit Union partnered with Dayton Children's Hospital in 2019 and donated more than $7,500 to the hospital and to the Children's Miracle Network. It's a partnership that started in 1987 and has accumulated more than $164,000 in donations and over 350 volunteer hours from Day Air associates over the years.
The credit union also supports local education.
"In 2019, Day Air sponsored local high school education, athletics and provided scholarships for continuing education to students," according to the institution. "Assisting in the education of students throughout the Miami Valley helps create a bright future for our community."
Day Air Credit Union also stepped up to assist members during the COVID-19 pandemic.
"We did a whole myriad of things last year for people impacted by the pandemic," Eckley said. "We gave over $20,000 in gift cards to members who were impacted. We waved over $140,000 in fees. We also offered a loan that had no interest, really favorable terms for anyone impacted."
Advertiser Disclosure
CardRates.com is a free online resource that offers valuable content and comparison services to users. To keep this resource 100% free, we receive compensation for referrals for many of the offers listed on the site. Along with key review factors, this compensation may impact how and where products appear across CardRates.com (including, for example, the order in which they appear). CardRates.com does not include the entire universe of available offers. Editorial opinions expressed on the site are strictly our own and are not provided, endorsed, or approved by advertisers.