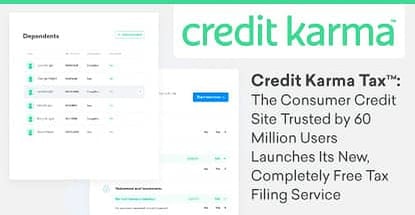 In a Nutshell: From our very first paychecks on, all Americans learn an important lesson: taxes stink. From paying them to filing them, taxes are just a pain; a pain in the neck, and a pain in the pocketbook. Even trying to take some of the sting from the process by using a "free" tax preparation method doesn't help; it turns out it's hard to find a supposedly free service that isn't hiding fees and add-on costs. At least, it was — until Credit Karma Tax. A tax preparation platform brought to you by the consumer credit giant that revolutionized free credit scores, the new tax preparation service will be free to Credit Karma users — really, actually free. Users will be able to file their state and federal income taxes free from costs, free from fees, and free from pricey upsells or gimmicks. Credit Karma is going beyond credit to become a complete financial tool for millions of users. //
Free stuff: the goal of every savvy shopper, committed couponer, and prolific purchaser around. But, as they can all tell you, free doesn't always mean the same thing to everyone. For instance, the item may be free, but it will cost you an arm and a leg to have someone put it in a box and ship it to you. Or, your "free" product turns out to be a free trial — and a credit card charge when you forget to cancel.

The sad fact is, in most cases, free is actually anything but; by the time you check the fine print, the fees, and the add-ons — well, you're a long, long way from free. One common example? Try filing your taxes through your average tax preparation website offering free filing. Your "free" file can end up costing you big.
"Today, almost half of all Americans can't afford a $400 financial emergency, yet many spend more than $70 — and, in many cases, far more — just to prepare and file their taxes," said Kenneth Lin, the Founder and CEO of Credit Karma. "That shouldn't be the case."
While Credit Karma's 60 million users know it best as a consumer credit site, providing their credit scores and credit monitoring services, the site will now offer those users an entirely new service: tax preparation. And, as with its iconic credit services, Credit Karma will offer its tax services completely free to registered users.
"When I started Credit Karma in 2007, I felt every one of us should be able to access our credit information for free," Ken described. "Today, we feel that filing tax returns is a lot like accessing credit information was in 2007. We need to file our taxes like we need access to our credit information."
According to Ken, the tax space is sadly lacking in quality, DIY tax-filing tools that are actually free. He and his team at Credit Karma are looking to become to tax preparation what they've become to consumer credit: an indispensable financial tool for millions of users.
"We are launching Credit Karma Tax, an easy tax solution that most Americans can use to file their federal and state taxes," he said. "Just as we've done by providing free credit scores, credit reports, and credit monitoring, Credit Karma Tax will help people make financial progress, without any trial periods, hidden fees, or gimmicks."
One Product, One Version, One Simple Filing Experience
To make the tax-service magic happen, Credit Karma went all out, purchasing an online tax preparation company, AFJC Corporation, which was already quite familiar with the ins and outs of online tax platforms. Credit Karma has used its new acquisition to build a clean, simple tax preparation tool for its users.
"We don't have a paid version of our product, nor are there confusing packages or versions to trick you into paying," explained Ken. "It's just one simple and truly free solution. And over time, we believe the integrations and insights will make your taxes even easier."
Seriously Free Service: No Fees, No Upsells
"We all know on or around April 15 taxes are due," said Ken. "And, increasingly, many are using software to avoid filling out forms manually or using a professional. Yet, many of those products claim to be free, until you get a bill for $35 or $70 or more."
So, how does Credit Karma keep all of its services — its long-standing credit tools as well as its new tax preparation tools — free of charge for its users? By offering recommendations for products they think will suit you, and your financial habits.
"If you like a recommendation and choose a new product on Credit Karma, we usually get paid," Ken explained. The companies who offer products through the site pay Credit Karma what is essentially a finder's fee for recommending their service to you. However, Ken stressed that users are never pressured to make a purchase. "There is never an obligation to take our recommendations. We think this is far better for you than having you pay for our software."
In the end, the better Credit Karma knows you — and how you spend your money — the more personalized their recommendations can become. The goal is, of course, to only give you recommendations for products that you will not only be approved for but actually want or need, thus increasing the likelihood that you'll sign up for a recommended service.
Easy to Use From Sign-Up to Send-Off
When it comes to using the new tax preparation platform, current Credit Karma users will have the easiest migration, with a simple "Save my spot" button allowing them to get on the list to be first in line when the service goes completely live in January. Those without a Credit Karma account will need to create one to take advantage of the free tax services (and, of course, Credit Karma's signature credit score and monitoring services).
While exact details of the tax platform's user interface haven't been revealed yet, Credit Karma has indicated that the tax preparation platform will have a simple question-and-answer format for information gathering. According to the site, "Our easy interview format can help you figure out what information you need (or don't need) to provide."
After completing their returns, users will have the option to e-file — an increasingly popular method due to its usually quicker turnaround time — or go old-school and print, then mail, their return. "Once you've finished your return, you'll have the option to e-file it or print and mail it," says the site. "Either way, it's 100% free."
Multiple Return Types & Dozens of Forms Supported
Credit Karma Tax provides support for a wide range of consumers, estimating that as many as 90% of their users should be able to easily file through their new service. As the site states, "Most of you should be able to use Credit Karma Tax. Whether you're a 1040EZ, 1040A or 1040 filer, we've got you covered."
The platform will be able to support dozens of common tax and income forms, with a complete list of all the supported forms found in Credit Karma's Help pages.
Of course, though the platform will be able to support a wide range of forms, the service won't be able to handle everything at first. While small business owners will be able to use Credit Karma Tax to report income or losses from their business, including 1040 schedules C, E, and SE, the service won't be able to support full business tax filing at this time. As the site states, "Credit Karma Tax does not yet support businesses that need to file small business forms or businesses that file as an S corporation, C corporation, partnership or multi-member LLC."
In addition to business forms, the tax preparation software will have a few other limitations on the types of returns and forms it can handle. Specifically, the first edition of Credit Karma Tax will not support:
Filing multiple state or nonresident state returns
State filings without a federal return
Non-resident federal filing – 1040NR (non-resident tax return)
Foreign earned income credit
Non-dependent earned income credit
Married filing separately (MFS) in common law states
Estate and Trust income from K1 forms
Lastly, only users who are U.S. citizens will be able to file through Credit Karma Tax for the 2016 fiscal year, as the service does not support 1040NR for nonresident aliens at this time.
Credit Karma Wants to Be Your Personal Financial Assistant
Whether you pay for shipping, handling, add-ons, or just failure to read the fine print, it often seems there is no such thing as a truly free product or service. For those tired of getting to the end of their tax return only to find a giant fee where their refund should be, there is Credit Karma — and Credit Karma Tax.

"Our mission is to make financial progress possible for everyone," Ken described. "By better understanding your credit and your taxes, Credit Karma can become your financial assistant. We can monitor your finances, help you make good financial decisions and suggest better credit cards, loans, and insurance products."
Advertiser Disclosure
CardRates.com is a free online resource that offers valuable content and comparison services to users. To keep this resource 100% free, we receive compensation for referrals for many of the offers listed on the site. Along with key review factors, this compensation may impact how and where products appear across CardRates.com (including, for example, the order in which they appear). CardRates.com does not include the entire universe of available offers. Editorial opinions expressed on the site are strictly our own and are not provided, endorsed, or approved by advertisers.