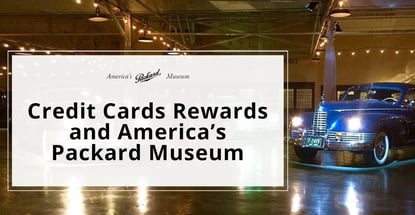 In a Nutshell: Credit card reward enthusiasts looking for a way to leverage their points for a novel experience may want to consider visiting America's Packard Museum in Dayton, Ohio. The museum holds the largest public collection of Packard automobiles and memorabilia in the world. Established in 1899, Packards were one of the first luxury car brands, offering truly customizable options to customers. The museum was created in 1992 by Robert Signom II. Today, Robert Signom III carries on his father's legacy as the museum's curator. As a nonprofit, America's Packard Museum's mission is to educate car enthusiasts and the general public about the rich history of Packard automobiles.
For much of the past year, many Americans have been hunkered down at home, working remotely, and only leaving the house when absolutely necessary due to the COVID-19 pandemic.
Thanks to the hard work of the medical community, several COVID vaccines are now widely available to people in the U.S. And, after being home for a year, people are beginning to plan their next vacation.
As credit card enthusiasts, we would be remiss not to point out how credit card rewards can come in handy in a number of ways when it comes to traveling. Cardholders can redeem points for lodging or dining discounts, or they can cash in miles to take advantage of great airfare prices.
Another option in many credit card rewards programs is to apply rewards toward a statement credit. Folks can then spend that extra cash however they please on their next trip.
Over the years, we've highlighted destinations and activities across the globe that we think may be appealing to the credit card rewards enthusiasts in our audience.
We recently learned about America's Packard Museum in Dayton, Ohio, and thought it would make a great addition to our ongoing list of sightseeing recommendations worthy of cashing in those hard-earned card rewards.
The museum is home to the largest collection of Packard automobiles. With the first Packards being produced in 1899, it was one of the first luxury car brands to hit the road. We recently spoke with museum curator Robert Signom III to learn more about the museum and how Packard's history in many ways parallels the history of the U.S. in the 20th century.
Creating a Tribute to the Packard Legacy
America's Packard Museum was founded in 1992 by Signom's father, Robert Signom II, who was an avid, long-time car collector.
"The museum had six cars on display when it opened," Signom said. "And now, approaching our 30th year in business and being open to the public we have over 55 cars on display and over 70 cars in our permanent collection."
The museum is located in an original Packard dealership that was built in 1917. While the museum is more commonly known as America's Packard Museum, Signom said it is officially designated The Citizens Motorcar Company — the name of the original dealership.
Signom's father was recognized for bringing The Citizens Motorcar Company back to life with its extensive collection of Packards in its Art Deco showroom, service department, and pavilion.
"We restored the showroom with a turntable, offices, service department, and parts departments to make it look like it might have looked in its original state, and to give the visitor a real experience a kind of time machine experience of what it would be like to go buy a Packard," Signom said.
He explained how Packards were truly one of the first high-dollar luxury cars.
"They were built to exacting specifications with excellent engineering and long-lasting styling and quality materials," Signom said. With their high-quality specs and durability, Signom said there are more Packards on the road today than Buicks and Fords from the same era.
"People around the country collect Packards, and some Packards from the '20s and '30s command very high prices," Signom explained. "When people find or restore Packards, they are seen as a commodity and closely guarded. A specific car might belong to someone for 20, 30, or 40 years."
The Largest Collection of Packard Automobiles and Memorabilia in the World
Signom's family has a long history with Packard automobiles.
"My grandfather, Robert Senior, and his family had a Packard right before the Great Depression," Signom said. "They lost it in the Great Depression. And my grandfather would always tell that story, famously and fondly."
In the late 1970s, shortly before Signom was born, his father found the exact Packard that his grandfather had sold during the Depression.
"My grandfather and father restored it, and it's in the museum's permanent collection," Signom said. "It's green on green, which is an unusual paint style. But one of the interesting things about Packard was it was the true bespoke automobile. If you were willing to pay for it, Packard was happy to do it for you."
Signom said he became more involved in the museum in 2019, after his father passed away.
"I wanted the museum to succeed and thrive," he said. "And I was asked by the board of trustees to be the curator of the museum. And I thought that that would be sort of an interim position until we found someone who could take over in a more meaningful way, but I've really enjoyed it, and I'm pretty good at it."
It seems that Packards truly run in Signom blood.
Today, America's Packard Museum is home to the largest public collection of Packard automobiles and memorabilia in the world. The cars on exhibit range from 1903 to 1956, Signom said.
"Car Collector magazine named the museum one of the 'Top Ten' Auto Museums in The United States, and the Society of Automotive Historians conferred the prestigious James J. Bradley Award upon the Museum for its 'exemplary efforts' in preserving motor vehicle resource materials," according to the museum website.
How the Museum Educates Students and Adults
The Citizens Motorcar Company is designated as a Section 501 (c)(3) organization under the Internal Revenue Code, and its mission is to educate present and future generations about the Packard Motor Car Company, its products, and philosophies.
Signom said that, while the museum illustrates the rich history of Packard automobiles, in many ways it is also telling the story of America from the early 1900s through the mid-1950s.
While the museum has been closed and events put on hold due to the COVID-19 pandemic, it normally hosts an array of events throughout the year, such as the annual Spring Fling Gala.
The museum can even be reserved for private events.
"Host your wedding, reception, awards ceremony, dinner dance, cocktail party or other special events at one of Dayton's hidden gems! We have venue space for 50-250 guests, large gatherings, and intimate affairs," according to the website.
America's Packard Museum also works with local and regional schools and clubs to teach young people about a variety of topics related to the history of Packards. It even demonstrates how Packard's history connects to modern-day applications with projects including rebuilding generators, 3D printing car parts, three-point perspective sketching, and metal shaping.
Packard passion spreads far beyond Dayton, Signom said.
"There is a thriving Packard automobile classics club in the United States," he said. "I would say we have approximately 5,000 members, and there are about 7,000 or 8,000 cars still in the U.S."
Signom said a number of international Packard clubs are thriving in places like Great Britain, Scandinavia, Australia and New Zealand, and Germany.
"Still to this day, Packard is seen as a symbol of excellence, which is evidenced by the fact that there are still so many classic Packard's on the road," he said. "And I think even people who don't know Packard or own Packard can visit the museum and enjoy seeing the variety of vehicles that Packard made in its 57-year history."
Signom said he would be remiss not to acknowledge some of the other great museums in Dayton, including the Dayton Art Institute, the Carillon Historical Park, and the Boonshoft Museum of Discovery.
"Dayton is a great place for museums," Signom said. "If you're visiting Southwestern Ohio, and you can spend a day in Dayton — visiting three museums in one day is very doable. And there are some excellent quality museums here."
Reopening to the Public in the Near Future
While America's Packard Museum has shuttered its doors just as so many businesses did due to the COVID-19 pandemic, Signom said the museum finally has a plan in place to reopen.
"Our reopening date is Saturday, June 5," he said. "We will be open from noon to 5 p.m. seven days a week, just as we have been over the past 28 years."
The price for entry will be $10 for adults and $5 for senior citizens and college students. Admission is free for high school-aged students and younger, Signom said.
Advertiser Disclosure
CardRates.com is a free online resource that offers valuable content and comparison services to users. To keep this resource 100% free, we receive compensation for referrals for many of the offers listed on the site. Along with key review factors, this compensation may impact how and where products appear across CardRates.com (including, for example, the order in which they appear). CardRates.com does not include the entire universe of available offers. Editorial opinions expressed on the site are strictly our own and are not provided, endorsed, or approved by advertisers.