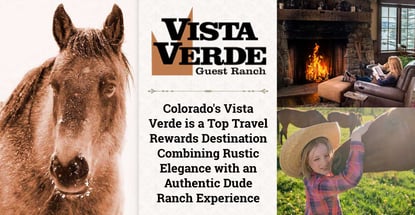 In a Nutshell: Around the turn of the 20th century, when trains started running regularly from coast to coast, travelers began visiting the ranches of the West to get a taste of frontier life. Today, nestled in the Rockies not far from Denver, Colorado, Vista Verde Guest Ranch continues that tradition for adventurers from all over the world. Vista Verde is a top travel rewards destination that combines the rustic elegance of an authentic dude ranch with some of the best outdoor activities in Colorado. The ranch is a year-round vacation gem and provides a perfect getaway for families, couples, and anyone searching for luxurious accommodations, a relaxing atmosphere, and the right mix of adventure and amenities.
When Congress passed the Stock Raising Homestead Act in 1916, it set the stage for the expansion of cattle ranching in the West. The act allowed ranchers to claim up to 640 acres, and a more modern form of the cattle industry began to emerge.
Meanwhile, in Colorado and other Western states, long days on horseback and nights under the stars became part of the romantic appeal of cowboy life for generations.
And that life was on full display at Vista Verde Guest Ranch, located north of Steamboat Springs, Colorado, on the western slopes of the Colorado Rockies. The ranch operated as a hay and cattle business well into the 1960s.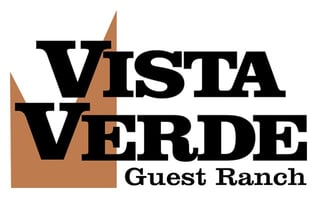 Only then did Vista Verde start to participate in another trend that had already taken a firm hold in Colorado — dude ranching. As far back as the late 19th century, urbanized Easterners — referred to as "dudes" by seasoned cattle hands — began traveling on newly available trains to Western ranches to experience what Teddy Roosevelt called the "strenuous life."
In the 1960s, Vista Verde's owners started taking in hunters and sporting enthusiasts and building cabins to accommodate them.
As cattle ranching continued to evolve in the 1970s, Vista Verde changed hands and began its transformation into the luxury destination it is today. It epitomizes the romance of the old West and offers outdoor adventure alongside modern accommodations, gourmet cuisine, and activities for families, couples, and everyone in search of a natural connection.
It's a combination that Vista Verde Director of Hospitality Stephanie Wilson calls "rustic elegance."
"We're luxury, but we're not like Ritz-Carlton luxury," she said. "It's just really plush ranch living."
Four Seasons of Fun for Families, Couples, and Adventure-Seekers
The centerpiece of the Ranch is the great room in its main lodge, which was added in 2009. The expansive space offers room for contemplation and socialization, and awe-inspiring views through massive windows. It also functions as a kind of nexus at Vista Verde, with the four seasons of the year marking transitions in guest experiences.
Summer is the family vacation season at Vista Verde. During the season, Wilson said that "beautiful, all-day guided hikes" transport guests to unparalleled mountain vistas and hidden-away favorite fly-fishing spots. Mountain biking excursions for both novices and experienced riders bring thrills and greater access to area trails, while kayaking and paddleboarding open guests up to lakes and rivers.
The ranch also offers an in-depth horsemanship program. Each participant is assigned a horse and learns the necessary skills to make riding at Vista Verde, an immersive and stimulating experience.
Each September, Vista Verde becomes an adult-only getaway. "We keep extending it because there are so many people who want to come," Wilson said. Honeymooners, those celebrating anniversaries, empty nesters, and even groups of girlfriends turn to the ranch for maximum relaxation.
In November, the ranch closes and begins sprucing up for the winter, with staff members returning in December for a two-week orientation session. And, then, the skiers come.
Winter guests enjoy backcountry skiing and snow tubing and have options to purchase lift tickets at nearby Steamboat Ski Resort, rent snowmobiles, or even go dog-sledding. During the holiday portion of the season, Vista Verde is open to families. At winter's height, it converts back again to adults only and then admits families again starting around the President's Day weekend and through spring break.
When mud season arrives with the April snowmelt, Vista Verde goes dormant and tries to dry out. In June, after another two-week staff orientation, the calendar starts up all over again.
Accommodations Encourage Relaxation and Connection After an Active Day
Vista Verde's maximum capacity is around 50 guests, and, depending on the season, between 50 and 70 staff members help make their experience incredibly enjoyable. And there's always at least a 1-1 staff-to-guest ratio.
"Staff orientations are intensive," Wilson said. "We are invested in getting our staff dialed in on perfecting their jobs and understanding what hospitality looks like the way we do it."
After enjoying their outdoor adventures and travels during the day, guests return to one of 15 cabins and lodge rooms. The three units located in the main lodge are especially popular in the winter with guests who don't want to put on boots before breakfast. The 12 unconnected cabins range from one to four bedrooms in size.
"They're all different, but they all have a hot tub out in the deck, which is awesome," Wilson said. "You see stars like you never see at home, but it's also therapeutic because when you're active on vacation like that, you might use muscles that you don't usually use."
During the summer, an outdoor pool welcomes sunbathers while a kid's hut helps little ones burn off energy. And Vista Verde is all-inclusive. That means everything from gourmet food and kids meals to wine and beer tastings, cooking and photography classes, and even year-round outdoor yoga sessions are included.
Another aspect of luxury at Vista Verde is based not on what's included, but what is left out.
"We don't have TVs or phones in the rooms — that's very intentional," Wilson said. "We try to get people to unplug. The beauty of it is that the lack of connectivity does such positive things for connections among our families and other guests."
Vista Verde: Inclusive and Immersive Engagement for Body and Mind
As a former cattle ranch, Vista Verde still has its roots in Western culture and cowboy lore. It even still has its share of ranch dogs and barn cats.
"The cats are supposed to be mousing, but they usually just try to interact with guests instead," Wilson said.
And, in keeping with the traditional dude ranch mission, Vista Verde exposes Easterners to the wildlife of the West. Animal experiences are integral to what Vista Verde has to offer, and guests can see everything from deer, elk, and moose to foxes, coyotes, minks, and ermines.
"We even have bald eagles hanging around that you'll see periodically," Wilson said.
Vista Verde's horse program is inspired by an enduring respect for the capabilities of the animals that, in many ways, made the West possible.
"A lot of places where you go ride, they just put you on a horse, slap him on the butt, and send you out the door," Wilson said. "And most of the time, the horse is just going to follow whoever's in front of him."
But at Vista Verde, the idea is to teach guests how to help the horses stay engaged and thrive.
"We teach our guests how to ride the right way, and our horses actually become better trained and happier," Wilson said. "When people give them the wrong signals, horses just kind of tune everything out, so we teach them how to have a better relationship with their horse which leads to a better riding experience."
Because Vista Verde boasts an indoor riding facility, that instructive and inspiring experience is available year-round. It's just one of those extra touches that make airport- and shuttle-accessible Vista Verde special.
"There's more to do than you can fit in," Wilson said. "We've really tried to make it so people can just come, put their bags away, and enjoy."
Advertiser Disclosure
CardRates.com is a free online resource that offers valuable content and comparison services to users. To keep this resource 100% free, we receive compensation for referrals for many of the offers listed on the site. Along with key review factors, this compensation may impact how and where products appear across CardRates.com (including, for example, the order in which they appear). CardRates.com does not include the entire universe of available offers. Editorial opinions expressed on the site are strictly our own and are not provided, endorsed, or approved by advertisers.