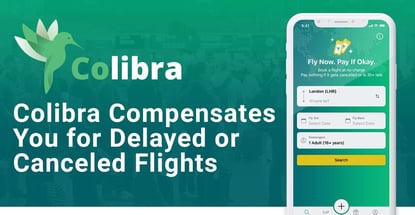 Our experts and industry insiders blog the latest news, studies and current events from inside the credit card industry. Our articles follow strict editorial guidelines.
In a Nutshell: Only one-third of three-hour flight delays are eligible for compensation under current laws and regulations. Colibra doesn't think that's right. Every flyer  who uses the Colibra app to book their flights will be compensated if their flight experiences at least a one-hour delay. Travelers can book their flight on the app with no up-front cost, and they are only charged for the flight after the plane lands at its destination. If the flight is delayed, flyers will receive compensation up to the amount of the airfare. There are no extra forms to fill out or emails that need to be sent to receive the compensation.
Flying is usually the most stressful part of traveling and vacations for me. It just seems like so much can go wrong.
Long lines at security and overall confusion on when and where you need to board the flight threaten your entire vacation. When it comes to flight delays and cancellations, you can do everything right and still end up waiting for a delayed flight or being stranded when a flight is canceled – and unable to go home.
All the compensation you get after hours of stress and waiting may be just a measly food coupon – if you even receive that. Usually, flyers just have to suck it up and wait at the airport until they can make it onto a flight.
Many people (myself included) believe you should be compensated for your time waiting in uncomfortable airport chairs. The founders of Colibra believe so, too.
Colibra is an app that allows flyers to book a flight with no risk. Flyers don't need to pay upfront for their flight. They are only charged after the flight lands at its destination without any delays.
Colibra's main feature kicks in if a flight booked through the app is delayed. Even if a flight is delayed by only one hour, the traveler will receive a message notifying them that they do not have to pay the full cost of the flight.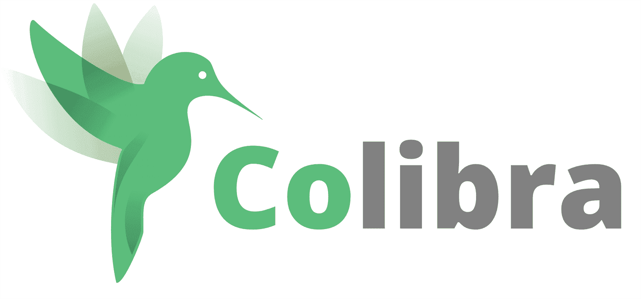 There are no extra hoops to jump through. All of the compensation and charges are delivered right through the app. Users can download the app either through Apple's App Store or on the Google Play Store.
Travel is continuing to increase following the pandemic. By booking with Colibra, flyers can protect themselves from the stress that comes with flying knowing they could be paid for it.
Colibra's developers were inspired to create the app after they realized there wasn't any app quite like it. No other service promised to adequately compensate travelers for the trouble they go through while flying through no fault of their own. Colibra was created to compete with the big players in the airfare and hotel space.
"We believe that even if we spend as much as we can, our top competitors will still have a much higher marketing budget than us," Kalojan Georgiev, Colibra Founder and CEO said. "We can use our budget in different ways, instead. We put money back into the pockets of flyers. That's why we believe that people will love us and go for it."
Protecting Flyers From Unexpected Setbacks
Using Colibra to book a flight is easy and doesn't require an upfront payment. Travelers choose the dates they want to fly on the app, find a price that looks good to them, and book the flight.
Colibra pays the upfront cost for the ticket and also purchases insurance. Colibra only charges the traveler after the plane lands. Even with the deferred charging system, flyers can receive credit card rewards from the purchase of the ticket.
Travelers who experience a delay of one hour or more will pay a discounted rate of the flight. Travelers pay nothing for the flight if it's delayed more than three hours. The same goes for cancellations.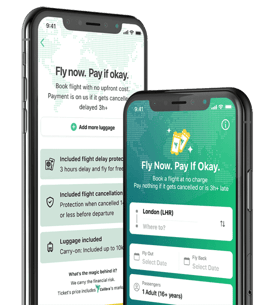 The app takes advantage of the Flight Compensation Regulation in the European Union that stipulated that travelers who face delays of more than three hours are entitled to compensation as long as extraordinary circumstances are not the cause of the delay.
The regulation states that flyers are entitled to up to 600 euros for their time. The downside is that the paperwork to claim the compensation is laborious and confusing. The process entails sending multiple emails across different organizations and court appearances to receive what travelers are entitled to.
Colibra takes care of all of that work automatically on its end so travelers don't have to worry. The money Colibra makes from the delay gets split up between other users who see shorter delays, with the company taking a small cut.
Even though the regulation only protects travelers whose flights are delayed three hours or more, Colibra still pays a portion of traveler fares as long as they are delayed at least an hour.
"Let's say you have a cancellation or a big delay, then you have to chase for your rights," Georgiev said. "The difference with Colibra is we do the chasing for you and give you cash. Airlines offer vouchers and it's very hard to deal with them to get anything else."
Planning an Entire Trip Through One Convenient App
Colibra's founder advertised the app as an all-in-one travel companion. Travelers can book their whole trip from the airfare to the hotel through Colibra with similar protections. 
When a traveler's flight is delayed more than three hours, Colibra will cover the cost of the flight and the first night of the hotel.
Colibra doesn't believe that travelers should have to pay for the hotel if the entire first day is ruined by a lengthy delay. Vacations are too expensive to not have protections on the flight or hotel.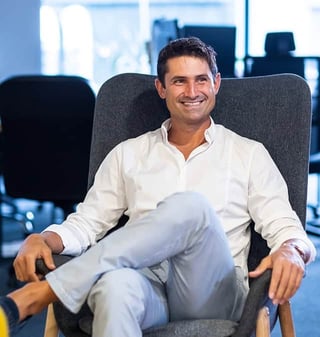 "Why would you go and buy your ticket upfront with unconditional rules, when you can pay for it only after your flight goes unhitched? And if there are issues, you don't even pay. That includes the hotel room. I would say it's a no-brainer for the customer."
Colibra is able to offer these protections through its partnership with airlines and hotels. The company earns a commission for every sale the app makes. 
The app requires a credit card and a preauthorization charge. But Colibra will not put a charge on the card until the traveler's flight has landed without delays.
The company wants to ditch the credit card and preauthorization requirements. Eliminating barriers is paramount to Colibra's mission.
The company is looking to enter a collaboration with Klarna, a fintech that provides payment services, including an interest free buy now, pay later option.
The Colibra-Klarna collaboration would mean people would be able to pay for a flight over time and without the need of a credit card. Klarna would decide eligibility for the service based on credit rating.
Key Partnerships That Add to the Experience
Colibra is proud of its partnership with the government of Dubai, which chose to work with Colibra from more than 1,000 other companies.
Colibra collaborates with the tourism sector of Dubai to promote travel to the country and encourages people to go visit. The company can work personally with local markets and integrate with airlines and the government in Dubai.
The program's success with Dubai has opened up doors to collaborate with other countries. The goal right now is to complete a partnership with Saudi Arabia. 
Colibra believes it can successfully work with other partners as it has with Dubai. The company hopes to find a partner with the U.S. to bring Colibra's functionality and passenger-first philosophy to the country's travelers.
"It's important for us to find proper partners everywhere, including the U.S.," Georgiev said. "These partners help us expand into new markets. It's a win-win for both sides because Colibra is customizable based on markets."