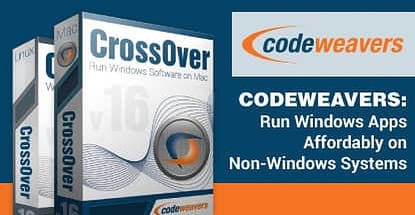 In a Nutshell: Getting Windows applications or games to function on non-Windows systems can often be a tricky and expensive process. A pricy Windows license, virtual machine, and programs like Boot Camp can get the job done for the most part, but the costs can be prohibitive — and that's without mentioning performance issues. For those facing this issue, software company CodeWeavers created a compatibility layer product called CrossOver, which enables Windows applications, including personal finance and accounting software, to run seamlessly on Macs, Linux systems, Android devices, and Chromebooks. It's all part of CodeWeavers' commitment to breaking down walls in the computing world, regardless of operating system. //
There's no disputing the sheer popularity and ubiquity of Microsoft's flagship operating system, Windows. For many of us, Windows was our first interaction with computers, and the user base for Windows applications is massive and widespread. In fact, Windows 7 is the world's most popular desktop computer operating system (and its closest competition is Windows 10).
Some of Microsoft's most popular applications, like Office, are now available on Mac licenses, but many applications still require a Microsoft license — or a virtual machine — to run on other systems. What's more, users often experience performance issues when running Windows on Apple hardware, which is particularly troublesome when so many businesses and individuals depend on Windows applications for necessary functions like accounting and keeping track of personal finances.
Fortunately, software company CodeWeavers has developed a commercial version of compatibility software Wine it calls CrossOver, which enables users to run Windows applications on macOS, Linux, Android, and other platforms. CrossOver users can run Windows applications and games on other systems as seamlessly as any native program without the need for Boot Camp, Parallels Desktop, or virtual machines. With more than two decades' experience, CodeWeavers and its expert developers are committed to providing a needed service at an affordable cost.

We recently spoke with James Ramey, President of CodeWeavers, who told us about the company's origins and how CrossOver has evolved into such a versatile product.
"We started out as a tech company with a mission of trying to get Windows applications to work on Linux, way back in the '90s, when everybody thought Linux was going to be the next big thing and take over the world," James said.
As it turned out, the market demand just wasn't there. However, the idea was ahead of its time.
"The thought of being able to run Windows applications on a variety of different platforms has proven to be true over the years and a service many people all over the globe really need," James said. "We've built partnerships with companies around the world, most supporting applications and distributing applications and even porting some applications. So, in some cases, we are the Mac version or Linux version of some companies' software."
CodeWeavers' Solutions Address a Global Need
For people fortunate enough to choose which machines they prefer and which operating systems to run, a problem like not being able to run a Windows apps on a Mac or Linux machine is a mere inconvenience. But for those with financial or other restrictions, these compatibility issues can be more significant. For example, China, Cuba, India, Indonesia, North Korea, and Turkey all have Linux-based "national operating systems." Citizens of these countries literally have no choice, and compatibility layers, like CrossOver, allow users to do more with the machines they have.
"The technology traverses borders, barriers, and languages. It's a tool people around the world utilize. In some markets, where it is predominantly Linux, either because of financial restraint or just because that's where the technology is, our tool is a very good fit to make the one or two Windows applications you need to run, actually work," James said.
In some cases, people will intentionally switch to a new platform, not realizing that an application they use all the time on their previous platform just isn't the same on a different operating system.
"Take Quicken, for example," James said. "The Mac version of Quicken is inherently different than the Windows version. And your die-hard, full-bore, committed zealot for Quicken cannot use the Mac version the way they want. So, we have thousands of users, who use our products strictly, and solely for that application alone, even though there are alternatives available to them."
One particular area in which CodeWeavers' solutions have been especially embraced globally is among users of financial software.
"Over the years, we've built out a market in the global financial world, particularly accounting," James said. "We support a number of different accounting packages, like Talley in India, TurboCASH in South Africa, Quicken here in the United States, and Banana Accounting in Switzerland. These are just some of the companies that are utilizing our software in a number of different ways. It's safe to say that in almost all corners of the globe, there is somebody using our software."
How it Works: CrossOver Adds a Seamless User Experience
The aforementioned cost and performance issues that come with using Windows applications on Mac computers is what irk users most, especially since they've already spent money for a Windows license. These performance problems seem to persist whether people use a virtual machine, Boot Camp, or another option.
What makes CrossOver such an appealing option is that once installed, users open Windows applications natively, just as they would any other program, right from the dock, and they're off and running. No lag time, no graphics compromise; CrossOver flawlessly runs Windows software.
"Essentially, what CrossOver does is translate between the application and the operating system," James said. "To the application — be it Quicken or TurboCASH, or anything else — it essentially looks and smells and feels like I am running on the Windows platform. It doesn't know any differently. So, when it says I need a window to be brought up, it makes that command. Our software intercepts that, translates what that means to the various operating systems, whether it's Mac, Linux, or Android, and that information is then passed to the operating system, which then does what it is asked to do.
"What makes our software a little unique, especially for people coming from the Windows platform, is that it acts like a virtual computer — a very secure virtual computer."
At a time when malware is more pervasive than ever before, it's important to stick to software and services that keep your data secure. In the third business quarter of 2016 alone, 18 million new malware samples were captured — an average of nearly 200,000 each day. Fortunately for users considering CrossOver, one enormous value add is its rock-solid security.
"Our software acts in very much the same way as an antivirus quarantine box," James said. "Crossover doesn't let anything from the outside inside that box. It is not susceptible to viruses or malware. Even if it were infected in some way — and we have never been infected in 21 years — it couldn't get out of that box.
"Also, it doesn't use a lot of space or processing power. It keeps your Mac or Linux computer running optimally without the overhead of a dual operating system environment, while at the same time acting in a normalized manner for both the operating system and the application, so everything is kind of running as it thinks it should, and at the same time, it is not bogging down your computer."
Two-Week Free Trial, Affordable Pricing & Robust Support
The internet has significantly empowered consumers. Most people spend a lot of time on comparing products and carefully reading user reviews before making a purchase. Still, we don't get a lot of opportunities to actually try a product before we lay our money down.
CodeWeavers, however, offers users a fully functional 14-day free trial that doesn't even require putting a credit card on file. After a 90-second download, you're on your way with CrossOver.
"People are more than welcome to come to the site and try it before they buy it to make sure it does what they want it to do," James said. "They're welcome to call our support people, and they'll walk them through any questions they might have. We have a pretty good tutorial section with video tutorials on our website that gives people step-by-step instructions on how to do this."
Another attractive aspect of CodeWeavers' solution is the price point. Users pay $59 for a year's worth of CrossOver updates and some of the most robust support in the industry.
"For one year, we provide people with all software updates, upgrades, and help desk access," James said. "If they have a question, they can call us. After the year, they can renew their support, but the software doesn't shut down. We are not imperialist like that. We want to make sure people can use the software; they just no longer get support. However, they are welcome to renew support for $29.95 for year two and beyond."
When asked why it was important for CodeWeavers to offer CrossOver at such an attractive price point, James told us, "Our CEO is not looking to build an empire; he's looking to provide a service that he thinks is needed in the world today. And that is allowing people to have the freedom of choice when it comes to their operating system. We're far more idealistic than we are greedy. We're pretty focused on that, and we've been that way forever."
Expansion into New Markets Broadens Its Scope of Solutions
Though it's been providing essentially the same service for decades, CodeWeavers understands technological innovation is showing no signs of slowing, and its developers are constantly hard at work in ensuring CrossOver can be applied to more devices. In November of 2017, for example, CodeWeavers announced a beta of CrossOver for Chrome on Android devices.
"This is our first Windows title on the Android play store," James said. "Soon, users will be able to download and install an actual Windows application onto their Chromebooks. That's never been done before. That's kind of a big first for us. We are really excited about that because it's uncharted ground."
While it's hard to say just how much this will catch on, CodeWeavers knows consumers around the world are looking for more alternatives in how they use computers. And this desire for versatility puts the company in an ideal position to make a difference.
Advertiser Disclosure
CardRates.com is a free online resource that offers valuable content and comparison services to users. To keep this resource 100% free, we receive compensation for referrals for many of the offers listed on the site. Along with key review factors, this compensation may impact how and where products appear across CardRates.com (including, for example, the order in which they appear). CardRates.com does not include the entire universe of available offers. Editorial opinions expressed on the site are strictly our own and are not provided, endorsed, or approved by advertisers.