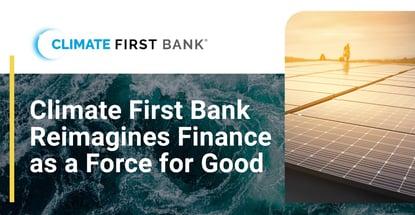 Our experts and industry insiders blog the latest news, studies and current events from inside the credit card industry. Our articles follow strict editorial guidelines.
In a Nutshell: Climate First Bank is the first financial institution in Florida dedicated to sustainability. Its values-based approach to banking incentivizes loan customers to embrace solar panel installations and construction retrofits designed around green-building standards. The institution's Regeneration Checking product also allows account holders to support a carbon drawdown initiative. Climate First Bank's dedication to responsible environmental, social, and governance principles ensures it always acts for positive change.
In his bestselling 2017 book "Drawdown," entrepreneur and activist Paul Hawken outlined a practical plan for reversing global warming and approaching zero carbon status.
The book and its sequel, "Regeneration," draw on the work of Hawken's nonprofit advocacy group Project Regeneration, which has inspired activists and stakeholders worldwide to work for environmental sustainability. Project Regeneration argues that public and private cooperation is necessary to reduce carbon, and achieving sustainability goals is part of a broader effort for social justice.
Florida banker Ken LaRoe is among the many people Hawken has inspired. LaRoe had already built two successful banks in the Central Florida market when the publication of "Drawdown" inspired him to try for a third. This time, LaRoe created a financial institution that helped Florida citizens and businesses work toward the goals of Project Regeneration.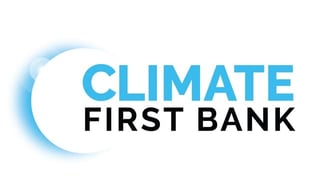 In 2021, Climate First Bank opened in the Florida Gulf Coast city of St. Petersburg. A branch in the Central Florida town of Winter Park soon followed.
Those branches are part of a digital-first organization that has been carbon neutral since its founding. Climate First Bank also offers lending products that fund drawdown projects in Florida, and its account holders can actively contribute to Project Regeneration.
"Hawken's books present a road map for carbon drawdown that consumers and small business owners can use in their daily lives," said Climate First Bank Senior Vice President and Chief of Staff Chris Cucci.
Climate First Bank is a certified B Corp that reimagines finance as a force for good. The institution works within the United Nations Sustainable Development Cooperation Framework and aligns with local, national, and global nonprofits working for environmental and social change.
"We help consumers and businesses execute on Project Regeneration's goals every day," Cucci said.
Solar Loans Reduce Conversion Costs
Climate First Bank maintains that sustainability goals need to be cost-effective to gain wide adoption. For example, the bank strives for customers to break even within seven years on the cost of solar panel installations with its Residential Solar Loan products. Borrowers accomplish that by reducing current power bills as close to zero as possible.
Climate First Bank offers loan terms that range from seven to 25 years to accomplish that goal. Flexible terms allow customers to spread out the costs to break even.
The institution also observed that nonbank solar lenders in Florida tend to charge an exorbitant dealer fee — up to 25% on average — to solar installers. Essentially, Cucci said, it's an upcharge on the cost of an installation.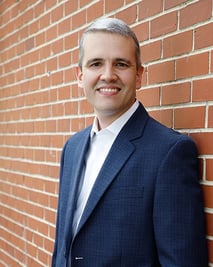 "And, of course, the installer transfers cost to the consumer, which decreases the affordability and feasibility of the project," Cucci said.
Climate First Bank currently offers a 3.99% APR for 25 years and no dealer fees on their residential solar loan product. That reduces the consumer's front-end cost and makes achieving their goals more realistic.
The bank accounts for changes in federal and state tax benefits associated with solar. Although tax credits may change from year to year, they contribute significant incentives to solar projects in Florida.
Climate First Bank's feasibility data originates with installers using a formula to consider sunlight availability, roof size, and other factors. Climate First Bank vets Florida's installer community and maintains a growing list of approved vendors operating across the state.
"We look at their history and project portfolios to get a feel for the quality of their work so we can ensure our customers are working with reputable installers," Cucci said.
Incentivizing Green-Building Standards
Climate First Bank follows the same playbook for its commercial loans and offers advantageous financing for solar installations and sustainable commercial real estate. It also works on the residential and commercial side to fund energy-efficient construction and renovation projects.
Homeowners can use Climate First Bank's home equity lines of credit to make energy-efficient improvements and upgrades. Financing for energy improvements in commercial buildings is also available. Climate First Bank provides up to 90% financing for sustainably certified residential, multifamily, and commercial construction projects.
Climate First Bank is a member of the U.S. Green Building Council (USGBC), a nonprofit that promotes sustainability in building design, construction, and operation. The bank uses its Leadership in Energy and Environmental Design (LEED) standards as sustainability benchmarks. Its projects also adhere to Florida Green Building Coalition standards.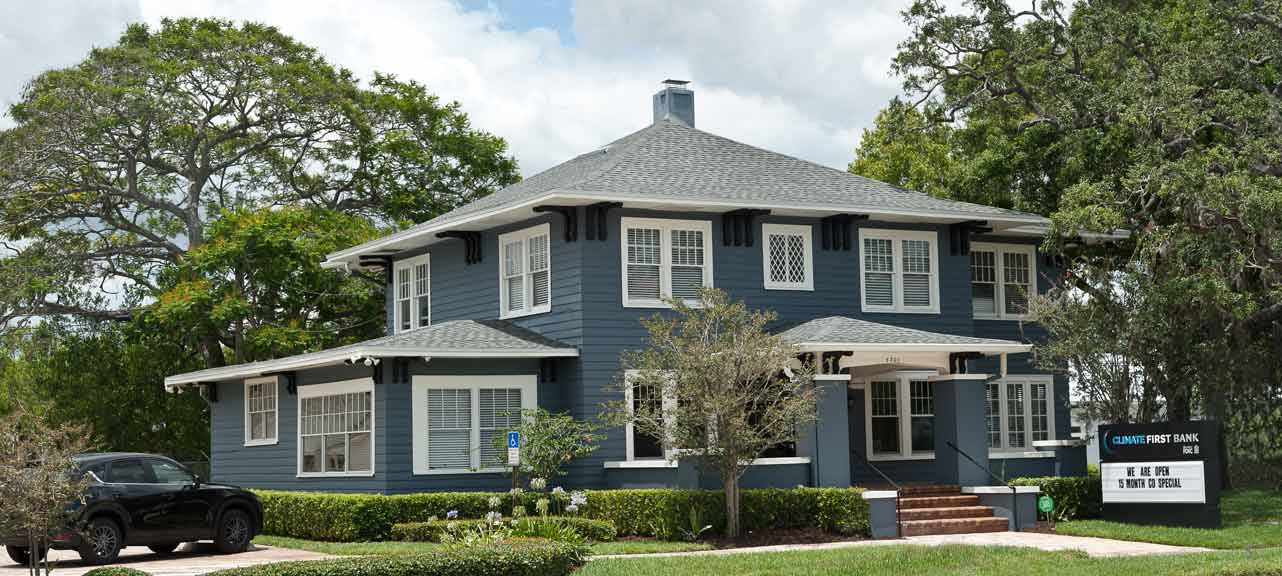 "We look at components such as insulation, windows, heating and cooling features, and water efficiency features," Cucci said. "When people are willing to enhance those features according to standards, we'll give them preferable loan terms, typically a higher loan amount and a lower interest rate."
Commercial building owners have access to an additional sustainability option through Climate First Bank — favorable terms on the installation of electric vehicle (EV) charging stations. Depending on the type of business, a charging station may directly benefit the owner or tenants or draw additional customers.
As more consumers choose electric vehicles, retail properties near major highways become better candidates for EV charging installations. Climate First Bank's lending initiatives can create those win-win situations for consumers and the environment from top to bottom.
"We incentivize people to do things that will positively affect the environment, reduce their utility expenses, and likely increase the value of their property," Cucci said.
Partnering with Sustainability Stakeholders
Climate First Bank takes its roles in environmental sustainability and community development seriously. Its chief educational vehicle is its Regeneration Checking account, which allows every customer to be a partner in its green initiatives.
"New account holders receive a free autographed copy of Paul Hawken's book, and when they set up direct deposit, we donate $100 to Project Regeneration," Cucci said. "Plus, all the interest the account generates is swept to that organization."
The Project Regeneration affiliation exemplifies Climate First Bank's approach to forming alliances for social change. As a member of the U.S. Green Building Council and the Florida Green Building Council, Climate First Bank helps promote sustainable construction alternatives through its loan products. As a certified B Corp, it pledges to work for a more inclusive, equitable, and regenerative economy.
The bank is a member of 1% for the Planet, an international organization whose members contribute at least 1% of their annual sales to environmental causes. Climate First Bank donates 1% of its gross sales from select products to grassroots environmental nonprofits. It is also a member of the Partnership for Carbon Accounting Financials, which enables financial institutions to assess and disclose greenhouse gas emissions of loans and investments.
Climate First Bank aims to align its lending and investment portfolios with net-zero emissions goals and provide banking services to individuals and enterprises that deliver social empowerment, environmental regeneration, and economic prosperity.
Back home, it strives to promote financial inclusion positive community impact. About 40% of the bank's loans, and nearly 50% of its deposit dollars, align with environmental, social, and governance standards.
Meanwhile, Climate First Bank's social progress mission attracts a nationwide customer base. And the digital-first bank continues to streamline services and extend its influence.
"When you bank with us, you know your money finances community projects with positive environmental and social impact," Cucci said.