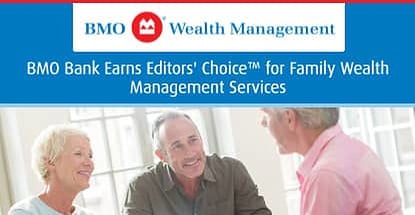 In a Nutshell: A full two centuries ago, nine of Montreal's most prosperous merchants came together to build Canada's first bank. Today, the Bank of Montreal (BMO) continues to be one of North America's largest banks, servicing millions of clients around the world. Based on its entrepreneurial legacy, decades of real experience, and comprehensive offerings, BMO has earned our Editors' Choice™ Award for its high-net-worth Family Wealth Management services. Regardless of your level of wealth, BMO's experts can help you build and protect your family's finances, plan for important family goals, and prepare to tackle any of life's transitions with efficiency and aplomb. //
In the early days of 1817, a group of nine men gathered in what was then the small town of Montreal, in the young British colony of Canada. Led by Scots-Quebecer businessman John Richardson, the group represented many of the town's most prosperous businessmen and its diverse commerce, including the burgeoning flour industry and ever-booming fur trade.
To lend a hand with the establishment and growth of the economic foundation of their new home, the group of merchants decided to quite literally bank on the future prosperity of Canada. Together, they signed the Articles of Association that officially formed Canada's first bank, the aptly named Bank of Montreal.
Over the next two centuries, the Bank of Montreal contributed heavily not only to Canada's economic development, but also helped establish the nation's infant transportation and communication industries by financing Canada's fledgling railway systems and funding its first telegraph service.
Now, in 2017, BMO celebrates an extraordinary 200 years of banking. The long-lived organization, which has been a constant presence as Canada transformed from colony, to province, to a country in its own right, still reigns today as one of the 10 largest banks in North America, with nearly 1,500 branches across the continent and millions of customers around the world.
"As we celebrate our 200th anniversary this year — it's something we're really proud of achieving. Our longevity is a great sign of our strength and stability, and not many institutions can say that," described Darrel Hackett, President of BMO Wealth Management, US. "But, at the same time, for us, it's less of a look back on the last 200 years, and more about using this year to consider the next 200 years, and where we want our business to be."
True to the future-thinking spirit of its pioneering founders, BMO's modern-day leadership keeps the focus on continuously making the organization a better business, both for the bank and for its clients. At BMO, that means forming lasting relationships with every client, constantly adapting to the changing landscape, and keeping the vision of its founders alive.
BMO applies this dedication to every facet of its organization, earning them an array of awards and recognition. And now, adding to its omnibus of praise, BMO's renowned insight and unique perspective have earned Canada's oldest bank our Editors' Choice™ Award for its high-net-worth Family Wealth Management Services, which helps families grow and safeguard their wealth — for now, and for the future.
Helping Families Across the Wealth Spectrum Lead Better Financial Lives
With two centuries of experience under its belt, BMO has had plenty of time to discover consumers' needs and develop a vast selection of products and services designed just for them. Indeed, BMO can help just about any family better manage, invest, and protect their finances, regardless of their level of wealth.
"We work with clients across the entire wealth spectrum, whether they're just starting to invest, or if they have incredibly sophisticated needs and a broad portfolio," said Darrel. "Specifically, our BMO Harris Financial Advisors serve clients up to about $1 million; BMO Private Bank largely services clients from $1 million to $30 million; and our ultra-high-net-worth business segment services clients above $30 million in liquidity."
Indeed, no matter what stage of life you and your family are at, BMO can help you make the most of your wealth. From developing a wealth plan based on your family's personal dreams and objectives, to helping you transition your wealth to the next generations, BMO Wealth Management can make it simple to get, and keep, your family's finances on track.
Create a Foundational Plan Dedicated to Your Specific Goals
The first step of any financial journey with BMO's Wealth Management services, of course, starts simply by making contact, whether by phone, online, or by heading into the nearest office. Then the conversation — and the relationship — begins.
"Regardless of the level of wealth our new client has, the first thing we do is spend time to authentically understand their present situation," Darrel explained. "That's job one for us, and that's how we begin to differentiate what we do. We genuinely want to understand what's important for our clients, and get to know their goals and dreams."
Balancing your family's specific objectives with a thorough assessment of the markets and economy, BMO's advisors will help you develop a customized plan. By taking account of potential market volatility and other real-world factors, your new financial plan will be more able to adapt to — and survive — the inevitable changes that come with life.
"We work with each client to create a customized plan that supports their goals, and aligns with their values and desires," said Darrel. "Then, we focus on helping them execute that plan, making progress toward reaching those goals and dreams, and continuing to improve upon their plan as necessary over time."
Build Personalized Strategies to Grow Your Wealth Over Time
At the heart of any well-developed wealth plan should be a solid strategy for growth, as stagnant finances can quickly disappear. Your growth strategies also need to be as dynamic as the markets they're based upon, able to adapt to changes both economic and life changes. To accomplish this, BMO's advisors don't simply help you create a plan — they help you maintain that plan so you can continue to grow your family's wealth.

"We form relationships with our clients at BMO. We don't just send them away with a plan, we also try to help them anticipate their future needs, as things unfold dynamically in their lives. Then, we can update their plan accordingly," Darrel described. "We look at it as our role to help them anticipate and consider things they may not actually think about on a daily basis."
Posssessing a diverse range of expertise under its umbrella, BMO Wealth Management can accommodate and integrate different solutions for nearly any financial situation a client may encounter. At the same time, advisors are cognizant of existing relationships and work to maintain the history clients build with the individuals with whom they work. As clients grow, BMO works to grow with them.
Learn Key Ways to Preserve Your Wealth for the Future
No matter your level of wealth, it's important to understand and follow safeguards for protecting that wealth, whether for your future or for future generations. At BMO Wealth Management, preserving your assets includes everything from tax and estate planning to comprehensive investment strategies, all designed to protect what you've built.
In BMO's own words, "You have plans for your wealth and want to see them come to life. Whether you're approaching your retirement years or starting over on your own, we can help protect your wealth so you can achieve all that's important to you."
Design an Effective System to Manage Important Life Transitions
Among the handful of things guaranteed to each of us in life is the promise that we will undergo many changes. We all endure many transitions and, as with most things, those transitions can be made significantly more endurable with the right preparation.
The same is true of financial transitions. Whether it's the personal and financial adjustments that come hand-in-hand with retirement, or the intricate process of establishing a lasting family legacy for the next generations, you need a plan to tackle important financial transitions.

BMO's experts can help plan and prepare for life's expected — and unexpected — transitions, helping your family reach the next stage of life. This includes helping your family get on the same page, right from the start, to avoid hurdles that can make a difficult transition even harder.
"Clients, even within the same family, might have a rather false assumption that they understand what's important to other family members. One person might have a priority to leave money for the next generation, while another wants to contribute to important charities," Darrel explained. "When you go through the right wealth planning process, we can help facilitate the process and make sure each family member understands what's important to everyone else."
Achieve Your Family's Financial Goals with BMO
When John Richardson and his compatriots came together in 1817 to form the Bank of Montreal, they likely had every intention their new organization would be part of the foundation of the growing city. But even they probably couldn't have foreseen the two centuries of influence and prosperity their new bank has maintained — or the promise of two more centuries to come.

Either way, BMO has become a cornerstone of North American finance, helping millions safeguard and grow their money. And BMO's dedication to its clients, legacy of service, and extensive experience has earned Canada's first bank our Editors' Choice™ Award for its high-net-worth Family Wealth Management Services.
"As the industries that we are in — and, more importantly, our clients — continue to change and evolve, we're really focused on making sure that we're there for them," said Darrel. "I'd also say that with people who are getting started, it's never too early to engage a good advisor who can give you perspective on your goals and a good way to get there."
Advertiser Disclosure
CardRates.com is a free online resource that offers valuable content and comparison services to users. To keep this resource 100% free, we receive compensation for referrals for many of the offers listed on the site. Along with key review factors, this compensation may impact how and where products appear across CardRates.com (including, for example, the order in which they appear). CardRates.com does not include the entire universe of available offers. Editorial opinions expressed on the site are strictly our own and are not provided, endorsed, or approved by advertisers.