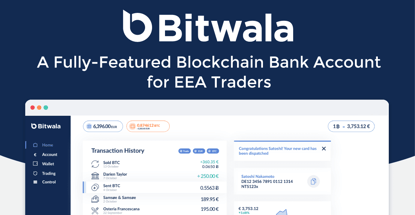 In a Nutshell: Bitwala offers residents of 31 European Economic Area (EEA) countries access to a fully insured bank account that combines with a Bitcoin wallet and exchange to offer real-time trades. Account holders never have to hand over their private keys to the exchange and can access the proceeds from sales instantly. The Bitwala Mastercard prepaid debit card provides consumers constant access to their funds online or at more than 30 million locations around the globe.

For much of the last decade, Europe's debt and banking crisis has forced consumers to stash their cash in mattresses — a practice made famous in America in the 1930s during the Great Depression.

These same economic fears helped create a surge of interest in cryptocurrency throughout the European Union. But that demand also caught the attention of crypto thieves and other criminals who exploit security flaws in many popular exchanges and leave with millions in coin or untraceable fiat currency.

The most recent example is the more than $190 million CAD owed to customers of QuadrigaCX. While most users thought the exchange insured their funds, their monies were instead stored in cold wallets with the private keys known only to the now-deceased owner, Gerald Cotten.

This is just one of the flaws found in the common practice of sharing private keys with an exchange — something Bitwala founders knew needed to be fixed to create a truly secure service.

But the Germany-based Bitwala team took its obsession with crypto convenience one step further by linking its secure exchange to a fully insured bank account and Bitcoin wallet, which allows account holders to pivot between crypto and fiat holdings with 24/7, real-time access.

"We're always trying to connect Bitcoin with the real world as much as possible," said Ben Jones, Bitwala's CTO and Co-Founder. "We realized that the only way we could fully do this is to create a Bitcoin bank account."

Account Holders Receive All the Benefits of Modern Banking

Bitwala truly is the bridge between consumers and the crypto economy. Account holders within the 31 EEA countries who sign up for the German bank account receive all the benefits typically associated with modern banking — including low fees, direct deposits, and automatic recurring payments.

But where the Bitwala Bank Account separates itself from the pack is its ability to connect account holders to a Bitcoin exchange, where they can buy and sell the popular cryptocurrency in real time from their Bitcoin wallet.

This is especially handy for users who sell Bitcoin and need fast access to the proceeds. Instead of waiting up to three business days for the funds to transfer, as most exchanges require, Bitwala users can access their money for a 1% fee as soon as the sale completes.

"Our products are unique because, through most exchanges, you have to choose to keep your money in a tradeable state — living on the exchange — or in a spendable state in your wallet or your bank account," Jones said. "With us, you get the best of both worlds. Because there's exchange functionality built into the bank account, your money can be both spendable and tradeable."

Users Never Hand Over Private Keys to the Exchange

Bitwala stands as one of the most flexible crypto banking accounts in the world, providing a level of security for your fiat currency that other exchanges lack.

That includes protection up to €100,000 in deposited funds by the German Banking Deposit Protection Scheme. And, because, the account holder is the only person who holds the private keys, all Bitcoin holdings are protected.

That policy alone is enough to minimize a consumer's exposure to issues like those currently experienced by QuadrigaCX users who shared their private keys with the exchange to create their accounts.

"Bitwala is set up in such a way that you're the only one who ever has access to your cryptocurrency," Jones said. "That means we cannot take it away from you and you always have access to it, even if, theoretically, the wallet got hacked, we went bankrupt, or anything like that."

Jones noted that Bitwala's prime objective is to provide users peace of mind that other cryptocurrency exchanges can't offer.

"In this industry, security is a massive issue," he said. "There are a lot of funds being lost or stolen. We try to work around that by making sure the user is the only person with access to the private keys."

Bitwala Mastercard, Mobile App Extends Functionality

As Bitwala's CTO, Jones wants to make sure the company's technology is on the cutting edge. That's why the company constantly adds to its offerings to keep the modern banker — and crypto trader — happy.

This includes its Mastercard debit card offering, which is free to all account holders and automatically links to the user's bank account. The card's 3D-secure feature offers an extra layer of security in the form of a private code for use when shopping online.

And with more than 30 million retailers accepting the card worldwide, account holders can truly access their funds whenever and nearly wherever they want to.

Bitwala account holders also have access to a fully secured mobile wallet that stores all Bitcoin holdings for later use. Until late March 2019, Bitwala customers had to access their wallets and accounts through the company's desktop interface.

That's because Bitwala found that its customers made most of their trades through a traditional web browser, so the company prioritized its desktop experience at launch. But as consumer demand for the service grows, so does the need for multiple platforms.

Enter the Bitwala Banking app, which is available on all mobile platforms and offers most of the functionality that users enjoy from the desktop experience on mobile screens.

This includes access to your bank account and the Bitcoin exchange for fast, easy trades and instant access to proceeds in your fiat currency.

Continuously Connecting Bitcoin to the Real World

In less than six months, Bitwala has experienced enough growth that the company is already talking about expansion — in both the banking and cryptocurrency sectors. Jones said that 2019 is already slated to be a monumental year for the company, with even more growth projected into 2020 and beyond.

"We want to add more cryptocurrencies in 2019," Jones said. "We currently offer just Bitcoin and that's because everything we do is approved through the German regulatory bodies. We also want to offer B2B accounts."

Those business accounts would offer affordable payment processing opportunities to businesses in a space where "affordable" and "cryptocurrency" aren't typically found in the same sentence.

"We feel like we are the best way to manage your money in cryptocurrency and fiat," Jones said, "but in the future, we want to be the home of digital assets."

Jones noted that when new tokens emerge, such as security tokens or tokenized equity, the Bitwala platform is in the best possible position to capture the market and be the gateway for the end-user.

By 2020, Jones said Bitwala's goal is to acquire its own banking license, instead of its current licensure through partner solarisBank. That would allow the company to provide more services and better rates to an already well-priced platform.
Advertiser Disclosure
CardRates.com is a free online resource that offers valuable content and comparison services to users. To keep this resource 100% free, we receive compensation for referrals for many of the offers listed on the site. Along with key review factors, this compensation may impact how and where products appear across CardRates.com (including, for example, the order in which they appear). CardRates.com does not include the entire universe of available offers. Editorial opinions expressed on the site are strictly our own and are not provided, endorsed, or approved by advertisers.