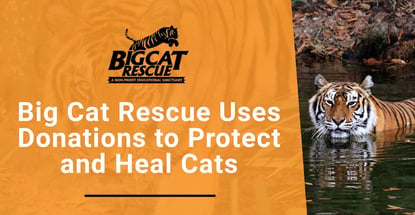 Our experts and industry insiders blog the latest news, studies and current events from inside the credit card industry. Our articles follow strict editorial guidelines.
In a Nutshell: Big Cat Rescue provides big cats a safe space and advocates for the end of unethical cat ownership. Big Cat Rescue owns and operates an animal sanctuary where it houses around 50 cats at a time, treating them and protecting them from outside threats. The nonprofit organization relies on donations to shut down big cat exploiters and continue operations at the sanctuary. Big Cat Rescue is raising awareness for the Big Cat Public Safety Act that will give cats the protection they need from abusers.
The husband-and-wife duo Howard and Carole Baskin know what it takes to protect and care for big cats. Before Carole headlined her own TV show in which she investigated and exposed animal abusers, she built Big Cat Rescue to save and rehabilitate cats. She had already started building a following of fans and supporters with her recorded YouTube videos featuring her signature opening line "Hey all you cool cats and kittens." 
The sanctuary started almost accidentally in 1992, when Carole, Big Cat Rescue's Founder and CEO, bought a bobcat to save it from a taxidermist. Carole could not release the bobcat because the animal had been declawed and raised by people.
When Carole went to Minnesota thinking to acquire a playmate for the bobcat, she discovered she was at a "fur farm" where most of the cats would be slaughtered to make fur coats. To prevent this, Carole bought all 56 bobcats and a Canadian lynx the farmer had and opened her own cat sanctuary in Tampa, Florida.
The number of cats Big Cat Rescue took in grew rapidly soon after as people with exotic cats asked the sanctuary to take them off their hands. While the Baskins have tried to accommodate every cat they can, their goal is for there to be no need for cat sanctuaries anywhere.
"At every juncture along the way, I thought I could fix this," Carole said. "It's turned out to be a 30 year endeavor to try and stop the captive breeding and trade of these animals."
The Baskins have expanded from rescuing and housing big cats to seeking to end their abuse. Through grassroots, political, and online engagement, Howard and Carole Baskin make it their mission to end the unethical ownership of big cats not just in America, but all over the world.
Building a Sanctuary for Cats to Live Safely
Big Cat Rescue's sanctuary spans 67 acres in the humid, subtropical climate north of Tampa. The sanctuary usually cares for about 50 cats at a time, and it's currently home to eight tigers, a leopard, and a jaguar. The sanctuary opposes human interaction with the cats as they are wild animals and should not be treated like pets.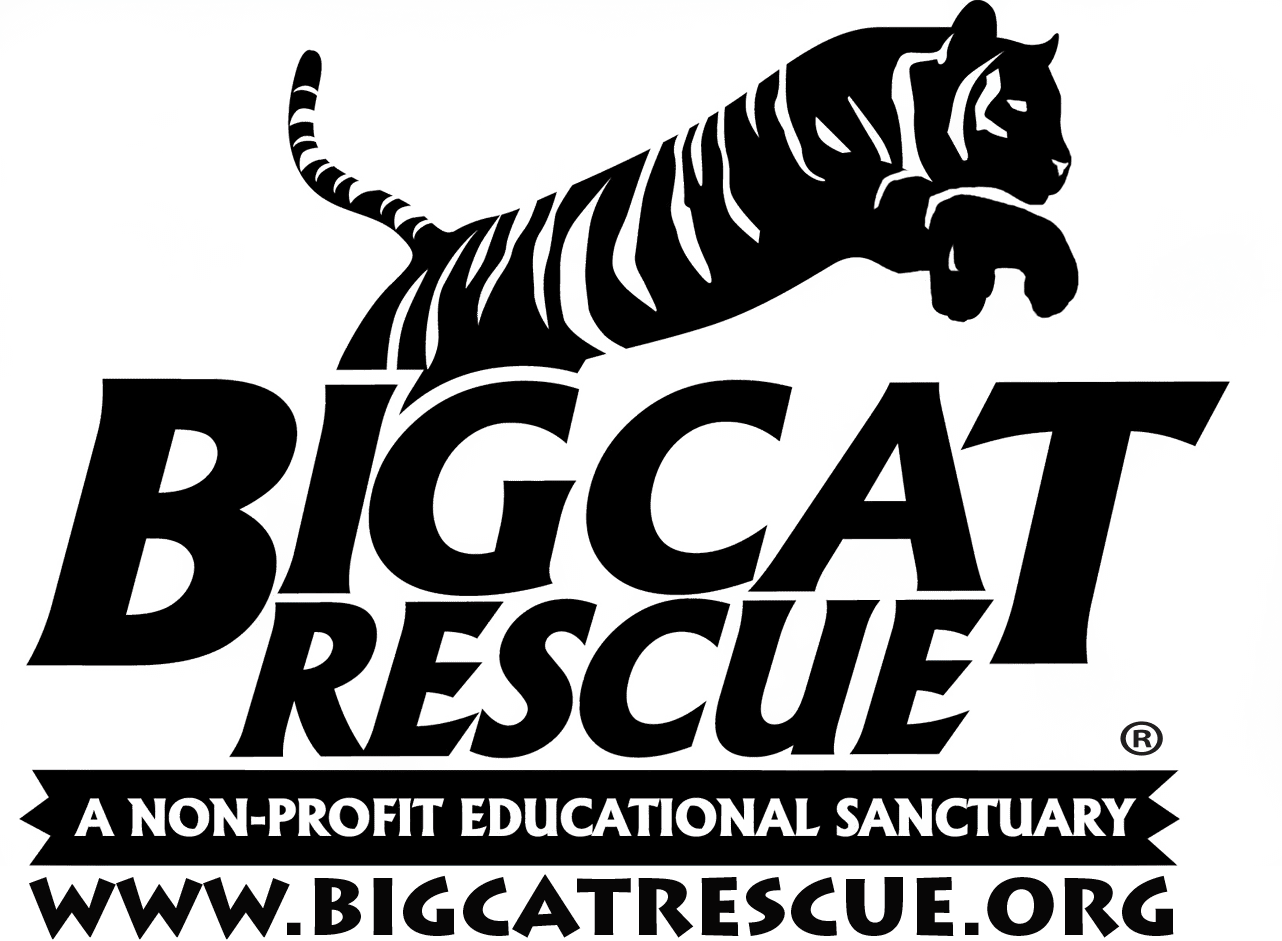 When the sanctuary first opened in the 1990s, it was surrounded by undeveloped rural space. But, that is no longer the case. The giant mass of land is there to create a buffer zone between the tigers and increased development in the area.
"Now we're surrounded by highways and malls and shopping centers," Big Cat Rescue Advisory Board Chairman Howard Baskin said. "Trying to keep construction at least 10 feet from our wall is critical to our mission."
The Covid-19 pandemic forced the sanctuary to get creative in raising and spending the money to care for and rehabilitate cats. Public tours have been suspended since the pandemic began, and Big Cat Rescue only accommodates private tours for donors by request. 
For those who still want a look at the cats, the sanctuary posts footage online from live cameras throughout the area to help raise awareness and gain exposure for its work.
Big Cat Rescue's hospital is state-of-the-art. The Baskins said its hospital is equipped to do every type of procedure, including ultrasounds.
Big Cat Rescue maintains that it is transparent about its operations. This doesn't just include finances, but also in how they take care of cats. In fact, people can watch veterinarians online as they perform live surgeries.
Developing Grassroots Efforts to Create Awareness
Big Cat Rescue relies on its fans and supporters to continue its operations and to stop illegal trade and abuse of animals. The sanctuary is almost entirely funded through private donations, with no support from the government.
Grassroot efforts are taking place all the time to stop traveling shows with cub petting. Big Cat Rescue puts together campaigns to have people email and call event organizers urging them to cut ties with anyone who offers cub petting.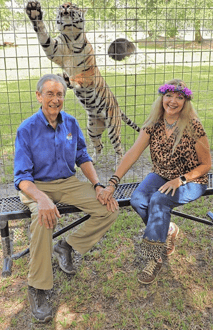 Carole Baskin has created hundreds of hours of educational content online through video blogs that raise awareness on the issues and inform the public on what she and her husband are doing to stop exploitation of big cats.
The sanctuary has an on-site volunteer program for people committed to contributing to Big Cat Rescue's mission. Volunteers provide the vast majority of animal care.
The sanctuary has 80 volunteers who put in a minimum of four hours of work a week. Big Cat Rescue also offers an internship program for people willing to move to the site for three months.
In addition to the four-hour work schedule, volunteers and interns go through a very strenuous training program that includes 50 classes just to stay in the program. Many of the volunteers are people local to the Tampa area.
Big Cat Rescue reserves a portion of its budget to protect and maintain habitats around the world for cats as well. Raising awareness around the world is a huge part of the sanctuary's efforts.
"We focus on the smaller cats that people don't know as much about and don't get funding," Carole said. "Those are places where $5,000 can make the difference of whether these cats are studied and cared for or not."
Aiming to End Unethical Ownership of Big Cats
The cost of feeding and taking care of big cats like tigers and leopards is not cheap. Big Cat Rescue accepts donations on its website. The Baskins said most of the sanctuary's operations are funded through its donation platform. 
Donations are a key element to provide cats with the care they need while funding grassroots efforts toward real change in stopping big cat exploitation. Supporters can make donations on the organization's page with a credit card, or send money to help fund specific causes such as veterinary care or a bobcat rehabilitation program. 
It's possible to donate using credit card rewards points, but it requires a few extra steps. Those who wish to donate with credit card rewards will have to convert the points toward a statement credit and then donate the statement credit amount.
Food and medical care for just one tiger is $10,000 a year. The website specifies what donations cover: A single contribution of $33 pays for a tiger's food for one day; $231 feeds a tiges for an entire week.
Big Cat Rescue uses donations to pay for the protection and care of its cats. That includes expanding infrastructure within the sanctuary or maintaining the buildings it already has.
"The first priority is always the care of the animals, we never compromise on the care of the animals," Howard said.
The Baskins want to put an end to the need for sanctuaries, and that starts with eliminating unethical ownership of big cats. The first step toward that goal is passing the Big Cat Public Safety Act.
The proposed legislation recently passed the House Committee and is currently making its way through Congress. The Big Cat Public Safety Act does two simple things: ban keeping big cats as pets and stop the practice of cub petting. If passed, the act would phase out people's ability to have big cats and their cubs living in horrible conditions in backyards.
Laws limiting the ownership of big cats have helped bring down the number of cats that arrive at the sanctuary, but the Baskins said that number is still in the hundreds.
"As states have passed these bans and partial bans, the cats that have nowhere to go have dropped to the point where there's enough sanctuaries out there that can actually rescue the ones that are being found as they happen," Carole said.
Big Cat Rescue encourages people to call and email their congressman to support the Big Cat Public Safety Act. They provide a very simple, easy way to do this at BigCatAct.com. The Baskins said tens of thousands of calls and emails have already been sent and have helped the act receive 256 co-sponsors and bipartisan support.