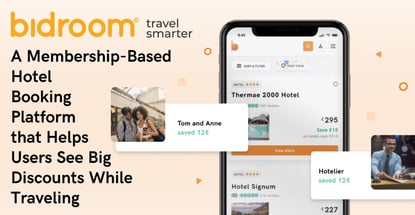 In a Nutshell: The travel industry has evolved along with the rapid pace of technology in recent decades, but that doesn't always mean lower prices. Bidroom is a travel booking platform aimed at bringing fairness back to the booking industry by providing low-priced hotel rooms to travelers and helping hotels save money in commission fees. The company does this through its low-priced membership model. For $29 per year, members get access to cheaper hotels and a range of travel extras from car rental discounts to wifi access. Travelers can try Bidroom for free to see the value of its innovative platform.
The travel industry has come a long way in recent decades by embracing technology and delivering faster, cheaper, and more convenient ways to book trips and to travel in general.
Meanwhile, credit card companies have come around to understanding just how much customers appreciate card perks like air miles and points toward hotels. Credit cards that specialize in travel rewards abound in the industry — something we love to see here at CardRates.

In fact, the only thing we may love more is when we can share with our readers opportunities to combine all of the above benefits and save even more money when they're booking their next trip.
Thanks to Bidroom, travelers who are scouring the web for places to stay — and, hopefully cashing in some credit card rewards to boot — can access some of the lowest prices available for hotel rooms around the world.
Bidroom was founded in 2016 by CEO Michael Ros. His self-professed passion for travel led him to leave his secure, high-paying job and launch his own travel agency in 2010, Ros said. After several years in the industry, he noticed that a lot of hotels were not happy with the high commission fees coming from the large online travel agencies.
"Every meeting with these hotels was kind of the same conversation," Ros said. "So, I began to think about starting a platform that is actually avoiding those high commissions — I thought it would be much more sustainable."
So, Bidroom was born. The basic premise is that travelers can become a member of Bidroom and gain access to great deals on hotel rooms. And the hotels are able to fill their rooms without doling out high commissions to the big OTAs. In fact, they pay no commissions.
Direct Access to Some of the Lowest Hotel Room Prices Available Around the Globe
Ros said that the growing subscription economy, with popular services such as Netflix, caught his attention several years ago and he began thinking about how such a service could be applied in the travel industry.
"This business model is new in travel, for sure," he said. "In the beginning people were wondering why they should pay to get access because they could go to Expedia and book a hotel for free."
But those people didn't realize that built into those Expedia prices were the high commissions hotels were paying to be included on the Expedia platform, he said.
"We're able to offer up to a 25% discount on bookings and, because we are earning money on the traveler side through the membership fee, we don't have to charge the hotels those high commissions," Ros said.
That means that, when travelers pay to become a Bidroom member — which is only $29 per year — they ultimately save a lot of money by taking advantage of the discounted rates accessible only through the innovative platform.
"Book your next hotel stay at the lowest possible price. Guaranteed," according to the company website. "Well, this changes everything: Our membership model allows direct access to the lowest hotel room prices on the market, at any moment, anywhere in the world."
The overarching idea behind the Bidroom model is to bring fairness to the travel industry.
"We are a bridge connecting the hotels to their guests directly, giving control back to the hotels and the best prices possible to our members," according to the Bidroom website.
Travel Extras Deliver Discounts on Car Rentals, Scooter Rentals, and Wifi Access
Hotel bookings are the main focus for Bidroom but members also gain access to a bevy of what Ros calls travel extras, made possible through partnerships with various companies in the travel industry.
"Aside from enjoying your hotel stay, we're constantly securing deals with companies that will make your overall travel experience that much better," according to the company. "Car rentals. Scooter rentals. Urban transportation. Pocket wifi. Luggage storage. Tourist attractions — and more."
These are all included as part of a Bidroom annual membership.
"We don't earn anything on this, like for example with Avis, people get a 15% discount just by having a Bidroom membership," Ros said. "Frequent flyer programs, airport lounges — we negotiate better rates on behalf of our members so we can give them benefits similar to credit cards."
These travel extras also include hotel perks such as late checkout, early check-in, wifi upgrades, and other benefits, according to the Bidroom website.
Bidroom announced in 2019 that its members can now use Apple Pay for added convenience and security.
"Apple Pay is faster because there is no need to type in credit card details for each transaction," according to a press release. "There is an extra bonus of an added layer of security compared to traditional credit card purchases as Apple doesn't keep transaction information that can be linked back to the purchaser."
The company also offers a "Better Deal" proposition.
"Have you booked with Booking.com, Expedia or somewhere else? We can still get you a better deal!" according to the company website.
Travelers who have booked through another service (for rooms without cancellation penalties) can send Bidroom their booking confirmation. Bidroom will then prepare an offer at a lower rate for the same room. Travelers can then cancel their original booking and book with Bidroom at a lower price.
Try Bidroom for Free Then Gain Access to Its Full Membership Benefits
Bidroom understands that its subscription model may take some getting used to for travelers but feels strongly that once people use it they will not want to go back to the old way of doing things.
And to help potential customers see Bidroom's benefits, it offers its first booking for free.
"They can see the experience firsthand when they create their account, and really see how much they can save," Ros said.
This one-time trial, known as the Pioneer Membership, only gives travelers access to the discounted hotel bookings. To gain access to the full array of travel extras and other perks requires joining up for the $29 per year Traveler Plan, which comes with a money-back guarantee.
"If you book through us on a Traveler Membership, and you don't save €29 or more — we'll refund you the difference," according to Bidroom.
Bidroom currently has nearly 250,000 members who save an average of €34 compared to other booking websites. Members are able to search for the right hotel at the right price from a database of more than 150,000 hotels around the world.
New members will also receive a €10 reward for each person they refer to Bidroom who also becomes a member.
Bidroom is making a name for itself among startups in the competitive travel industry. It was named the best Grown Startup by The Hospitality Technology Forum 2019 in Zurich. And Bidroom was named the 2019 Top Foreign Travel Startup at the Uzakrota Travel Summit awards.
Bidroom's unique membership business model and proven savings on hotel room bookings put the young company in a position to shake up the travel booking industry in the months and years ahead.
Advertiser Disclosure
CardRates.com is a free online resource that offers valuable content and comparison services to users. To keep this resource 100% free, we receive compensation for referrals for many of the offers listed on the site. Along with key review factors, this compensation may impact how and where products appear across CardRates.com (including, for example, the order in which they appear). CardRates.com does not include the entire universe of available offers. Editorial opinions expressed on the site are strictly our own and are not provided, endorsed, or approved by advertisers.