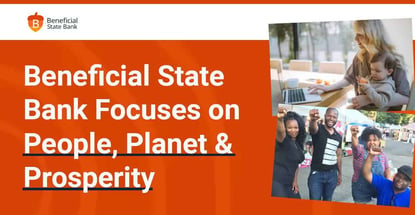 Our experts and industry insiders blog the latest news, studies and current events from inside the credit card industry. Our articles follow strict editorial guidelines.
In a Nutshell: Beneficial State Bank is a for-profit, FDIC-insured commercial bank with a twist. The financial institution is majority owned by the U.S. Treasury and nonprofit Beneficial State Foundation, and in turn, prioritizes "people, planet, and prosperity." This means that the bank focuses on lending to initiatives that support their local communities, and all of its loans are mission-aligned. The organization has been recognized as "Best for the World" by the B Corp certification body B Lab every year since 2013.
In 2022, B Lab, the nonprofit that certifies B Corps, named Beneficial State Bank to its list of Best for the World B Corps based on its outstanding scores in the Customers and Governance impact areas. To be rated highly in the first category, the bank had to display exceptional customer service, while the latter category is based on an organization's "overall mission, ethics, accountability, and transparency." The bank has been named a Best for the World Certified B Corporation since 2013.
The bank is also a Community Development Financial Institution (CDFI), a federally certified designation that indicates that the organization has a primary mission of community development. As a CDFI, it is required that 60% of Beneficial State Bank's financing activity be targeted at one or more low- or moderate-income (LMI) populations. This work is evaluated and verified by a government agency.
Recently, the U.S Treasury's Emergency Capital Investment program awarded Beneficial State Bank $218 million to support its mission.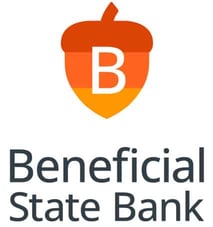 "Beneficial State Bank's mission is to practice beneficial banking, in harmony with nature, to help more people and help people more. Our incredible team has pioneered a new way of banking: one that invests in social justice, financial equity, and environmental wellbeing while remaining financially sustainable," said Randell Leach, the bank's CEO.
The financial institution was also recently recognized for its commitment to eco-friendliness. It ranked number 25 on the Real Leaders Eco Innovation Awards' Top 50 list, specifically for its efforts to lessen the "carbon footprint of its loans so that it can set emissions reduction targets and achieve a net-zero portfolio."
Most of the Bank's Loans and Cards Are Mission-Aligned
Beneficial State Bank's lending strategy subscribes to a "do no harm" policy that audits all loans to help ensure that they are not contra-mission. This governance helps the bank make good on its promise to support its local communities, which are primarily on the West Coast in California, Oregon, and Washington. The bank started out in Oakland and has locations and operations in Fresno, Los Angeles, Seattle, and Portland, in addition to loan production offices in other cities. Overall, the bank has $1.6 billion in assets.
The financial institution supports projects related to affordable housing, renewable energy, and sustainable food, just to name a few. These initiatives bolster the green economy but also the so-called blue economy, which focuses on the sustainable use of ocean resources.
The bank's consumer credit cards also help its first-time users build credit. The first of these is called the Beneficial Builder, a secured card that's ideal for building and repairing credit.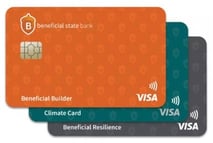 "A deposit account with us would secure the credit line on the card. The goal is to build a solid credit history as you appropriately use and pay down the card each month. Over time, you increase your FICO score and start to save more, then graduate into one of the other credit options that we have available," said Monique Johnson, Senior Vice President and Director of Client and Community Partnerships.
The next level card is the Beneficial Resilience card. This card offers a more fair interest rate than the consumer cards that many banks offer.
The third one is the Climate Card. Users earn rewards for everyday purchases, but they can also use the rewards to support climate-related nonprofits.
"So that's one of the ways we offer consumers banking services that tie back to that triple bottom line," Monique told us.
Implementing Sustainable Practices
One of Beneficial State Bank's commitments to the environment is to try to establish a presence, whether a branch or loan production office, in living, or highly sustainable, buildings. The Living Building Challenge (LBC), established by the Living Future Institute, certifies only buildings that meet rigorous green standards, including being constructed from eco-friendly materials, generating more energy than they use, and treating on-site water waste.
Beneficial State Bank's production office in Portland, Oregon, is in a living building, while its financial hub in Seattle is in the Bullitt Center, often referred to as the greenest commercial building in the world.
This building includes, as examples, "[n]et-zero energy use with 100% onsite renewable energy generation from solar photovoltaic (PV) technology, water needs provided by harvested rainwater, onsite waste management with a greywater filtration system, a safe, naturally day-lit and ventilated work environment for all workers, and built to last 250 years," according to Beneficial State Bank's website.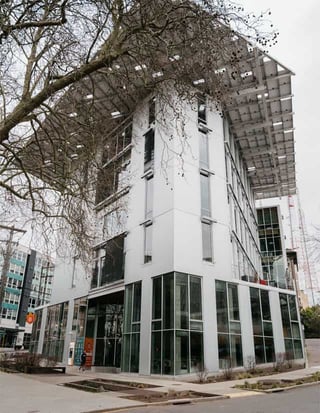 The bank's sustainability commitments for its own buildings mimic the environmentally focused loans they offer. In 2021, the bank loaned around $100 million to green initiatives.
"Internally, we have an environmental sustainability group – our Earth Services team – that really focuses on those projects," Monique told us.
In 2022, the bank opened two eco-friendly loan production offices. The first one is the Los Angeles Cleantech Incubator, a campus where all the tenants are focused on climate change. They could be small businesses, incubators, or non-profits
The other one is at the Port of Los Angeles in San Pedro, called the AltaSea Campus, also a nonprofit focused on education, research, and job development tied to the blue economy, including aquaculture and underwater robotics.
Helping Consumers Meet Their Financial Goals
In addition to its environmental commitments, Beneficial State Bank also bolsters clients' financial fitness. Many of the individuals who bank there have been targeted by predatory lending. So, the bank works with a number of community organizations to provide healthier alternatives in addition to providing financial wellness assistance for their cohorts or stakeholders. A third of the bank's deposit base are nonprofits and foundations.
"We work directly with a number of clients and community support groups, offering ways to develop and enhance financial empowerment for consumers and businesses," Monique said.
Additionally, the bank offers two programs that support those clients in need of fair banking products. As clients need to refinance their auto loans, Beneficial State has been able to save them over 8% annually on their new loan rates. Additionally, with both rounds of the Paycheck Protection Program, which started in 2020, the bank was able to secure full forgiveness for 98% of its clients.
"The goal for us is that we're not going to further leverage them or put them in a negative situation. That's always important for us, especially for immigrants who are transitioning into becoming a US citizen and don't yet have a Social Security number," Monique said.
Monique also has colleagues across multiple states who volunteer their time. Some offer one-on-one or group counseling to the homeless, the formerly incarcerated, and students and parents in low-income community-based school districts.
Specifically, the bank pays for 32 hours of paid time off each year, and each employee spends 50% of that time on financial education, like FDIC Money Smart or Junior Achievement programs.
Beneficial State Bank has an unusual model, combining a for-profit ethos with a non-profit mission-driven focus. Ultimately, these two goals work together to create an effective financial institution.
"Everything that we do works toward helping our communities be stronger while we optimize, not maximize, our own profits. We look at things equally on the social justice and equity piece, investing in environmental sustainability and regeneration, and support programs and organizations that prioritize the prosperity of all members of our communities," Monique Johnson told us.