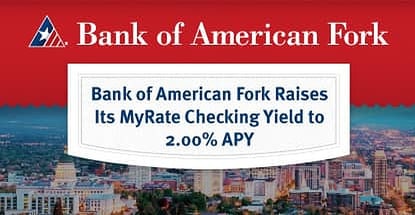 In a Nutshell: Banks regularly come up with new product ideas that appeal to consumers' desires to increase their savings. Some of these products stand the test of time, and others disappear as quickly as they appeared on the financial scene. Bank of American Fork introduced the MyRate Checking Account in 2008, and the product still attracts new customers today with its high-yield interest rates and no minimum-balance requirements. Bank of American Fork recently announced an increase in the interest rate for their MyRate checking account, making it one of the most lucrative checking accounts in the nation. //
Consumers are always looking for new ways to save money. Which explains why credit card rewards are currently a trending topic in financial circles as people debate which card offers the best opportunities to rack up points, miles, or cash back benefits.
These conversations didn't happen a few decades ago. Back then, consumers would roll the dice and invest in the stock market or stash their savings in CDs or savings accounts and let the interest slowly climb into something that resembled a profit.
When people plan for the future, they very rarely consider storing their money in a checking account. After all, the interest rates these accounts typically pay almost never make them a worthwhile savings tool. Bank of American Fork thinks those dated opinions are due for a change.
While some banks try to lure new checking account customers with cash back options and interest rates for large minimum balances, Bank of American Fork has maintained the popularity of its high-yield MyRate Checking Account for a decade.
In June 2018, Bank of American Fork announced that it had increased the yield on MyRate Checking Accounts to 2.00% Annual Percentage Yield (APY) — a move that makes the account one of the most lucrative in the industry.
"CDs generally have a higher rate, but you can't write checks on those, and there's a locked-in period of time in which you can't access those funds," said Rick Anderson, President of Bank of American Fork. "Money Market accounts also have a higher rate, but you're limited to the number of transactions you can do in those accounts. The MyRate checking account came about as our way of combining the best parts of those accounts in a transactional account and the bank's deposits are insured by the FDIC."

The 2.00% rate applies to all balances up to $25,000. The account doesn't have a minimum-balance requirement.
"We have certain requirements for the account to earn the 2.00% APY, like you have to receive electronic statements, log in to online banking at least once every 180 days, use your debit card at least 12 times a month, and have at least one direct deposit or ACH transaction post to your account each month," Anderson said.
For balances above $25,000, the APY is between 2.00% and 0.50% depending on the balance. High balances produce lower APY's. These APYs are effective 6/14/18 and may change after the account is opened. The minimum deposit to open the account is $100.
Anderson said the account has long been a favorite of customers who want to earn a passive stream of income for the money they store at the bank.
"We feel this type of account is very unique," he said. "Some people like the points and the travel, but interest appeals to a broader market. Back in the day, that's how a lot of our customers handled their retirement funds. They would have certificates of deposit and would ladder their maturities and that's how they saved."
The MyRate Checking Account is just one of the innovative offerings Bank of American Fork created to appeal to its large customer base. Those customers have responded in a very positive way.
"According to a benchmark study we use, our customer loyalty score is equal to the number one bank in the country," said Christopher Liechty, Vice President of Marketing at Bank of American Fork. "So, with all of the products we offer and the savings we try to pass down, we also have extremely happy customers."
Combine MyRate with SaveSmart Direct for Added Interest
Anderson isn't just the bank's president, he's also an account holder. As such, he's as interested in maximizing his savings as the next person. He said that while customers have different ways of getting the most out of their accounts, his preferred method includes tiering his MyRate account with a SaveSmart Direct Savings Account.
"A lot of times, if I get over the $25,000 maximum to earn the higher interest in a MyRate account, I'll transfer the excess over to a SaveSmart Direct account," he said. "As the balance grows, the rate improves. When you pair the MyRate and SaveSmart accounts, you get a premium on your savings."
The online-only SaveSmart Direct fast-tracks savings with an interest rate that starts at 0.50% and climbs as high as 1.10% as your balance grows. The account does require a $100 minimum daily balance, with a $3 monthly fee if the balance falls below that threshold.
Included Budgeting Tools Help You Save & Plan for the Future
Aside from competitive savings products, Bank of American Fork also provides its customers with a Money Manager tool that helps them visualize their savings and overall net worth to create a clearer picture of their financial well-being.
"It's an aggregator, so it brings in all of the different accounts you have or you can just add assets, like a car that is paid off or the value of the contents of your house, to track your net worth," Liechty said.

The tool can be as hands-off or hands-on as customers want, with information growing more in-depth when the consumer's interactions with the tool increase.
"Even if you don't want to add assets, you can go into your online portal and click the Money Manager link and it will give you insights and feedback because it's already tracking what you're doing in your account," Liechty said.
An "Innovation Engine" Developing New Products Annually
Bank of American Fork's innovative offerings are a product of in-depth research and listening to a customer base that is clear in what it wants. To further meet those needs, the institution created a Product Development Committee in 2009 that vets all new product ideas.
"The committee includes a representative from each of the major areas of the bank," Liechty said. "We also incentivize our employees to submit ideas for new and innovative products based on conversations with customers. This committee meets on a regular basis to take all of the suggestions they receive, weight them, and roll them out."
Liechty said the committee's first year brought on 13 product changes. Currently, the bank averages approximately four new product launches a year from what he termed the committee's "Innovation Engine."
The engine continues to drive a financial institution that considers the needs of its customers and works to create products that grow savings and provide knowledge to help clients get to the future they dream of.
Advertiser Disclosure
CardRates.com is a free online resource that offers valuable content and comparison services to users. To keep this resource 100% free, we receive compensation for referrals for many of the offers listed on the site. Along with key review factors, this compensation may impact how and where products appear across CardRates.com (including, for example, the order in which they appear). CardRates.com does not include the entire universe of available offers. Editorial opinions expressed on the site are strictly our own and are not provided, endorsed, or approved by advertisers.