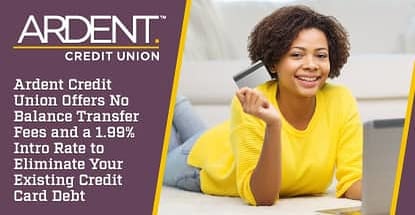 In a Nutshell: High credit card balances can take a huge chunk out of your budget when interest rates cause high minimum monthly payments. Ardent Credit Union, one of Philadelphia's most progressive financial institutions, has a plan in place to help members clear debt without forking over most of their money in fees. Its zero-charge balance transfer offering on four Visa credit cards makes it easy to move existing principal to a card that has a low 1.99% introductory APR for 12 months. By offering cards with minimal fees and favorable terms, Ardent Credit Union helps consumers save money and wipe away existing debt faster, which is why we're recognizing Ardent as our Editor's Choice™ for Best Credit Union Balance Transfer Offer. //
Like many young Americans, I fell into a credit card trap as a teenager. I was too naïve to understand the true cost of credit and didn't have the highest-paying job at the time. Suddenly, I had to deal with a load of debt that grew by nearly $100 each month off interest fees alone.
Luckily, I learned this lesson early in life. I worked extra hours and cut my entertainment budget until the card was paid off. I swore I'd never get into that position again.
Not everyone is fortunate enough to learn from the mistakes of their youth. The average American household has more than $16,000 in credit card debt, and, with interest rates that can get into the high teens and 20s, that debt could balloon if you're unable to make sizable monthly payments.
When I made the plan to attack my credit card balance, I wasn't aware of balance transfer deals from other card issuers. If I had known about institutions like Ardent Credit Union, I likely could have paid off the balance much faster and for less money.

Ardent's balance transfer offerings on its line of Visa cards are among the best the financial industry offers. With no balance transfer charges and a 1.99% introductory rate on all balances for 12 months, you've got a recipe for clearing debt fast.
"Since we are a financial cooperative, everything we do has to go through a screening of what's best for the member," said Rob Werner, President and CEO of Ardent. "We constantly look for ways to improve our members' well-being. That means getting people with an 18% or 19% interest rate into our credit cards with a low fixed rate, and the incentive of bringing them over to our card with a zero balance transfer fee is worth them bringing their money to us."
While most cards charge a percentage fee to transfer all existing balances, you can move your existing principal on a high-rate card to Ardent for free. The low introductory rate means that your payments will be lower and will knock more off the principal each month. And with four different credit cards to choose from, you can wipe away debt faster whether you're rebuilding your credit or you have a sterling credit history. Even if you can't completely eliminate the debt within the introductory period, Ardent's fixed APR on all four cards starts as low as 9.99% and won't change if the prime rate increases.
"We really believe we're different," said Rob. "We're here for everybody. Not just the financially elite."
Four Cards that Go Beyond Ardent's Generous Balance Transfer Perks
Ardent's line of Visa cards are designed to meet the needs of most consumers. Even if you don't have a large existing balance to transfer over, the 1.99% APR over 12 months allows you to make that big purchase you've been planning without the fear of it costing a whole lot more in the long run.
It starts with the Visa® Classic card. After the first year, interest rates range between 9.99% and 14.88%.
"It's a no-frills card that still has perks," Rob said. "Especially with the interest rate that's fixed. That means that next time the prime rate changes, your rate is not going to change."
The Visa® Gold card allows you to earn one point for every dollar spent on gifts and travel rewards through ScoreCard® Rewards with no limit to the benefits you can earn. After the first year, rates range from 10.96% and 12.96%.
The Visa® Platinum Preferred card offers 1% cash back for every dollar spent, credit limits of up to $50,000, and free concierge services, including special event seating, and limousine and meet-and-greet services, among other perks. Rates range between a narrow 10.88% and 11.88% after the initial year.
"The two rewards cards offer different types of bonuses," Rob said. "One being points if you want to buy stuff. The other is the cash back. Our cards aren't just for a great balance transfer offer or a great initial interest rate offering for 12 months. They all have great frills."
A Visa® Secured card for damaged or new credit is supported by a free Ardent checking account and allows cardholders to build a positive credit history with a small $25 annual fee.
"The whole rate structure is very competitive with the industry," Rob said. "It's meant to be because we really and firmly believe in the financial cooperative model that we're operating under."
Turning Philly Grit into Great Customer Experiences
Ardent bases its entire service structure on the credit union's motto of "Grit Makes Great." It stems from the tough Philadelphia mentality of the area it serves, but also strikes a chord with members and non-members alike.
"It really reflects internally because our employees know that if they do everything they can to get things done for our members, then they'll be great," Rob said. "I think it also really resonates with people outside the credit union. It's that same concept of never giving up. Keep working. Whatever your dreams are, find a way to make them happen. Don't be afraid to work hard to make them happen."
Since 1977, Ardent has loyally served the Philadelphia community. A recent charter expanding the company's territory to the four counties surrounding Philly is the first step toward what Rob hopes will be a major expansion.
"We're looking to grow within our marketplace," he said. "There are 4.5 million people. We only have about 33,000 of them as members. We think we have a great opportunity to expand our membership."
To better serve members, Rob has helped institute programs that give a voice to all of his employees and help better express the needs of the members who interact with them on a daily basis.
"One of the things that's really neat within our organization is that we have what's called the Startup Garage," Rob said. "Once a month, all of the employees come in and we throw our ideas around and put them up on a wall, and we have a meeting to talk about those ideas. What's great about it is that a lot of these ideas come from the front-line employees who are talking to our members. Product ideas, changes to our products, simplifying products happen here.
"A basic example is that you'll find that most Certificates of Deposit [CDs] have minimums of $500. In the garage, an employee asked why it has to be $500 and why we couldn't just drop it to $100. We never even thought about that. We changed it and within the first month, we were amazed at the number of CDs that were set up with a $100 balance in them."
Make Debt Disappear with Less Strain on Your Bottom Line
Anyone with an existing credit card balance can likely use some help knocking it out. Whether your plan is to pay it off gradually or in big lumps over a short amount of time, Rob says the first step is to examine your entire credit card situation.
"The starting point is to first find out what you're paying on your credit cards," he said. "I think everyone should do that. A lot of people initially get credit cards because they look like they have low rates, and they don't keep track of it. We always advise our members to take a look at their credit card statements and see what interest rates they're paying month to month and compare that to the interest rate that we're charging. If you feel like you can maybe pay your credit card off within 12 months, you can go from maybe a 17% to a 1.99% APR, that's significant savings on your credit costs."
With Ardent's competitive line of credit cards, members have a chance to take advantage of an industry-leading balance transfer program that charges zero fees for bringing over a debt and a 1.99% APR for a year on all balances. Even if some of your balance manages to hang around after the year, the fixed interest rates that follow are hard to beat in today's market and can save you money from day one.
"Even if you just call in, you can tell us about your balance and rate, and we can tell you what your payment would look like with an Ardent card," Rob said.
Whether you're a young consumer who realizes you've made some early credit mistakes, like I did, or the head of a household who's ready to purchase a home as soon as that pesky credit card gets paid off, Ardent's options are strong choices that can open the door to the type of financial freedom we all strive for. If you're in the Philadelphia area, and aren't currently a member, Rob challenges you to come in and see what the credit union can do for your financial needs.
"We hate to say no," Rob said. "We have to find a way to make it happen for our members. It's our concept of looking for ways to say yes to our members."
Advertiser Disclosure
CardRates.com is a free online resource that offers valuable content and comparison services to users. To keep this resource 100% free, we receive compensation for referrals for many of the offers listed on the site. Along with key review factors, this compensation may impact how and where products appear across CardRates.com (including, for example, the order in which they appear). CardRates.com does not include the entire universe of available offers. Editorial opinions expressed on the site are strictly our own and are not provided, endorsed, or approved by advertisers.