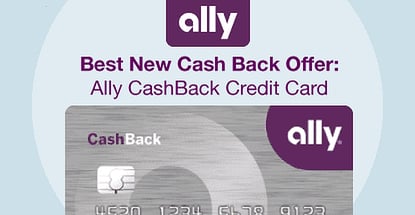 In a Nutshell: Ally Bank introduced the Ally CashBack Credit Card in response to consumer demands for an intuitive and competitive rewards-based credit card. The new cash back card earns an unlimited 2% on gas, 2% on groceries, and 1% on all other purchases, for accounts that are open and in good standing. Ally then amplifies those rewards with a 10% Rewards Bonus when users deposit them into an eligible Ally Bank account. In addition to its powerful uncapped rewards program, the Ally Visa has no annual fee and offers a 12-month 0% APR balance transfer period. For its first foray into this market, Ally made a bold move and delivered what is holding steady as one of the best new cash back card offers available. //
While you might not dream about credit cards like we do, you've likely thought, at some point, about what the holy grail of cards might look like for you. What features would you include to build the perfect card? A powerful rewards program, perhaps? Or maybe a nice signing bonus? What about 0% APR for balance transfers over a generous period of time?
When Ally Bank asked its customers what they wanted out of their perfect credit card, the answer was clear: customers wished for a strong cash back program that was straightforward and easy to use. Ally listened, creating the Ally CashBack Credit Card, which featured a simple, competitive rewards structure that integrated especially well for existing Ally Bank customers.
Now, as the Ally CashBack card rounds out its rookie year, we reached out to Rebecca Schultz, Senior Director of Transactional Products for Ally, to get a better understanding of its features and how customers have responded to the new card. As it turns out — extremely well.
"Our customers love the product," said Rebecca. "Our satisfaction rate is really good; for customers who have both an Ally deposit account and our credit card, the customer satisfaction rate is over 94%."
Ally Visa Offers Uncapped Cash Back Rewards
One of the most prominent differentiators between Ally's new card and other rewards cards on the market is the ability to earn unlimited cash back. The rewards, a competitive 2% on gas and groceries with 1% on all other purchases, are then amplified when coupled with an Ally account.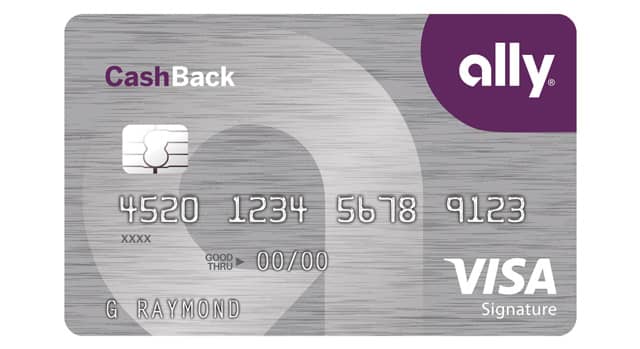 Cardholders who choose to deposit their rewards into an eligible Ally account earn an additional 10% Rewards Bonus on their rewards earnings. For example, if you earn $200 in cash back and deposit your rewards into an Ally Bank account, then $220 will be deposited.
"Most of our customers are using the deposit option for their rewards," said Rebecca. "It's great to see that they really understand the value of the bonus and are taking advantage of it."
Eligible Ally accounts include money market, non-IRA savings, and interest checking accounts, all of which already offer higher-than-average interest returns of up to 1%.
Earn a $100 Signing Bonus in the First 3 Months
In addition to the cash back earnings, the new Ally credit card also gives you a $100 signing bonus after you spend $500 within the first three billing cycles. Unlike other signing bonuses, which often require thousands to be spent within the first few months, Ally focused on offering cardholders a more attainable signing bonus with the $500 spending requirement. The bonus is posted to your Ally CashBack Rewards account within six to eight weeks where you can then decide how to enjoy that Benjamin.
Calculate Cash Back Earnings on Everyday Purchases
Ally offers a rewards calculator that we found extremely useful to see just how much you can expect to get back when using the new card. The calculator includes individual category bonuses, as well as the Rewards Bonus for depositing into an Ally account.
Broken down into the three categories — gas, groceries, and everything else — cash back is determined based on the spending statistics you supply. We put in a few ballpark numbers and quickly realized how easy it was to rack up extra cash back thanks to the 10% bonus reward.
A Well-Rounded Card with No Annual Fee
A major feature beyond the signing bonus is that the card does not carry an annual fee. Ally wanted the card to be accessible for any consumer seeking a quality cash back rewards card.
"It was all about creating a straightforward credit card and just making it easy for customers to benefit from its features," Rebecca explained. In addition to the rewards, this card also has an introductory offer of 0% APR for balance transfers within the first 12 months. After that, the APR is a competitive 13.24% – 23.24%, depending on creditworthiness.
TD Bank Partnership Includes Visa Branding for Wider Acceptability
Rebecca explained how Ally sought out an established issuer to help get the new card to market as quickly as possible. Ally turned to TD Bank, forming a strategic relationship to issue the Visa rewards card.
"By partnering with a successful card issuer," Rebecca began, "we were able to get a product out there that we felt confident in and utilized some of their best-in-class offerings."
Through Visa, the card offers other benefits as well, including launching with the ability to add the card to digital wallets and payment programs like Apple, Android, and Samsung Pay. Since then, Ally has also added Microsoft Pay compatibility, further expanding the functionality of the card.
24/7 Customer Support from an Experienced Bank
New users will immediately notice how much Ally emphasizes customer service. While other companies have grown too big to focus on individual success or may rely on the in-person experience to compensate for poor service on the phone or online, Ally was born in the digital age to be a leading digital company. That means Ally customers aren't subjected to online customer service that feels like an afterthought; instead, the company has comprehensive 24/7 digital support.
Ally cardholders also now have the option to enroll in real-time SMS and email transaction and fraud alerts, making it easier than ever to keep track of spending — and security.
The team at Ally works to ensure each customer is a part of the company's promise is to be "obviously better." Their goal is to make sure that, when researching your options for banking, financing, or other products — like the new credit card — Ally's offerings should stand out as a clear winner above the competition.
"There are a lot of cards in the marketplace that are really great products, but you have to pay a lot of attention to maximize your rewards, and we wanted to keep it easy," described Rebecca. "So for me, that's what being obviously better is."
Users Pleased with Ally's Foray into the Credit Card Market
When asked about credit cards, Ally members wanted a compelling rewards card — and the online bank delivered. The Ally CashBack card combines market-leading features — from the uncapped rewards program and non-existent annual fee to the 0% balance transfer for the first 12 months — into a slick metallic package for members and non-members alike.
"We're all about trying to create a customer experience," said Rebecca. "We're really pleased to see this card is meeting customer demands."
Advertiser Disclosure
CardRates.com is a free online resource that offers valuable content and comparison services to users. To keep this resource 100% free, we receive compensation for referrals for many of the offers listed on the site. Along with key review factors, this compensation may impact how and where products appear across CardRates.com (including, for example, the order in which they appear). CardRates.com does not include the entire universe of available offers. Editorial opinions expressed on the site are strictly our own and are not provided, endorsed, or approved by advertisers.