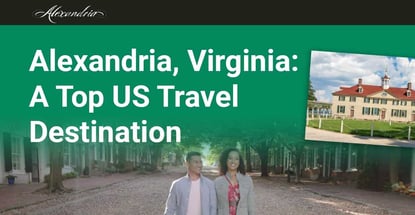 Our experts and industry insiders blog the latest news, studies and current events from inside the credit card industry. Our articles follow strict editorial guidelines.
In a Nutshell: As the only city in northern Virginia connected to Washington, D.C., and Maryland by water, Alexandria offers a distinctive waterfront experience. And as George Washington's adopted hometown, it's steeped in American history. But Alexandria also has an ever-expanding selection of attractions, restaurants, boutiques, and brewpubs that give its historic Old Town a decidedly contemporary appeal. Alexandria offers something for everyone, and it's close to transportation hubs yet surprisingly quaint and walkable. Those qualities have earned the city our Editor's Choice™ Award as a top US travel destination.
Alexandria, Virginia, may draw attention because of its proximity to Washington, D.C., but it's a distinctive location in its own right and well worth a visit.
That's because of how it allows past and present to merge into a uniquely appealing experience. Scottish merchants founded Alexandria in 1749, choosing a site on the Potomac River where deep water would facilitate the shipping and trade of tobacco and other crops between the colony, Great Britain and Europe.
The Old Town Alexandria of today reflects that commercial heritage in its architecture and layout. In Old Town, galleries, boutiques, and restaurants that were once merchant townhouses line cobblestone streets. There's plenty to do and see, but visitors enjoy a more relaxed vibe — and more reasonable prices — than they find several miles north in D.C.
Alexandria's waterfront is where the city has changed the most in recent years. During the COVID-19 pandemic, Alexandria turned the waterfront portion of its most vibrant commercial street, King Street, into a permanent pedestrian-only district.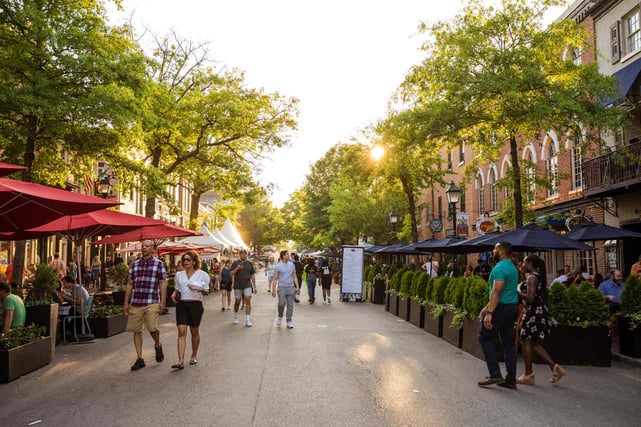 Known as one of America's "Great Streets," the King Street mile runs straight from the waterfront to the Amtrak and Metrorail stations. The 100 block of King Street nearest the river is now an outdoor space filled with streeteries.
"Those experiences along the waterfront are highlights for us," said Rebecca Doser, Director of Communications at Visit Alexandria, which operates the Visitor Center on King Street in what was once the private home of a Scottish merchant and the city's co-founder. "Even people who visited two or three years ago are shocked when they see just how much the waterfront has evolved."
But the new energy on the waterfront doesn't take away from Alexandria's many other points of interest. Because it uniquely combines so many desirable travel experiences, Alexandria earns our Editor's Choice™ Award as a top US travel destination.
Visitors Can Connect with US History
Alexandria's historical connection with the generation that founded the US and its colonial and antebellum US history is readily apparent.
The city is known as George Washington's adopted hometown. Washington owned a townhouse on Cameron Street in Old Town. He also conducted business and attended church in Alexandria and socialized there.
Mount Vernon, Washington's plantation home, is located eight miles south of Old Town. It's accessible via the George Washington Parkway that runs along the Potomac River, via a bike trail known as the Mount Vernon Trail, and by water taxi on the Potomac.
In keeping with its merchant past, Alexandria is also nationally known for preserving its African American history and culture through multiple historic sites, tours, and markers. In May 2022, the city reopened its Freedom House Museum, located on the site of what once was America's largest domestic slave trading firm.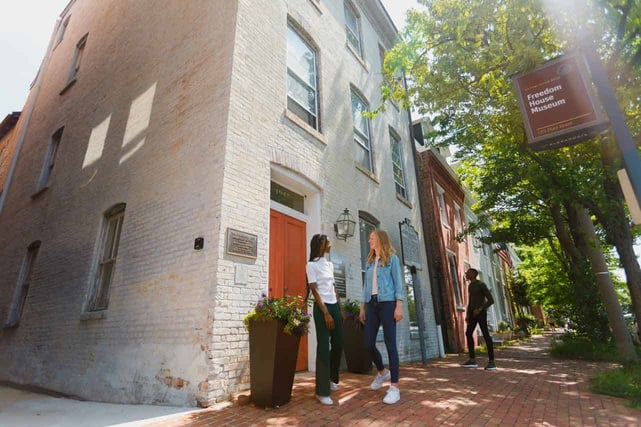 "It's an impressive and deep remembrance of the contributions of the enslaved people in Alexandria and its reopening was one of our biggest stories of the year," Doser said.
As impressive as those highlights are, history in Alexandria is everywhere. Fascinating architectural, historical, and cultural sites abound.
Before the Civil War, Alexandria was a prominent hub on the Underground Railroad. After the war, it produced leaders who promoted racial equality and pioneered new roles for African Americans in politics and business.
And its proximity to the Potomac led it to continue as a commercial and innovation center in the 20th century. Alexandria is home to the Torpedo Factory Art Center, formerly a World War II munitions factory that is now home to the largest collection of publicly accessible working artist studios in the U.S. Alexandria is also home to the National Inventors Hall of Fame, located on the US Patent and Trademark Office campus.
Shop and Dine on the Waterfront and King Street Mile
The dynamism of Old Town means it's not just for history. Although the capital is highly accessible from Alexandria, and many visitors use it as a home base for visiting the area, proximity to D.C. also means Alexandria's waterfront and King Street mile pack big-city experiences in a manageable package.
Restaurants and public houses contribute much of that atmosphere. For example, BARCA Pier and Wine Bar is located on the water on old shipping containers along the south end of the waterfront in a recent development known as Robinson Landing. Inspired by the beach bar scene in Barcelona, Spain, diners can arrive at BARCA by boat to enjoy tapas and drinks.
"You feel like you've been transported to Europe," Doser said.
Watch on
Other top spots in the waterfront district include Ada's on the River, which serves steak, seafood, and a weekend brunch. Further up King Street, Kismet Modern Indian attracts patrons as a sister restaurant to Karma Modern Indian, known for its MICHELIN award-winning fare in D.C.
Folks who are into craft breweries flock to Port City Brewing and Lost Boy Cider, Northern Virginia's first urban cidery. Captain Gregory's and The People's Drug are hotspots for cocktails, and a prominent D.C. cocktail creator lends prestige to Old Hat Bar.
Alexandria also has a fantastic boutique scene which is sure to draw shoppers. Everything from home goods shops, including Red Barn Mercantile, to the independent bookstore Old Town Books, ensure folks have plenty to do during the day. Other shops, such as the zero-waste grocery Mason & Greens, tie into contemporary sustainability trends.
"There's something for everyone shopping-wise," Doser said. "You could walk up and down the King Street Mile and pop into hundreds of places."
An Accessible Destination with Four-Season Appeal
Along the Potomac from D.C. to Mount Vernon, water taxis transport locals and visitors in a unique style. Travelers often arrive in Alexandria via the Metrorail. The King Street Trolley runs from the Metrorail to Market Square near the pedestrian area. Bike trails and bus systems add flexibility.
Airport and highway access make Alexandria easy to get to from anywhere in the world, and hotel options abound. You can walk from the Metro to a boutique hotel property such as Lorien Hotel & Spa on upper King Street. Or consider Hotel Indigo, which is closer to the waterfront and near aforementioned BARCA Pier and Wine Bar.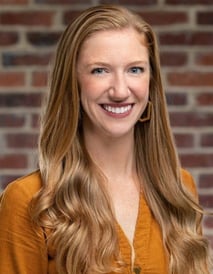 With its northern Virginia location, Alexandria also boasts four-season appeal as an event destination. Spring is cherry blossom season in the D.C. area, and Alexandria joins the capital city in celebrating its arrival with events and specials associated with the National Cherry Blossom Festival.
The waterfront is a great place to hang out and enjoy live music, July Fourth fireworks, festivals, and celebrations as the weather warms. In fall, Northern Virginia changes color, and with the approach of Halloween, always popular ghost tours take on new significance thanks to the many apparitions haunting the city.
During the first weekend of December, Alexandria celebrates Scottish heritage with the Alexandria Scottish Christmas Walk Parade. Cute Scottish Terriers accompany bagpipers from Scotland and around the US on a festive parade through Old Town. That same night, the Alexandria Boat Parade of Lights continues the fun as boat owners from around the Potomac deck out their vessels in holiday themes.
The right time for a visit to Alexandria is all year round. There's a new energy in this quaint, accessible destination with a rich past.
"Alexandria is an exciting place to visit," Doser said. "And we tend to be a little less crowded and even a bit cheaper than the D.C.s and New York cities of the world."