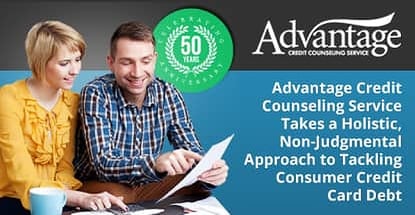 In a Nutshell: The majority of Americans live in debt. While most of this debt is tied to mortgages and student loans, consumers owe trillions of dollars in combined credit card, medical, and other loan debts. With so many Americans living paycheck to paycheck, these debts can quickly spiral out of control and become a burden that is too heavy to bear. Since 1968, Advantage Credit Counseling Service (ACCS), a 501(c)3 nonprofit, has helped thousands of consumers better their financial situation through the use of debt management plans. ACCS can consolidate multiple payments into one and works with debtors to lower — or in some cases eliminate — interest rates to make paying off debt faster and easier. Access to counselors and debt management plans is provided in person, over the phone, or through ACCS's unique online system to make the process as convenient as possible.
//
Millions of people across America woke up this morning feeling burdened by debt. If you've ever felt overwhelmed by debt, you know that it's the first thing you think about in the morning, the last thing you think about at night, and what you're thinking of throughout most of your waking hours in between.
Debt can ruin lives, impact jobs, and jeopardize marriages, and it doesn't discriminate against age, sex, or financial status. But that doesn't mean the stress that comes from owing money has to be permanent.
Credit counselors offer in-person, over the phone, or online services throughout the country to help consumers manage their debt. There are both for-profit and not-for-profit organizations, each with different methods of clearing a path for clients to find their way out of debt.
Since 1968, the fully accredited, nonprofit credit counselors at Advantage Credit Counseling Service (ACCS) have offered unlimited access to educational tools and worked with clients to relieve them of the stress associated with excessive debt.
This year, for its 50th anniversary, the organization hopes to help even more consumers become financially strong.
"The biggest benefit of this program is that we work with the creditors to adjust their interest rates," said Heather Murray, Manager of Regulatory Compliance and Education at ACCS. "So, clients are still paying back their full principal debt, but they are getting an interest rate deduction, which ends up saving them money over time."
ACCS starts with a complete review of a client's income, expenses, and debt, as well as studying a snapshot of his or her monthly spending and how it compares to their monthly income.
"After a thorough review, we decide if they're a good fit for a debt management program, if they can afford the monthly payment, and if it's an appropriate option for them," Murray said. "The program consolidates all of their unsecured debt into one monthly payment. They make that payment to us and we disburse it to their creditors."
Murray noted that debt management programs typically last five years, but some clients take less time depending on their income and how much debt they have.
Once enrolled in a program, ACCS recommends clients close all of their credit cards except one. This limits the temptation to spend, but also provides a buffer in case of an emergency. Doing so can raise the client's credit utilization and temporarily lower his or her credit score.
"However, as they pay down their debt and make timely payments, that eventually starts to show as a positive payment history on their credit report and a lower debt-to-income ratio," Murray said. "That improves their credit score over the long run."
Help is Available in Person, Over the Phone, or Online
ACCS understands that people are busy and can't always make time to meet with a credit counselor in person or make a phone call during business hours. To accommodate as many clients as possible, the organization added an online component to its services that is unique in the space.
"We're a little bit different than other agencies in how we offer our counseling," Murray said. "Like most agencies, we do counseling in person and over the phone, but we also have a fully online system. A consumer can go onto our website and complete their entire budget, input their debt, and find out almost instantly if they're a good candidate for a debt management program."
Potential clients must speak with a counselor before signing up for a program. Murray said this requirement is in place because ACCS feels it's important to review all of the program information with new clients in a one-on-one setting.
"With that online system, they also get an action plan that provides step-by-step instructions, breaks out their budget for them, and gives a lot of good information on how to manage their money," she explained.
ACCS is also developing a mobile system that makes it easier to receive counseling on smartphones, tablets, and other mobile devices.
Creating and Sticking to a Budget is Paramount to Success
One of the first steps a consumer takes when initiating a debt management plan is also one of the most important steps in the entire process. Whether your debt elimination time horizon is one year or five years, staying disciplined in your budget is the best way to guarantee success.
"We really want to make sure the plan is something a person will be successful in," Murray said. "We don't want to just put someone on a debt management program because they have a lot of credit card debt and leave it to them to figure out how they're going to make their payments."
ACCS closely examines the consumer's budget before finalizing a plan. "If they're close and the payment is maybe a little too high, we take a closer look at their expenses and find ways to trim them to make the payment more affordable," Murray said.
While ACCS works hard to help every consumer who seeks its help, not every potential client is a good fit for a debt management plan.
"If a client is not a good candidate for a debt management program and their debt is still extremely burdensome and unmanageable on their own, then we recommend they seek legal advice," Murray said.
This advice can include information on filing for bankruptcy or seeking a way to lower interest payments and extending the terms of the debt owed.
"Everybody Hits Hard Times in Their Life"
Consumers often put off looking for help because of the stigma attached to being in debt. If you're one of the millions of Americans who loses sleep every night because of the money you owe, ACCS may be the solution you're looking for.
"Our counselors are not judgemental at all," Murray said. "They are so compassionate, caring, and understanding. They've heard everything and counseled thousands of people — it's nothing to be embarrassed about — everybody hits hard times in their life where they might have to use credit cards that they've never used before."

ACCS fosters an environment of understanding and compassion with all of its clients. The nonprofit offers personal communication over the phone or online if the client prefers.
"We highly encourage consumers to not feel any shame or embarrassment when they contact us," Murray said. "We treat everyone with the utmost respect throughout the entire process. You don't have to explain why you've found yourself in this situation. We just want to help you get your finances under control."
Advertiser Disclosure
CardRates.com is a free online resource that offers valuable content and comparison services to users. To keep this resource 100% free, we receive compensation for referrals for many of the offers listed on the site. Along with key review factors, this compensation may impact how and where products appear across CardRates.com (including, for example, the order in which they appear). CardRates.com does not include the entire universe of available offers. Editorial opinions expressed on the site are strictly our own and are not provided, endorsed, or approved by advertisers.