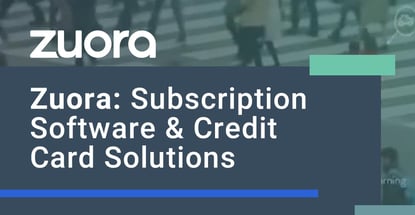 In a Nutshell: As technology advances, so do business models. In recent years, what were once product-based companies are moving to subscription-based services. And Zuora is a company that helps facilitate this transition, providing its customers with a dependable cloud-based platform to manage their subscription models and credit card billing and payments. The handy billing solution allows businesses to focus on their missions and goals while Zuora makes sure everything runs smoothly on the billing side. The company also values customer feedback and uses it to help guide future decisions on how to continually improve the platform.
Software and credit card processing technology continues to advance in today's business environment, and companies across nearly every industry must adapt to remain competitive.
In just a few decades, credit card payments have moved from completely paper-based (remember manual swipe machines?) to nearly all digital. Similarly, software has evolved from something that must be physically installed on computers to services that are readily available via the cloud.
This relatively new model is known as Software-as-a-Service, more commonly referred to as SaaS. And the model can be used for businesses to access anything from design programs to credit card processing services.
Of course, advances in technology also open up the door for businesses to help other businesses facilitate the use of these new models in an efficient manner.
And that's where Zuora comes in.
"Zuora creates cloud-based software on a subscription basis that enables any company in any industry to successfully launch, manage, and transform into a subscription business," according to the company.
We were curious to learn more about Zuora's subscription billing software and its card processing solutions so we reached out to the company's VP of Product Marketing, Lubor Ptacek. Here is what he had to say.
Creating a Reliable Billing Solution for the Growing Subscription Market
"Our co-founder and CEO Tien Tzuo was the 11th employee of Salesforce, which would become the world's largest SaaS company," Ptacek said. "Salesforce created a new paradigm for enterprise software: the internet as a platform for delivering software."
But it wasn't just a technology transformation powered by the internet, it was about the business model transformation that powered it — pay for the use (service), not for the software (what we now call subscriptions), Ptacek explained.
"That's where it all started. The idea for Zuora came from a discussion that Tien had in 2007 with Marc Benioff and two employees from WebEx, where they talked about the lack of a good billing solution in the market for SaaS companies," he said.
At the time, everyone had to build their billing solutions manually, and update them constantly. Tzuo and those two men from WebEx wound up founding Zuora, but soon realized that the product wasn't just for other software companies — it was for any company looking to make a shift toward recurring revenue.
"The truth is, Tien saw early on that subscriptions were universal," Ptacek said. "Zipcar helped envision that, one day, you won't have to own a car, and Netflix created a world where there was no reason you should buy movies if you could subscribe to a service to get any film or show you wanted."
At its core, the subscription business model is a model in which a customer pays a recurring price at regular intervals for access to a product or service. But it's more than a financial transaction between customer and business, the VP explained. It's about the ongoing customer relationship.
"As a result, businesses are changing the way they sell their products and services," Ptacek said. "Over the past 10 years, we've seen an explosion of subscription business models — all designed to keep customers consistently engaged in long-term relationships. Look no further than Zoom, DocuSign, Ford, Pandora, Toyota, The Economist, Zendesk, Caterpillar, Box, and more."
Tzuo's ideas about the future of subscription services are now supported by data such as Zuora's latest Subscription Economy Index and End of Ownership report. These studies show that subscription-based services have grown significantly over the past nine years, and the use of subscription services is growing.
A Single Platform to Launch and Manage Service-Based Business Needs
Ptacek discussed the attributes of the Zuora platform as well as some of its latest features.
"The new imperative for companies in the subscription economy is to establish meaningful, long-term relationships with customers by providing recurring value in the form of subscriptions," he said. "However, as organizations shift their focus away from products and one-time transactions to ongoing, valuable services, many are challenged by the inherent complexities of maintaining and scaling a subscription business."
Ptacek said that traditionally product-focused organizations may have legacy or homegrown (home-built) billing systems riddled with inefficiencies and requiring significant time, effort, and money to maintain. Sometimes, they may try to extend their existing product-centric ERP systems to manage their subscription business only to discover that those systems aren't really suited for managing ongoing customer relationships.
More importantly, these systems negatively impact the end-to-end customer experience and inhibit the overall growth of a subscription business, he said.
"Zuora is critical in eliminating this complexity and enables subscription businesses to simplify and automate their entire subscription billing process — from the initial order a customer places, all the way to the way a company recognizes its revenue," Ptacek said.
The company's platform and solutions enable IT and finance teams to manage their subscription pricing, orders, billing, payments, collections, revenue recognition, and reporting on a single platform. This allows companies to go-to-market fast with new products, have one system of record for everything related to subscriptions, and scale their subscription businesses.
"We recently launched a solution called Zuora Analytics, which enables customers to measure and analyze their subscription business using a standard set of metrics out of the box," Ptacek said.
More than ever before, companies — and more specifically, CFOs and finance teams — are challenged by a complex and competitive business landscape. A rapid shift toward agile business models and a customer-centric back office has brought on an entirely new set of needs around measuring the business, according to Ptacek.
"The CFOs we work with think and speak about their business in new terms: MRR, ARR, churn rate, NDR, ASP, and LTV," he said. "They crave the ability to look forward into their subscription business, to measure not only what's happened in the past, but to analyze what is on the books today that is going to turn into tomorrow's billing or revenue growth."
This new way of measuring business performance is being noticed by investors too. In fact, subscription metrics are becoming more prevalent on earnings calls.
"In short, Zuora Analytics provides subscription businesses with access to rich subscription data and trend analyses needed to inform core business decisions, monitor the success of the subscription experiences they offer their customers, and report on business performance," Ptacek said.
Using Customer Feedback to Help Guide Improvements
"As a subscription business, we're always listening to our customers in order to further improve our offerings and use cases, and truly support their journey to transform in today's growing subscription economy," Ptacek explained.
He said Zuora has a unique dataset from more than 1,000 of the most successful subscriptions businesses, and this dataset gives the company unique insight into what it takes to be successful.
"We share that insight with our customers in the form of benchmarks and strategic guidance which makes us very unique from every other vendor out there," Ptacek said. "The truth is, subscriptions have distinguished themselves as a much more resilient business model than traditional product sales."
Watch on
This became very apparent in 2020, when many product companies faced heavy headwinds from the economic challenges caused by the global pandemic. But the subscription economy continued growing strong, according to Zuora.
"Look no further than Zuora customers like Zoom, who surpassed 300 million daily participants in April alone as people looked for a way to stay in touch with friends and family while sheltering in place, or Fender, who gained 1 million new subscribers with an extended free, three-month trial as consumers attempted to take up a new hobby," Ptacek said.
He singled out The Seattle Times as another great example of the power of subscriptions amid today's pandemic.
"The publisher, built on an advertising revenue model, embraced a digital strategy early on by erecting a paywall in 2013 that enticed readers to become paid subscribers to access high quality content," Ptacek said. "By doubling down on its digital strategy with technology and transforming into a customer-centric business, The Seattle Times was able to increase its subscriber base by 35% — to 65,000 digital subscribers — from March to June 2020."
This growth was made possible by the deeper insights into customer preferences that Zuora's subscription data analytics provided. Additionally, the shift to subscriptions freed the publication from commitments to advertisers and enabled it to focus on high-quality content creation, further engaging its audience and growing its base.
If your business is looking for an efficient way to handle its subscription-based service as well as credit card payments and other important components under one roof, Zuora may provide the solution.
Advertiser Disclosure
CardRates.com is a free online resource that offers valuable content and comparison services to users. To keep this resource 100% free, we receive compensation for referrals for many of the offers listed on the site. Along with key review factors, this compensation may impact how and where products appear across CardRates.com (including, for example, the order in which they appear). CardRates.com does not include the entire universe of available offers. Editorial opinions expressed on the site are strictly our own and are not provided, endorsed, or approved by advertisers.