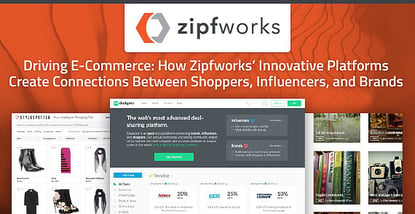 In a Nutshell: Retailers must find ways to adapt as consumers gravitate toward social shopping, personalized brand engagement, and influencer recommendations. Leveraging influencer marketing, especially, can help retailers keep and organically grow their audiences. ZipfWorks' innovative social shopping platforms facilitate those partnerships. Through e-commerce communities — and the new influencer marketplace on Dealspotr — ZipfWorks helps shoppers, influencers, and merchants connect. Consumers benefit through greater savings while brands reach a wider audience — and market more effectively.
Consumers are growing weary and disengaging with traditional marketing channels because they are bombarded with up to 10,000 advertisements each day. Rather than inspiring conversions, ads are increasingly driving people to hit unsubscribe or even install ad filters and blockers on their devices.
Instead, consumers are expressing their preference for a more personal and social way to engage with brands by looking to their peers, especially popular bloggers and social media trendsetters — known as influencers.
"We as consumers are starting to rely on influencers more and more for product recommendations and advice," said Michael Quoc, Founder and CEO of ZipfWorks. "So merchants are trying to figure out how to work with them, and we've spent time trying to understand how influencers like to collaborate with brands and vice versa."
Influencers are rising factors in consumer purchasing decisions and are the focus of a new advertising approach known as influencer marketing. By partnering with influencers, retailers are finding a more efficient way to approach their end consumers and grow their audiences organically.
ZipfWorks, an innovative software company with roots in Silicon Valley, sees these changes to the e-commerce landscape and consumer shopping behaviors as opportunities to engineer forward-thinking solutions for the way shoppers, retailers, and influencers connect.
"We're focused on helping merchants sell products through increasingly social and interactive digital experiences. We do this by creating fundamentally new ways to shop through our network of social commerce applications," Michael said.
By creating digital platforms for e-commerce that connect these key players, ZipfWorks enhances the customer experience, helps influencers broaden their reach, and drives business for both emerging and established brands.
A Pioneer in Digital Innovation Maintaining a Startup Culture
Michael officially launched ZipfWorks in 2012, but the story of what inspired his innovations in e-commerce begins much earlier, in the early days of the Silicon Valley technology bubble.
"I worked for a couple of big venture-funded startups in the Valley, and I did venture myself for a while, so I come from that startup world," Michael said.
Eventually, Michael moved from startups to work with Yahoo, but as the head of a media lab team of engineers tasked with rolling out a constant stream of new services, his role was still close to the heart of innovation.
"I thought it was a unique opportunity to be an entrepreneur within a big company like Yahoo. At the time, Yahoo had vast resources and brand recognition which made launching new products incredibly exciting and dynamic," Michael said. "I founded ZipfWorks to apply that same model — a media lab model applied toward e-commerce."
ZipfWorks wasn't his first experience in startups, but it was the first one he founded on his own.
"We're bootstrapped and never raised any venture funding, so we've operated as a very lean startup from the beginning. We've grown our staff slowly over time, which has helped us keep costs under control while maintaining high standards in who we hire."
Started in 2009 as a content-based website, ZipfWorks gained its current branding when it shifted its focus to e-commerce in 2012. Using the agile prototyping development method Michael designed in his Yahoo days, the ZipfWorks team of engineers introduce new services into the e-commerce marketplace.
ZipfWorks is a development-focused company that maintains the innovative culture it was founded on — right down to its team of in-house engineers and laid-back, creative, open office atmosphere.
"We're building something constantly. We have marketers, but they're heavily involved in the development process, as well," Michael said. "We do ethnography and observe how users do their shopping on their phones or at home. We have a lot of whiteboards and big screens. It's definitely a startup culture."
ZipfWorks' success isn't based on one piece of proprietary technology, but on the continuing development of social and mobile applications that meet the needs of the evolving online retail industry.
Online Shopping and Deal-Sharing Communities Powered by Big Data
The foundational technology ZipfWorks engineered is a core platform known as ZipfCommerce, which was built to power the ZipfWorks suite of marketplaces and consumer apps while providing a flexible, scalable groundwork for future startups to create e-commerce sites.
ZipfCommerce is the data and technology backbone of the streamlined shopping experience consumers expect. The platform supports a catalog of millions of easily searchable merchant products with real-time pricing, and accesses millions of deals and offers to monetize.
"We look at emerging trends in tech, consumer behavior, retail, and devices, and we identify opportunities," Michael said. "We develop social shopping utilities. It could be web-based, mobile, or AR, but all with the goal of doing something new in the marketplace that helps consumers easily find the products they're going to love and at the best price."
One of its social shopping apps, StyleSpotter, is a fashion marketplace that helps consumers find the best deals on over 12,000 brands. Shoppers can sort deals by product, collections, or by people — who are featured fashion influencers they can follow. Users can also personalize what they see by logging in with their Facebook account.
Although it's still in the proto-testing phase, Productli.st is being designed as a social discussion platform for rating and recommending products.
"People enjoy consuming product recommendations and ideas in terms of lists, like the top-10 lists everyone loves, so we're experimenting with a social app that allows people to do that easily," Michael said.
But the app that's received the most attention from the ZipfWorks engineering team over the last year is Dealspotr, the deal-sharing community that launched in 2015 and regularly features over 100,000 merchants and more than 5 million deals.
Dealspotr doesn't just allow members to share and benefit from deals, discounts, and promo codes; it encourages sharing with personalization, fun incentives and gamification — for instance, by receiving points and recognition when shared deals go Hot. As with StyleSpotter, users can customize their deal feed by following brands and other members.
As an innovator in e-commerce, ZipfWorks' has succeeded in creating marketplaces that benefit these everyday influencers and the consumers who follow them — as well as the brands with which they're connecting.
"We see a lot of the action and excitement happening in retail within this crowdfunding ecosystem, the startup world, and those innovative e-commerce stores that are coming out every day," Michael said.
The New Dealspotr Influencer Marketplace Focuses on Smaller Brands
Many ZipfWorks merchants use Dealspotr as a tool to build their brands, but over the past five years of working closely with small retailers, ZipfWorks has observed the challenges they face in connecting with their audiences.
ZipfWorks launched its new influencer marketplace in 2017 to connect brands with influencers and foster collaboration on deals. And because ZipfWorks has built an automatic verification tool, influencers no longer need to go through a manual review process.
The system allows an influencer to connect their social accounts and blogs to Dealspotr and receive an Influencer Score based on engagement metrics, which determines how much they make in the marketplace. Because of Dealspotr's proprietary algorithm, brands avoid overpaying based on otherwise inflated influencer stats.
"We think we've identified many of the problems in the market, so we launched a new area of Dealspotr that connects merchant partners with our Influencer Network, currently around 2,000 influencers, which we expect to expand rapidly," Michael said.
Influencer status comes with benefits such as double affiliate marketing commissions, paid blogging opportunities, and more significant visibility for the influencer's blog and personal brand.
The influencer marketplace on Dealspotr provides a direct connection between emerging brands, influencers, and the consumers they are both ultimately serving. By using this platform, merchants can more directly participate in influencer marketing and maximize their reach to the audiences that will most effectively promote their brands.
ZipfWorks Keeps Pace with the Changing Face of the E-Commerce Experience
Through its robust e-commerce platform and innovative social shopping apps like Dealspotr, ZipfWorks has engineered creative ways to meet consumers as they shift away from traditional marketing. Changes in e-commerce have enabled opportunities for retailers to learn more about their audiences, and how best to reach them through new channels like influencer marketing.
ZipfWorks is helping retailers adapt to these changes — through offerings like Dealspotr's influencer marketplace — and thrive as they connect with the voices their customers are listening to.
"Technology is becoming infused in every industry. I believe that all companies will increasingly need to operate like we do, with a lean startup philosophy, an open creative office environment, and a collaborative, fast-moving culture built around innovation and creativity." — Michael Quoc, Founder and CEO of ZipfWorks
"We're still in the first few innings of where e-commerce is going to go," Michael said. "There's still tons of innovation yet to come, and I believe it's the best place to be as a startup. That's where all the opportunity is because things are changing so fast."
By maintaining a startup mentality and a focus on technology that helps both consumers and small brands get the most out of the e-commerce experience, ZipfWorks has positioned itself as a company that helps retailers adapt to change.
"Technology is becoming infused in every industry," Michael said. "I believe that all companies will increasingly need to operate like we do, with a lean startup philosophy, an open creative office environment, and a collaborative, fast-moving culture built around innovation and creativity."
Advertiser Disclosure
CardRates.com is a free online resource that offers valuable content and comparison services to users. To keep this resource 100% free, we receive compensation for referrals for many of the offers listed on the site. Along with key review factors, this compensation may impact how and where products appear across CardRates.com (including, for example, the order in which they appear). CardRates.com does not include the entire universe of available offers. Editorial opinions expressed on the site are strictly our own and are not provided, endorsed, or approved by advertisers.