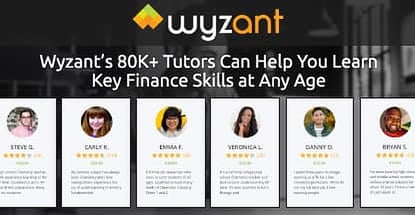 In a Nutshell: While formal schooling may end at graduation, no one is ever done learning. But, be it to meet professional educational goals or personal ones, learning a new skill — or brushing up on an old one — can be difficult without a good instructor. When dealing with a complex (and personal) topic like finance, an experienced and trustworthy instructor is even more important. Online tutoring marketplace, Wyzant.com, has helped connect students with qualified tutors for more than 10 years. From one secure, inclusive platform, Wyzant users can book lessons, exchange messages, and complete payments. Each year, Wyzant facilitates over 1 million online and in-person tutoring sessions spanning more than 300 subjects. Together with its community of 80,000+ tutors, Wyzant is helping to make the world a smarter place. //
Despite the claims of the many beleaguered algebra students in American classrooms, mathematics is, indeed, a fundamental part of the life of every adult well after graduation. Yes, even in the Age of the App, there really is no escaping the need to crunch some numbers once in a while, especially when it comes to keeping track of your personal finances.
Unfortunately, while humanity has been using mathematics to varying degrees for more than four millennia, modern generations of humans tend to have, at best, a tempestuous relationship with the subject. In fact, it often seems that many folks feel the world is made up of two distinct groups: "math people" — and everyone else.
The team at Wyzant.com knows all about the "math people" phenomenon, but they don't buy a word of it. An online tutoring marketplace started more than 10 years ago, Wyzant has helped connect millions of students with qualified instructors to reach personal, professional, and academic goals. The edu-tech company is dedicated to the idea that one-to-one learning works (even in math), but it works best when students have the right tutor.
"One of the things that people always say, and this cuts across all age levels, is, 'I'm not a math person,'" described Abigail Hunt, Public Relations for Wyzant. "But that's just not true. Anyone can learn anything, including math. They just need to connect with the right instructor, someone to show them they really can do the things they need to do."
Harness the Power of Knowledge to Get All of Your Finances in Order
To put some proof in their pudding, Wyzant's team practices what they preach. For example, when the company's Senior Copywriter, Jessy Lobel, realized she needed help learning to manage her personal finances, she considered it a no-brainer to find help through the site.
"Math and money and working with numbers — that's never really been a strong suit of mine," Jessy said. "But, as an adult human being, you kind of have to be responsible for these sorts of things. I needed to better understand my personal finance situation, including how to start a budget and understanding what I should be thinking about, beyond bills and living expenses."
In just minutes, Jessy had a list of qualified tutors from which to choose and was able to narrow it down to her perfect instructor. "I found this great tutor, and she was willing to meet whenever. I met her right near my work, which was super convenient."
Even without insider knowledge, getting started on Wyzant is simple. The marketplace can be accessed through the desktop site or mobile app. Prospective students input information on the subject with which they need help and the times they'd like to meet. Then, Wyzant presents a selection of tutors who are either nearby, or available to tutor remotely online.
"I wanted to meet in person because I'm very visual — I needed someone to show me, step by step, how to do things when it comes to math and finance," said Jessy. "But online can sometimes be easier if you need help really quickly. It's also beneficial for people who need help with harder-to-find subjects because it will open them up to a broader pool of tutors across the country."
A broad pool, indeed. The Wyzant marketplace is home to more than 80,000 tutors from all over the country, many of whom offer online lessons that eliminate distance limitations. What's more, even those students who, like Jessy, prefer to meet in person will likely see little limitation from distance. According to Abigail, "About 95% of the population are within five miles of our tutors."
Of course, with so many prospective tutors from which to choose, selecting the right one can be a challenge. Wyzant's extensive review system helps students make informed choices. "We know that finding the right tutor or instructor is a very significant decision for people," Abigail explained. "So, we actually have more than 1 million ratings and reviews available in our platform that students can peruse."
"Finding the right person was really important for me because money and finance are very personal topics," said Jessy. "You're sharing very personal things about your life, like your income, with someone who is virtually a stranger. So, it was important for me to find someone who I felt like I could trust, who seemed to have been in a similar situation before."
Share Your Wealth of Information — While Growing Your Personal Wealth
While it's easy for students to find help with Wyzant, they aren't the only ones benefiting from the site. Those 80,000 tutors are using Wyzant to earn extra income or even run full-time tutoring businesses. The all-inclusive platform takes care of the nitty-gritty, making it easy for instructors to concentrate on teaching students who really want to learn.
"They can book lessons through Wyzant, then we take care of the payments — and everything else," described Abigail. "They can send messages through our platform. They can also use our online tool, which includes a great code-editor and text-editor. Wyzant has whatever you would need to learn online."
Tutors are charged a portion of their lesson fee to use the service, but also have the flexibility to set their own rates. And, as incentive to stay with the platform, the percentage of the lesson fee that Wyzant charges decreases over time; when instructors increase the number of hours they tutor, they get to keep more of their lesson fee.
To get started, prospective tutors fill out a series of brief forms describing their tutoring experience and educational background, as well as choosing which subjects they feel comfortable teaching. It isn't just a free-for-all, however; reviewers check profiles for red flags, and potential instructors also need to prove their skills.
"When you apply to be a member of Wyzant's community of tutors, we have a content review team that actually sorts through the applications to make sure someone is up to the standards of the site," said Abigail. "And once they join the community, they actually have to take these little mini-tests, to make sure they are actually qualified for each individual subject for which they want to tutor."
Wyzant: Making the World Smarter, One Lesson at a Time
Though it will likely take years for the "math person" myth to be properly debunked, with the help of Wyzant, thousands of instructors are doing their part to change the hearts and minds of students the world over. What's more, those tutors are proving that anyone can learn important finance skills — "math person" or no — with the help of the right instructor.
"We really make learning easy," said Abigail. "All students need to worry about is actually connecting with the instructor who can help them get to where they need to be, and there are a variety of ways that Wyzant helps them find the perfect instructor."
Advertiser Disclosure
CardRates.com is a free online resource that offers valuable content and comparison services to users. To keep this resource 100% free, we receive compensation for referrals for many of the offers listed on the site. Along with key review factors, this compensation may impact how and where products appear across CardRates.com (including, for example, the order in which they appear). CardRates.com does not include the entire universe of available offers. Editorial opinions expressed on the site are strictly our own and are not provided, endorsed, or approved by advertisers.