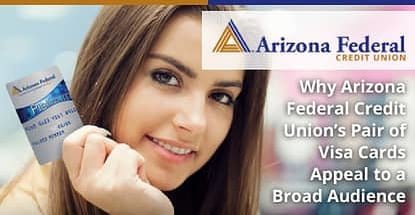 In a Nutshell: Few credit cards provide both low rates and rewards options. Typically, a card's rewards are offset by a slightly higher APR that encourages cardholders to pay their balances in full each month. Arizona Federal Credit Union decided to make its lone unsecured Visa credit card offering something that provides the best of both worlds. The Visa Platinum boasts interest rates as low as 9.49% and a point-per-dollar rewards structure via ScoreCard Rewards. Arizona FCU also offers its unique Plus program that returns year-end profits to members who conduct at least 10 transactions on their account each month. Since 2012, the institution has returned more than $30 million to its members through the program. //
Consumers like options. That's one of the main reasons there's a coffee shop on every corner in America — right next to a pharmacy, convenience store, and grocery store.
Options are equally important when it comes to financial services. What's important to one consumer may not matter to another. But instead of building more banks and credit unions, it's often up to existing institutions to offer a variety of services that serve the needs of every customer instead of focusing on specific demographics and products.
While big national banks may dominate the airwaves with commercials and other advertisements, it's often local credit unions that work closer to the communities they serve and give back the most to worthy local causes.

That's often because credit unions are member-owned and don't have stockholders to answer to. Instead, each of these nonprofit institutions answers to its members — meaning that they're more tuned-in to their needs and wants.
Since 1936, Arizona Federal Credit Union has served residents of Maricopa and Pinal counties as well as the city of Tucson. Over that time, the institution has ingrained itself in those communities and earned high praise from those they serve.
CardPower App Lets Cardholders Take Control of Security
Whether it's AFCU's Plus program, which returns year-end profits to active members, or a pair of Visa-issued credit cards that provide rewards and low-rate opportunities, the credit union's products meet the diverse needs of its more than 125,000 members.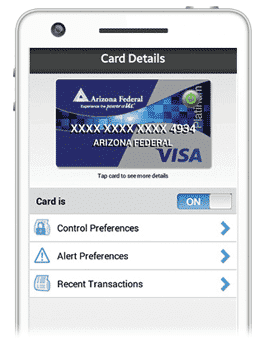 Over the last five years, the institution has invested heavily in technology, which resulted in two mobile applications that give members access to account tools from anywhere in the world.
"We have the regular mobile banking app that allows members to review their accounts, pay bills, and transfer funds," said David Kexel, Director of Marketing Communications Arizona FCU. "The CardPower app allows members to turn their cards on and off. It works for both credit and debit cards. If you lose your card, or just want additional security on your card, you can go into the app at any time and shut it off so it can't be used until it's turned back on."
CardPower is essentially a remote control for your credit or debit card. The app lets members set transaction limits (which also can limit the card to working only in certain areas of the country), block international transactions, and set spending limits. Cardholders can also create spending categories on the app. For example, a category can make a card not available for online shopping.
But even the greatest technology is useless if the credit cards associated with the apps don't offer superior value. AFCU has that area covered, too.
The Platinum Visa Card Offers Low Rates and Rewards
AFCU's main credit card offering, the Platinum Visa with ScoreCard Rewards, features rates that range between 9.49% and 17.99% with no annual fees or charges for balance transfers or cash advances. Plus, cash advances are charged the same rate as purchases, unlike many issuers that charge a higher rate.
The Platinum card boasts credit limits up to $25,000 and pays one point for every dollar of spend on the card. Those points are redeemable for merchandise and travel options through the ScoreCard Rewards program.
"Really, the Platinum Card is good for two types of people," Kexel said. "If they carry a balance from month-to-month, our rates are very competitive. Our lowest rate is at 9.49% variable. If someone pays off their balance every month and is more into rewards, we have the ScoreCard Rewards program that adds a layer of benefits for cardholders."
For members who are either building or rebuilding their credit, AFCU offers a Visa Secured card with limits equal to 105% of the cardholder's initial security deposit, up to $5,000 with a pledge of $5,250.
The secured comes with an 11.24% variable APR and requires a one-time $25 set-up fee. The card's security deposit is completely refundable as long as the cardholder's account closes in good standing with no debts owed.
The Plus Program Pays Members Back for Their Loyalty
What sets Arizona FCU apart from its competition is its unique Plus program, which started in 2012 and rewards members for their loyalty.
"The program takes year-end profits and returns them to our active members," Kexel said. "Since 2012, we've returned more than $30 million to our members through this program."
Members qualify for the program if they perform 10 or more transactions on their account each month.
"We pay back based on the type of business they do with us," Kexel said. "If they have a credit card or a loan, we refund a portion of any interest they paid on the loan at the end of the year."
In 2017, AFCU paid back 7.5% of interest paid. The amount repaid varies each year based on the credit union's performance for the year.
AFCU Offers Options that Make Membership Worthwhile
Whether you're looking for low credit card interest rates or rewards for your loyalty, Arizona FCU's Visa credit offerings and Plus program makes membership profitable for people at any stage of their financial journey.
The institution invests heavily in its surrounding communities by offering workshops, personal financial coaching sessions, and its exclusive Financially Empowered Magazine.
"Our members mean a lot to us, and we work hard to provide everything they need," Kexel said. "That shows in the variety of products and services we offer."
Advertiser Disclosure
CardRates.com is a free online resource that offers valuable content and comparison services to users. To keep this resource 100% free, we receive compensation for referrals for many of the offers listed on the site. Along with key review factors, this compensation may impact how and where products appear across CardRates.com (including, for example, the order in which they appear). CardRates.com does not include the entire universe of available offers. Editorial opinions expressed on the site are strictly our own and are not provided, endorsed, or approved by advertisers.