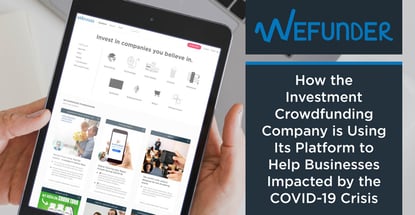 In a Nutshell: In the face of the coronavirus pandemic, the world is facing healthcare and economic challenges the likes of which it has never seen in modern times. Wefunder is an investment crowdfunding platform that is doing its part in this crisis by using its tools and infrastructure to help deliver solutions and help small businesses stay afloat in the U.S. The company launched an accelerator to help fund innovative ideas that solve problems brought on by the virus. And its emergency loan program lets investors support their favorite small businesses in the coming months. The company is an innovator in the crowdfunding space, and as a Public Benefit Corporation, it aims to deliver returns on investments in the greater good.
Over the past few months, as the coronavirus — or COVID-19 — has spread throughout nearly every part of the world, countries have struggled with how to handle the pandemic from a healthcare and economic standpoint.
The virus has wrought death and sickness to hundreds of thousands of people. And the actions to help slow the spread, in the form of social distancing and isolating, have disrupted economies in ways that will likely take years to recover.

At the same time, the spread of the coronavirus across the globe shows just how interconnected human life is — no matter where you live. And while people are staying home, families and friends have found new, sometimes deeper and more enriching ways to connect than before.
Nevertheless, untold numbers of businesses in the U.S. are struggling to stay afloat as people — customers — stay inside and pump far less money into the economy in direct and indirect ways.
The federal government prepared a stimulus package that may provide some economic relief, although many experts say the package does not go far enough to protect workers and small businesses. Meanwhile, other businesses and organizations are doing their part to help however they can.
Wefunder is one of these companies. The crowdfunding investment platform has pivoted to quickly launch initiatives to help businesses stay afloat in the coming months.
"At the end of March, we launched some new initiatives in response to the crisis," said Wefunder's Director of Fundraising, Jonny Price. "Firstly, we have an accelerator for startups that are tackling coronavirus, either directly or indirectly. The second piece is that we have a small business loan fund, basically disaster relief loans, that we just launched."
We recently spoke to Price to learn more about how these projects work, and we also dove into the background of Wefunder and its role in the history of investment crowdfunding.
Emergency Funding to Help Businesses Weather the Economic Repercussions of Coronavirus
Price said Wefunder's three-month accelerator initiative will help fund innovative ideas from startups working to solve some kind of problem brought about by the coronavirus pandemic.
"We believe that if we can help to capitalize startups as part of the solution, then that's a really powerful way that we can use our network and community and model to help," he said.
Wefunder's stance is that people's lives will be massively impacted for at least a year due to coronavirus. Therefore, it is helping to tap into the minds of innovators to solve problems, including social interaction (especially for the elderly), remote education, telehealth, childcare, medical technology, and an array of other potential issues.
"The challenge is simple: Take your ideas to tackle the coronavirus and turn them into reality, as fast as possible," according to the company website. "You'll be in an online community with other motivated founders working around the clock."
The startups that are accepted (applications closed in early April) will receive $50,000 in immediate funding with an uncapped MFN SAFE, and Wefunder will charge no fees and 0% equity.
"Our mentors will help you work on your investor pitch," according to the company. "Whenever your startup is ready (even as soon as now), we will help you raise up to $1 million from Wefunder's 400,000-plus investors. (All investors are aggregated into one entity on your cap table.)"
Complete details can be found on the Wefunder website.
Wefunder has also created its Coronavirus Crisis Loan program that is geared toward helping small businesses during these uncertain times.
"Small businesses whose cash flows are being negatively impacted over the coming months can apply for a loan of $20,000 up to $1 million," Price said. "They basically go to their customers and get their customers and community members to lend them money to get them through the crisis."
He said as more businesses are impacted in the near future, many of them just need a bridge to come out on the other side and stay afloat.
"Typically, half of the funds come from your own customer base, with the other half from the Wefunder investor-base," according to the company. "We do all the work of collecting funds and send you one wire when it's over."
The company has designed a revenue share agreement that is very friendly to small businesses, according to the company. "In these hard times, we expect customers will support businesses they care about with flexible repayment."
Small businesses can learn more about this program on the Wefunder website.
Wefunder's Established Reputation and Infrastructure is Designed to Deliver Results
If you're involved in an innovative startup or a struggling small business reading this, you may be wondering what makes Wefunder different from other funding platforms or opportunities.
Well, Wefunder has literally been in the crowdfunding business as it now exists since the beginning and has been building its network of investors for years.
Less than a decade ago, equity investments were illegal in the U.S. That means small businesses were often forced to rely on a bank loan or find private investors to raise capital.
"We thought it wrong that it was illegal to invest in our friends. So we launched a petition to Congress to change the law," according to Wefunder. "We were invited to DC by Senator Brown, Senator Bennet, Senator Merkeley, and Rep. McHenry, and helped teach them how startups raise money. We were mentioned in the Senate and the Congressional Record several times."
When President Barack Obama signed the resulting JOBS Act into law that same year, Wefunder was among the organizations invited to attend the signing in person. Finally, after four years of finalizing the rules and regulations, the JOBS Act went into effect in 2016.
"Since then, Wefunder has been the leading investment crowdfunding platform using this new federal exemption called regulation crowdfunding to allow ordinary people, as well as millionaires and billionaires, to invest in startups they love or local small businesses that they know and love."
Since its inception, 364 startups have raised nearly $130 million on Wefunder. And the company sees higher returns than the top quarter of venture capital firms, according to the Wefunder website.
A Public Benefit Corporation
While investing money is about seeing a return on investment, for some companies it's also about investing in the greater good. That's the case with Wefunder.
Price explained that most corporations are classified as either a C-Corporation or an LLC, but Wefunder is a Public Benefit Corporation. While C-Corporations are legally mandated to maximize shareholder value, Public Benefit Corporations are legally mandated to abide by their charters, he said.
"Our charter talks about us benefitting society, and we have a number of ways in which we want to do that, whether it's getting more capital flowing for startup founders or enabling more people to start companies in America and take a shot at their American dream," Price said.
Wefunder's mission is to defend the American dream, according to the charter.
"We aim to increase economic growth and lower wealth disparity by sharing the rewards of capitalism more broadly, and destroying the barriers that reduce social mobility," according to Wefunder.
This means adhering to a set of core beliefs, including the notion that startups and small businesses increasingly contribute to America's wealth and that people are wiser than banks or venture capitalists.
"The 'wisdom of the crowd' allocates capital better than elite gatekeepers," according to the charter.
Additionally, everyone deserves the right to invest in what they believe in: "The middle class must rise up and break the monopoly of the wealthy."
Lastly, investing in dreams benefits everyone, whether the dreams are realized or not.
"Changing the world is hard; most startups die," according to the charter. "But by funding more founders who strive valiantly to take their shot, we enrich our society and boost our talent, even if they fail."
The fact that Wefunder has sprung into action in the face of the COVID-19 crisis is no surprise. Hopefully, the company's efforts can bring some light into the world during these dark times and help us learn how to navigate the months ahead. After all, we're all in this together, a view in line with Wefunder's philosophy.
Advertiser Disclosure
CardRates.com is a free online resource that offers valuable content and comparison services to users. To keep this resource 100% free, we receive compensation for referrals for many of the offers listed on the site. Along with key review factors, this compensation may impact how and where products appear across CardRates.com (including, for example, the order in which they appear). CardRates.com does not include the entire universe of available offers. Editorial opinions expressed on the site are strictly our own and are not provided, endorsed, or approved by advertisers.