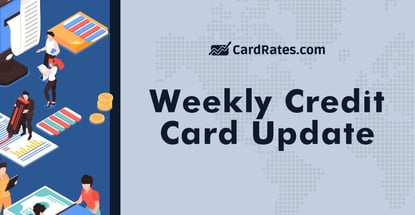 For media inquiries on these stories and more, contact credit card expert and industry analyst Bill Hardekopf at (205) 985-9725 or billh@cardrates.com.
1. Credit Card Applications Rise to Pre-Pandemic Levels

American consumers are applying for credit cards at pre-pandemic rates, an increase that is broad-based across age and credit score groups, according to the New York Federal Reserve.
The application rate for credit cards rose throughout 2021, reaching 26.5% in October, 10.8 percentage points higher than its October 2020 level, which was a series low. In addition, data showed that the application rate for credit card limit increases also rebounded from the October 2020 low of 7.1% to 11.3% in October 2021, just below its October 2019 level of 12.0%. 
• Story By: Yaёl Bizouati-Kennedy, GO Banking Rates
2. Capital One is Biggest U.S. Bank to End Overdraft and Insufficient Fund Fees

Capital One on Wednesday became the largest U.S. bank to say it will ditch all overdraft and insufficient fund fees for consumers, as regulators tighten their oversight of institutions that are heavily dependent on overdraft fees.
The sixth-largest retail bank in the U.S. unveiled the move the same day the Consumer Financial Protection Bureau announced it would take action against banks whose practices it says take advantage of financially vulnerable consumers.
• Story By: Megan Cerullo, CBS News
3. It Takes More Than Convenience to Woo Credit Card Users

Consumers want more than just a great interest rate when they choose a credit card issuer, PYMNTS research has revealed. Three out of four consumers consider user experience features such as cash back rewards, better data privacy protection and credit-building tools. The report found that many consumers use credit cards to manage debt, cash flow and increase their credit scores.
In the last 12 months, 168 million consumers have used a credit card, and 137 million have done so in a way that they have balances due month after month. Many consumers consider carrying a balance a relevant financing alternative for managing their expenses. Research shows that 75% of active users who are parents cite credit-building tools as a key factor when deciding between cards.
• Story In: PYMNTS
4. More Than Half of Shoppers Are Going into Debt This Holiday Season

Americans are spending a little less this holiday season, but still more than they can afford. Total spending on Black Friday, both in stores and online, fell slightly from a year ago, the first decline on record, in part because holiday shoppers started their shopping earlier in face of supply chain setbacks and shipping delays.
All in, consumers plan to spend $997.73 on average for themselves and their families this year, according to the National Retail Federation's annual survey, down from the pre-pandemic high of $1,047.83 hit in 2019. And for the first time, about 45%, of shoppers plan to use "buy now, pay later" services for their holiday shopping to spread out their expenses.
• Story By: Jessica Dickler, CNBC
5. Cannabis and Banking Vets Launch Credit Card for Dispensaries

Most consumer cannabis transactions are done in cash, legal or not. Since the United States classifies cannabis as a Title IV drug, the banking industry is unwilling and unable to provide services to cannabis operations. That leaves dispensaries managing and protecting massive sums of cash, and the stores cannot offer a modern retail payment system to the consumer.
SuperNet has a solution. The company will issue and process credit cards that will work in dispensaries. The service is expected to launch in January 2022, and accepted at 100 California retail locations.
• Story By: Matt Burns, TechCrunch
6. Debt Collectors Can Now DM You on Social Media

Debt collectors have a variety of ways to contact you, and the Consumer Finance Protection Bureau added a new way for them to reach you: social media. Don't worry, debt collectors won't be able to comment on your posts or write up something for the public to see.
But according to a release from the CFPB Tuesday, they now can privately message you on social media. The debt collectors must clearly identify themselves, and they also must include a way for you to stop receiving their messages, basically providing a mechanism to opt out.
• Story By: Michelle Shen, USA Today
7. Your Credit Card Number Is Worth Just $5 on the Dark Web

How much do you think someone would be willing to pay for your credit card information on the dark web? It may surprise you to learn that the total cost is only a few dollars, and much less than the cost of your bank account. NordVPN analyzed 4,481,379 payment cards from 140 countries and found that the worldwide average cost to purchase a card was $9.70 in total.
However, some countries — Hong Kong and the Philippines, specifically — may cost closer to $20, while Mexico costs a mere $2.36 on average. Of all the countries with cards found on the dark web, the United States was the most affected with 1,561,739 cards for sale.
• Story By: Jason Cohen, PCMag
8. Priceline Announces New No Annual Fee VIP Rewards Visa Card

Priceline is one of the major online travel agencies used by American consumers to find cheap travel. Consumers can book flights, rental cars, cruises and more, all in one convenient place. And now, Priceline is introducing their own credit card: the VIP Rewards Visa credit card.
Once you're approved for the Priceline VIP Rewards Visa Card, you're eligible to earn a welcome offer of 10,000 bonus points after spending $1,000 in the first 90 days of card membership. Those points are worth $150 when redeemed for travel through Priceline, or a $100 statement credit. In addition, you will receive a number of other benefits.
• Story By: Brett Holzhauer, CNBC
9. Klarna Offers Pay Now Option in United States, Klarna Card Coming Soon

U.S. consumers now have the choice to use Klarna's "Pay Now" service to pay immediately and in full at any online retailer where Klarna is available. This adds to the global retail bank, payments and shopping giant's stateside offerings, where Klarna has doubled its customer base to more than 21 million customers.
In addition to Pay Now, Klarna will be introducing its Klarna Card to U.S. customers, which will enable them to make interest-free payments in four installments using a physical card format, either in stores or online. It works with the Klarna app and also can be added to Apple Pay and Google Pay.
• Story By: Christine Hall, TechCrunch
10. Chase Launches New Air Canada Credit Card with 100,000-Point Bonus

A new airline credit card has officially arrived on the scene. After months of rumors and a teaser campaign, Chase unveiled its new Chase Aeroplan World Elite Mastercard Credit Card, the issuer's first-ever card tied exclusively to Air Canada.
Named after the airline's frequent flyer program, Aeroplan, the card replaces the carrier's previous US credit card, which was issued by TD Bank and discontinued in 2020. Airlines have made an effort in recent years to broaden the bonus categories on their credit cards, and the Chase Aeroplan card is no exception. The new Chase Aeroplan card, with an annual fee of $95, has a number of unique features that could make it attractive even to US consumers who don't typically find themselves visiting our neighbor to the north.
• Story By: Julian Kheel, CNN
11. Visa and Mastercard Stocks Are Ailing as Omicron Hits Travel

Visa and Mastercard are looking like early casualties of the Omicron variant of the Covid-19 virus. The big card networks rely heavily on revenues related to cross-border travel as consumers and businesses use their cards for plane tickets, hotels, and car rentals, as well as purchases in foreign countries.
Forecasts for revenues and profits may need to come down if the Omicron variant puts the brakes on travel as countries reimpose bans or quarantine rules.
• Story By: Daren Fonda, Barron's
12. Mobile Contactless Payments Now Account For 1 in 3 Card Transactions in Russia

Mobile contactless payments now account for just over a third of all card transactions (34%) and just under a third of total card transaction value (31%) in Russia compared with 25% of transactions and 23% of transaction value in 2019-2020, according to research.
The research also shows that 45% of mobile contactless payments in Russia were made using Apple Pay, 36% using Google Pay, 15% using Samsung Pay and 4% using "other services" such as Mir Pay and Huawei's Koshelek Pay.
• Story By: Tom Phillips. NFCW
Advertiser Disclosure
CardRates.com is a free online resource that offers valuable content and comparison services to users. To keep this resource 100% free, we receive compensation for referrals for many of the offers listed on the site. Along with key review factors, this compensation may impact how and where products appear across CardRates.com (including, for example, the order in which they appear). CardRates.com does not include the entire universe of available offers. Editorial opinions expressed on the site are strictly our own and are not provided, endorsed, or approved by advertisers.