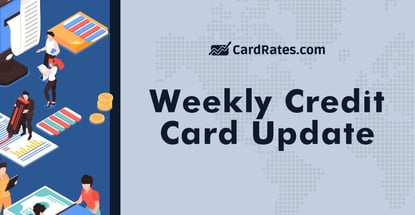 For media inquiries on these stories and more, contact credit card expert and industry analyst Bill Hardekopf at (205) 985-9725 or billh@cardrates.com.
1. Retailers Sue Federal Reserve Over Handling of Debit Card Fees

Two lobbying associations representing merchants in North Dakota sued the Federal Reserve to win a reduction in the fees they pay to banks each time a consumer swipes a debit card. The North Dakota Retail Association and the North Dakota Petroleum Marketers Association said in the complaint that the Fed should vacate its rule that caps those fees at 21 cents for cards from the largest U.S. banks.
The fees merchants pay to process both credit and debit cards have soared in recent years to more than $100 billion annually. Debit card fees were capped a decade ago by the so-called Durbin Amendment to the Dodd-Frank overhaul of financial regulations.
• Story By: Jennifer Surane, Bloomberg
2. Trevor Lawrence Partners with Blockfolio, Will Have Signing Bonus Placed into Cryptocurrency Account

Trevor Lawrence is going to get paid this week—in crypto. He has partnered with a global cryptocurrency investment app called Blockfolio and will place his signing bonus into an account with the company.
Lawrence's portfolio includes mainstream cryptocurrencies such as Bitcoin and Ethereum. He's also invested in Solana, a lesser-known blockchain. According to Spotrac, the signing bonus for this year's No. 1 NFL pick is an estimated $22,630,055.
• Story By: Chris Bumbaca, USA Today
3. 53% Who Took on a Pandemic Hobby Went into Credit Card Debt as a Result
59% of Americans took on a new hobby during the coronavirus pandemic. The most popular hobby among those who started one during the pandemic: reading (61%), followed by baking or cooking (36%), gardening (30%), meditation (29%), and writing (26%).
Nearly half (48%) of consumers who tried out a new hobby during the pandemic — such as coding or photography — have earned money turning it into a side hustle. But 53% incurred credit card debt as a result of their newfound pastime. 79% of consumers said they'll continue with their hobby even after the pandemic is over.
• Story By: Matt Schulz, LendingTree
4. Visa Emerging from Pandemic 'Storm' as Spending Volumes Recover

Visa is emerging from the pandemic, as a surge in online shopping helped the world's biggest payment processor beat Wall Street estimates for quarterly profit and counter sluggish travel spending.
Payment companies are seeing an uptick in volumes from the coronavirus-induced slump as massive government stimulus and speedy vaccine rollouts fuel an economic recovery, unleashing pent-up demand for both goods and services. Visa's total payment volumes rose 11% on a constant dollar basis from a year earlier, its biggest jump since the start of the pandemic. It saw a return to positive growth for credit and card-present transactions, while debit and e-commerce also grew.
• Story By: Noor Hussain, Reuters
5. Satisfaction with Banks Surges as Customers Switch to Digital Only, J.D. Power Reports

Customer satisfaction with the nation's banks has surged as more consumers have switched to digital-only banking, according to new research from J.D. Power. Perhaps most interesting–even though 24% of customers say they are worse off financially, overall customer satisfaction still increased.
Retail bank efforts to increase customer communication, introduce customer relief and community support efforts, and deliver strong digital banking services have helped them score high marks for customer satisfaction in a very challenging year.
• Story In: CUToday
6. With Debit Cards and Investing For Kids, Fintech Startup Greenlight Doubles Valuation to $2.3 Billion

Greenlight, a startup that offers debit cards and investing for kids, has raised a $260 million Series D at a valuation of $2.3 billion, nearly doubling the unicorn valuation it received in a $215 million fundraise just last September.
CEO Tim Sheehan says the money will go to accelerating marketing to parents and to hiring 300 more employees to build out new features for the app, which tripled revenue and customers last year. Greenlight aims to teach kids the basics of personal finance, setting them up to build future wealth.
• Story By: Eliza Haverstock, Forbes
7. Visa Partners with Airbnb for Visa Direct Platform

Airbnb and digital payments company Visa have announced that Airbnb hosts in select markets will be able to access their earnings more quickly through a new partnership.
Through Airbnb's use of Visa Direct, Visa's real-time push payments platform, hosts will have an option to move money from Airbnb to a bank account associated with an eligible Visa debit card. The enhanced payouts experience with Visa Direct is designed to help give hosts better control of their finances.
• Story By: Paul Stevens, Short Term Rentalz
8. The 9 Best Mobile Banking Apps: Functionality and Convenience to Manage Your Money

Mobile banking apps enable you to easily perform many of your banking functions from your phone or tablet. The nine best mobile banking apps and services: Ally, Bank of America, Capital One, Chase, BBVA, Wells Fargo, PNC, Discover, and TD Bank.
• Story By: Sabah Karimi, Yahoo Finance
9. 16% of Mobile Devices in Developing Markets Now Infected with Malware

Mobile users already disadvantaged by an economic and digital divide have suffered the most from digital fraud throughout the pandemic. In emerging markets such as Brazil, Indonesia, South Africa, and Thailand, 16% of mobile devices that processed a transaction were found to be infected with malware.
The report reveals the scale of the impact of the pandemic on mobile ad fraud and malware. 46,000 malicious apps were detected in circulation, with a global block rate of 95%. This translates as 16% of mobile devices carrying at least one infected app. Globally, only 2.6% of devices are reported to be harboring high-risk apps.
• Story In: Help Net Security
10. How Mobile Wallet Use Exploded from One Year in Lockdown

Old payment habits take a long time to change, unless there's a major event such as a global pandemic. The effect of the pandemic on North America's usage of cash for in-store point-of-sale transactions is clearly seen in the data from the FIS 2021 Global Payments Report.
In 2019, cash had an almost 15% share of all in-store POS volume, while mobile wallets could muster only a 6% share position. In 2020, mobile wallets received a 60% boost in POS usage, growing to a 9.6% share; and cash volume fell by over 20%, to 11.4%. Going forward, FIS predicts that mobile wallet POS volume will reach 15.5% in 2024 while cash usage will fall to under 10%.
• Story By: Michael Moeser, PaymentsSource
11. A Second Bitcoin Exchange Collapses in Turkey Amid Crackdown on Cryptocurrencies.

A second cryptocurrency exchange has collapsed in Turkey amid a crackdown on the industry. The platform, Vebitcoin, said it has ceased all activities after facing financial strain and that it would update clients on the situation as soon as possible.
Days earlier, Thodex, went offline with its CEO reportedly leaving the country. Local media reports say Thodex founder Faruk Fatih Ozer flew to Albania, taking $2 billion of investors' funds with him. Turkey has issued an international arrest warrant for Ozer, while 62 people were detained in connection with complaints filed against Thodex.
• Story By: Ryan Browne, CNBC
Advertiser Disclosure
CardRates.com is a free online resource that offers valuable content and comparison services to users. To keep this resource 100% free, we receive compensation for referrals for many of the offers listed on the site. Along with key review factors, this compensation may impact how and where products appear across CardRates.com (including, for example, the order in which they appear). CardRates.com does not include the entire universe of available offers. Editorial opinions expressed on the site are strictly our own and are not provided, endorsed, or approved by advertisers.