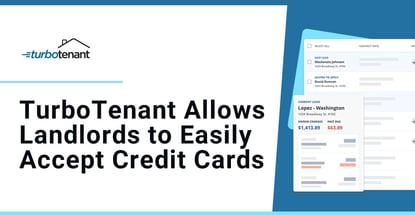 In a Nutshell: Renting out properties as an independent landlord can be a challenging process, from advertising a property and screening potential tenants to collecting rent in a timely manner. TurboTenant is a software platform designed for landlords who own between one and four properties. The property management software delivers a new level of convenience for landlords and tenants by facilitating communication and maintenance requests and allowing easy online payments via ACH, debit card, or credit card.
As someone who has dabbled in owning and managing properties, I've seen first-hand many of the challenges that accompany being an independent landlord.
Large management companies often have plenty of resources to engage in marketing campaigns and employ property managers. They also rely on enterprise management software to keep units filled and problems solved.

For independent landlords, renting out a property looks much different. Small landlords assume responsibility for every task, including taking photos, determining how and where to advertise, choosing the right tenants, collecting rent, and keeping up with maintenance costs.
Of course, collecting rent is one the most important parts of the rental process — and one of the main drivers behind renting out a property to begin with. Traditionally, tenants paid their monthly rent via cash or check. Technology has made this process easier with various money transfer apps. Still, independent landlords don't always have an easy way to accept credit cards as payment.
TurboTenant not only facilitates credit card payments, it also makes the whole rental process smoother and easier to manage.
"We mostly serve the independent landlord, so one to 50 units is kind of our sweet spot," said Sarah Stinson, TurboTenant's Director of Content and SEO. "Our founder, Sarnen Steinbarth, was a landlord who had the problem of wanting to use property management software, but he really felt like the only ones available were for huge property management companies."
Steinbarth believed the same tools available to large companies should be accessible for independent landlords like himself, Stinson said. Since Steinbarth launched TurboTenant in 2015, the company has helped more than 300,000 independent landlords and nearly 6 million renters.
A Platform that Covers the Renter's Entire Tenure
"Our mission is to empower the independent landlord to create a welcoming experience," Stinson said. "Relationships between landlords and renters can at times be contentious, and our role is to really help heal that with a really great rental experience for both the landlord and the tenant."
With its comprehensive software suite, TurboTenant's goal is to help guide landlords from the rental marketing process all the way through the lifespan of the renter's tenancy, Stinson explained.
"TurboTenant is the all-in-one, property management tool that streamlines how you manage the rental process," according to the company. "The world's easiest way to screen tenants, market your rental, receive applications and collect rent online."
In less than 10 minutes, landlords can post their rental property to dozens of property listing websites, including Facebook Marketplace, Realtor.com, and Craigslist. Landlords can then use TurboTenant to see an average of 22 leads per property, according to the company.
Renters are able to complete applications online immediately — no more waiting for applications in the mail or deciphering difficult-to-read handwriting.
Landlords who use TurboTenant no longer have to wait for a monthly rent check in the mail either.
"Are you still wasting time dealing with the hassle of paper checks? Coordinating pick-up times or waiting for your check in the mail is a thing of the past," according to the company. "With TurboTenant, conveniently collect rent, deposits, fees, and more — all online."
Stinson said the platform goes even deeper, providing a convenient messaging platform for the landlord and tenant so there's a clear record of communication.
TurboTenant also facilitates maintenance requests.
"If renters need to send maintenance requests to their landlord, they can do that within the platform," Stinson said. "And landlords can then send those requests to a service person."
Helping Landlords Choose Good Tenants
Stinson said one of the most common questions the company receives from landlords is how to select a good tenant.
The TurboTenant platform assists landlords with the screening process, which can be challenging to handle without outside resources and guidance.
"Get an easy-to-read criminal history, credit report, and past evictions with tenant screening from TransUnion so you can be assured you are renting to the right person," according to TurboTenant. "You don't even have to ask renters for more money."
Watch on
The company provides plenty of guidance on its website about matters outside of the formal renting process as well.
"We create a lot of content around guiding new landlords on how to set their rental criteria, including helping them consider the qualitative and quantitative pieces they want to include," she said. "One thing that we have done that has helped a lot is we have a lead questionnaire."
When a lead comes in, the software can send out a list of questions that can serve as a pre-qualifier, Stinson said. Landlords know that if a tenant fills out the questions about their moving date, income level, and other high-level queries, the party is most likely truly interested in the property.
"That really just provides a first contact point that I don't believe any of our competitors do," she said. "That has really helped our landlords."
She said the TurboTenant website also features a wide range of valuable resources for landlords to determine the standards they are comfortable with.
"We have tools on the site that do things like help calculate the rent-to-income ratio they prefer, how to decide what your credit score threshold is, and what you should have as a minimum," Stinson said. "We try to really guide our landlords through the process and make sure they are aware of some of these aspects that they should be considering to help qualify potential tenants."
Offering Partial Payments and Other Flexible Options During the COVID-19 Pandemic
A huge part of the appeal of a platform like TurboTenant is the ease with which landlords can collect rent. As mentioned earlier, tenants can pay their rent online, but the convenience goes beyond that.
Renters can pay via ACH, debit card, or credit card.
And the software takes a lot of the management and collection burden off the backs of landlords.
"See the status of all the charges you sent out in one place. You'll be notified as soon as your renter pays or if their payment is past due," according to TurboTenant. "We'll take care of letting your tenants know that they have an unpaid charge. And we'll keep pestering them until they pay so you don't have to."
And, of course, payments, applications, screening reports, and other important documents are all in one place.
Landlords and tenants can also have peace of mind that security is no issue.
"Collecting rent through TurboTenant's is not just the most convenient way to get paid but the most secure, for you and your tenants," according to the company.
TurboTenant's online platform came in particularly handy during the COVID-19 pandemic, Stinson said. The company began sending out landlord and renter surveys as early as March, 2020, to get a sense of how the spreading pandemic was affecting all sides.
Many landlords and tenants have faced financial uncertainty if not outright challenges in the past year. And having an option to pay with a credit card ended up benefiting both parties.
Stinson said that, in some cases, when it looked like tenants were going to be unable to pay their rent, landlords were able to negotiate partial payments. And when cash isn't in the bank, the credit card option proved extremely valuable.
"We really promoted credit cards as a way for tenants to be able to pay rent," she said. "We also enabled partial payments. Over the course of January through March of this year, credit card payments from renters increased about 18%. I think people were really using credit cards to give themselves a little bit more time to catch up on their finances."
Advertiser Disclosure
CardRates.com is a free online resource that offers valuable content and comparison services to users. To keep this resource 100% free, we receive compensation for referrals for many of the offers listed on the site. Along with key review factors, this compensation may impact how and where products appear across CardRates.com (including, for example, the order in which they appear). CardRates.com does not include the entire universe of available offers. Editorial opinions expressed on the site are strictly our own and are not provided, endorsed, or approved by advertisers.