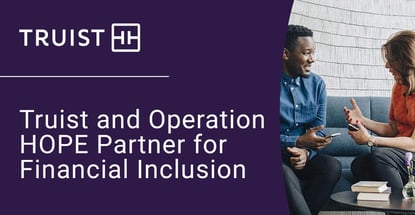 Our experts and industry insiders blog the latest news, studies and current events from inside the credit card industry. Our articles follow strict editorial guidelines.
In a Nutshell: Operation HOPE has equipped more than 4 million Americans with tools and education to achieve financial independence since 1992. Today, the organization partners with Truist, a purpose-driven financial organization, to reach more people. Through HOPE Inside, Truist offers financial counseling for everyday budgeting needs, homeownership, and small business success at more than 600 Truist branches. And Truist has pledged to help close the racial wealth gap by dramatically increasing the number of black-owned businesses by 2030 through Operation HOPE's 1MBB Initiative.
Truist, based in Charlotte, North Carolina, is a big bank with a wide footprint, with thousands of branches located in 17 states and Washington, D.C. The bank is the product of a merger between two heritage institutions, and it focuses on empowering people with financial tools and skills for building stronger communities.
Truist's predecessor firms had partnerships with Operation HOPE, an Atlanta-based nonprofit that has worked to bring banking services to underserved communities since 1992. The organization has helped more than 4 million adults and youth drive billions of dollars in economic activity through homeownership and entrepreneurship in their communities .
Operation HOPE's focus on dignity and inclusion aligns strongly with Truist's purpose-driven mission of inspiring and building better lives and communities. And the bank's leadership set out to transform its existing partnerships into something that could carry a profound and lasting impact across its service areas.
Truist has invested millions of dollars in Operation HOPE and has expanded its HOPE Inside financial coaching program to more than 600 bank branches. The goal is to reach 1,000 locations by 2024.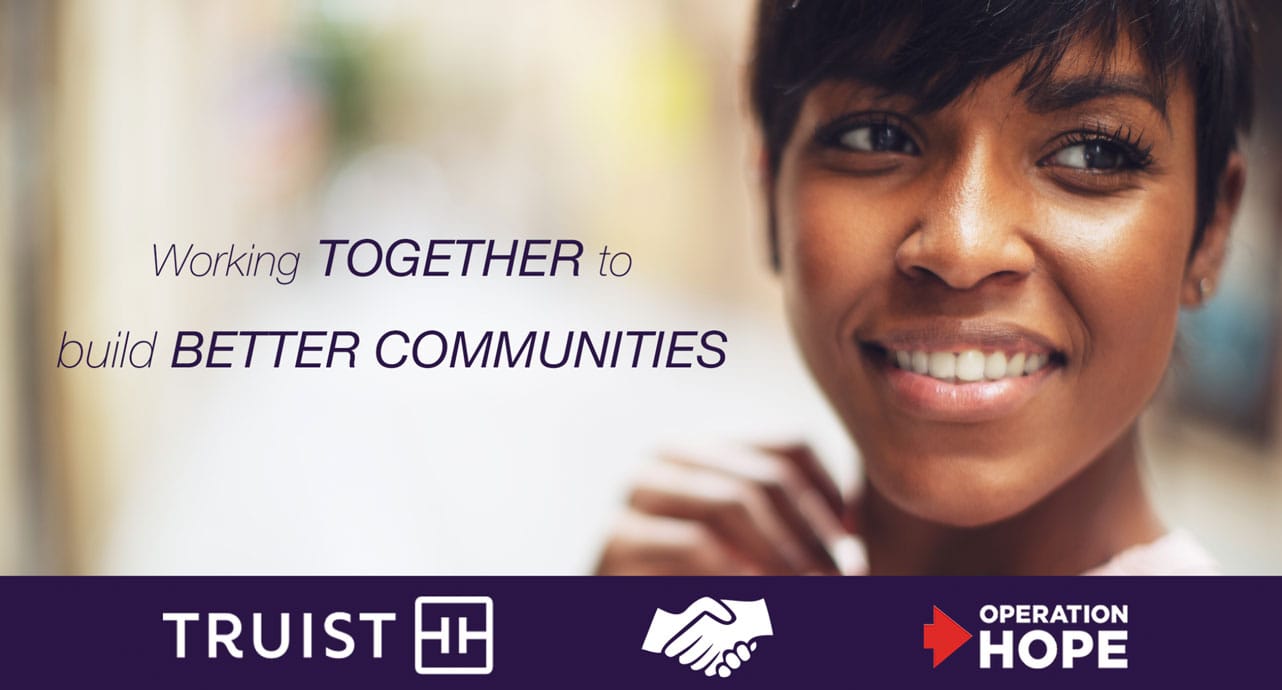 HOPE Inside financial coaches help Truist clients and community members meet personal financial goals, including homeownership and entrepreneurship. The organization's 1MBB Initiative pledges to further narrow the racial wealth gap by boosting Black-owned business ownership. The goal is to create 1 million new Black-owned businesses by 2030.
"At Truist, we're always better together," said Allison Robinson, Truist Executive Vice President and Head of Emerging Markets. "Our approach is always to ensure we're serving where we're needed the most."
HOPE Inside Coaches Offer Personalized Support
Truist's HOPE Inside coaches assess where clients are on their financial journey and help them achieve financial wellness.
Truist delivers HOPE Inside through its branch network and digitally through virtual coaching. When a Truist teammate interacts with a client who has demonstrated a financial need, the conversation can take many forms.
Clients with personal finance needs may learn how to interpret their credit reports and improve their scores. They may also use free online budgeting tools and resources to build a nest egg or take other measures to put themselves on the right track.
"Clients may have challenges with debt, or perhaps they haven't established an emergency savings account," Robinson said. "The coach helps them set up a plan to meet their goal within a specific time frame."
Watch on
Clients preparing for a home purchase may learn to create realistic savings strategies or explore the mortgage approval process. Or they may want to gain confidence in navigating the many steps along the purchasing journey — which is especially helpful for first-time homebuyers.
Those with entrepreneurial goals can access resources and assistance that keep them in the driver's seat.
HOPE Inside focuses on goal completion, so the time clients spend with their coaches varies. Some individuals complete their consultations after a few sessions, but business cohorts may meet weekly for up to 12 weeks.
"One of the things we love about HOPE Inside is there's some flexibility so we can provide the amount of assistance each individual or business owner needs," Robinson said.
1MBB Initiative Empowers Black Entrepreneurs
Truist distributes HOPE Inside coaching and other financial wellness resources strategically across its 17-state branch structure. And it continues to expand its partnership with Operation HOPE.
"We've focused on areas where we see we have the biggest opportunity to support financial success," Robinson said. "HOPE Inside and other resources are not limited to just a portion of our service area; they're widespread across our footprint."
Truist's investment in Operation HOPE extends to the 1MBB Initiative, the nonprofit's plan to bolster African American entrepreneurship. 1MBB seeks to redress systemic American economic inequities. It also aims to overcome setbacks stemming from the COVID-19 pandemic.
Since the 1870s, the number of Black-owned businesses has lagged behind the national average — often by a wide margin. That imbalance continues to impact employment patterns.

Operation HOPE calculates that there are 2.6 million Black-owned businesses, a figure that amounts to only 9.5% of total US companies.
In the wake of the COVID-19 pandemic, the number of Black-owned businesses declined by 41% between February and April 2020, a rate that far outstrips any other racial group.
Truist supports 1MBB's work by offering expertise on topics relevant to business owners at all stages of development. Assistance available through the 1MBB Initiative includes business planning, entrepreneurship training, and coaching for starting or improving a business.
"We're excited to participate in the 1MBB Initiative's initial stages," Robinson said. "That'll have a solid runway over the next number of years, with Truist leaders offering their expertise based on the needs of the business owners."
Truist: Building Trust in Underserved Communities
The core value underlying the Operation HOPE partnership is trust. Making HOPE Inside coaching available lets clients know Truist is investing resources on their behalf.
"It's a great way to show we care and that if they experience challenges, we can help," Robinson said.
Support for the 1MBB Initiative extends that trust by demonstrating Truist's commitment to expanding the financial marketplace. As the bank grows, it is reaching out to underserved populations in its service area, knowing those potential clients need professional guidance, too.
Truist can direct those who use costly financial services, including check cashing and payday loans, to traditional banking services.
And the institution introduces them to products such as secured credit cards that can help them build positive value as financial consumers. Good credit offers a way forward when combined with the tools and skills learned from HOPE Inside financial coaches.
"We want to create that pathway for more people to participate in the traditional banking system because it's the lower-cost choice," Robinson said.
On the horizon for the partnership are more Truist branches with HOPE Inside coaching and more energy directed toward the 1MBB Initiative. Truist plans to create easier digital access to serve more customers who choose not to visit branches.
As these initiatives take shape, the goal is to align more closely with a vision of community service built on financial inclusion and equity. When communities are all on the same page, limits to what's possible through financial services recede.
"Whether your goal feels like it's around the corner or a little bit further away, having the right partners can make all the difference," Robinson said. "With Truist and Operation HOPE working together, that's a real recipe for success."