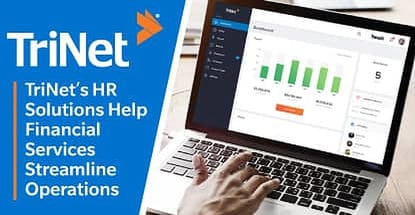 In a Nutshell: The most valuable resource for any business is its workforce. Navigating the intricacies of hiring and retaining talent, training employees, managing payroll and benefits, and ensuring compliance is no cakewalk — especially for smaller businesses with fewer resources. One company, TriNet, has more than 30 years of experience in helping SMBs outsource their HR needs. While its offerings extend to more than a dozen industries, financial services is a key area of focus, and TriNet relies on a vertical strategy that harnesses the skills of industry experts to ensure HR needs are met. //
We've all been there: You're excited to begin your first day at a new job, but when the big day finally comes, you spend almost all of it filling out paperwork, going over benefits package information, and talking to the company's human resources representative.
As tedious as this process may be for new hires, HR departments play an essential role in businesses of every size and industry. These departments are responsible for a long list of critical functions. They oversee payroll and tax filing, as well as employee benefit and health administration. They also manage legal compliance, maintain company records, and oversee employee training and development. The complex nature of these tasks means companies have no choice but to devote time and assets to ensure these functions are performed properly.
However, many businesses find that the multitude of HR responsibilities are simply too complex, cost-prohibitive, or detract from their efforts to meet growth goals. And this is especially true for smaller operations. That's why outsourcing HR functions has become a welcome option for these businesses — and their ranks are growing. Nearly 85 percent of businesses now outsource at least some of their HR responsibilities.
One company that specializes in handling these crucial responsibilities for other businesses is TriNet, which offers full-service HR solutions to small and midsize businesses to alleviate much of the stress and complexity involved with human resources.
"Our clients are outstanding entrepreneurs, but they are not necessarily employers. They are not necessarily keenly aware of various employment regulations and related issues," said Hugh LaRoche, Product Executive, Vertical Products with TriNet. "From the very beginning of implementation and onboarding, we go into our client's' office, run over an assessment of HR requirements, and ensure that they are in compliance and conduct periodic reviews with them.
"This is really driven through the associates we have on board who maintain relationships with our clients. It's very unlike a 1-800 call center approach. With us, you have a dedicated HR specialist who works with your organization and its entire workforce."
TriNet's Suite of Dynamic, Full-Service HR Solutions
TriNet was founded by Martin Babinec in 1988. During its infancy, TriNet set itself apart from standard professional employer organizations (PEOs) by aggregating workers' compensation costs for employers. Martin then saw an opportunity to focus on valuing both employer and employees' needs by providing a comprehensive, outsourced HR solution. Business really started to pick up when he acquired several smaller PEOs.
"He really saw an opportunity to do something beyond what PEOs provided, which was primarily payroll, back-office administration, and some level of compliance," Hugh said.
Today, TriNet provides solutions for more than a dozen industries, all specially tailored to meet the specific needs of individual businesses within each sector. TriNet provides a single solution that addresses practically every businesses' HR function. The company marries robust technological capabilities with expert service for handling payroll, benefits, risk, and compliance. TriNet enhances these basic HR infrastructure offerings with a seasoned team of boots on the ground.
"What really differentiates us is our supportive team made up of dedicated professionals, who have plenty of experience in the industries they serve," Hugh said. "For example, one of TriNet's most notable acquisitions was a company called Ambrose Financial and Insurance Services, which have long been focused in the financial sector.
"We established a team who worked with clients in financial services and provided a really clear historical background and a focus on the nuances and needs of financial services companies. We have been in the financial services sector for a couple of decades and have become very well-attuned to the needs of financial services companies."
A Long History of Serving the Financial Services Industry
By its very nature, the financial services industry is complex, and, as such, faces challenges on virtually every front, including managing increased regulatory changes, competing with other large operations for talent, and keeping up with security measures. Though TriNet has decades of experience in helping industries meet their HR responsibilities, it has a particularly rich history of serving the financial sector.
"At TriNet, we have a vertical strategy that allows us to really focus on the needs particular to each industry segment. And in the case of financial services, we've been there for a long time," Hugh said. "Several thousand financial companies have come to us: hedge funds, private equity, venture capital, registered investment advisors. We've served all of the major sub-components of different financial services verticals. We've serviced clients that are as small as just a couple of partners, to groups that reach up to the very tip of the definition of small businesses."
All businesses must navigate the convoluted ins and outs of HR responsibilities, but this is particularly difficult for small companies operating in the financial sector. As Michael Kianmahd, EVP of Maxim Commercial Capital, LLC noted, "Small companies benefit immensely from dedicating their resources and time toward their core competencies. I would recommend TriNet to all small companies looking to provide benefits and more easily manage payroll log-on."
Small business gain peace of mind from TriNet's Employer Services Assurance Corporation (ESAC) accreditation. ESAC provides verification of TriNet's ongoing compliance with important financial, operational, and ethical industry standards, as well as government regulations. This accreditation is the industry gold standard, and that means a great deal to small businesses putting their trust in TriNet.
Compliance Solutions Protect Brand Reputations
A very cumbersome aspect of HR for businesses of any size is compliance with labor and employment regulations. Not only is compliance a best practice, but penalties for not observing laws can be severe and costly. On top of payroll, benefits, and hiring, compliance with labor laws is yet another significant reason businesses outsource their HR responsibilities.
TriNet has the expertise and experience to help businesses navigate compliance at every level. The company allows businesses to offload responsibilities, such as payroll taxes and filings, employee benefits, the Affordable Care Act, employment risk management, workers' compensation, and workplace safety.
"Our compliance services give our clients the peace of mind they need because they know we are tackling their most complicated issues," Hugh said. "We actually hold our clients' hands throughout the entire process. I speak to clients all the time, and one of the major themes that comes up again and again is the simple fact that they don't know what they don't know."
Hugh provided an anecdote of an instance in which TriNet helped a client with compliance issues.
"When our clients start to grow, they usually grow into multiple jurisdictions," Hugh said. "Being able to do that with the confidence of understanding the compliance and lay of the land is critical. One of our clients was expanding from its New York office and adding a California-based office. We helped them with their growth and managing their compliance to help them avoid pitfalls.
"For example, the requirements for terminations in New York jurisdictions are very different than those of California jurisdictions, and you can get into a lot of trouble if you are not acutely aware of the process that you have to go through when terminating an employee. We helped that client avoid any problems, and they were able to focus on establishing a new office."
A Comprehensive Approach to Managing HR Needs
Effectively managing talent requires extensive knowledge, time, and financial investment. The breadth of duties of an HR department is difficult enough to manage for large businesses, which count on their own in-house teams. For small businesses, partnering with a payroll company like TriNet can alleviate much of the strain associated with talent management and shift the company's focus back to what's important.
"What really differentiates us is that we really understand the nature of the vertical," Hugh said. "I worked as a Wall Street investment banker for four-and-a-half years. Whether it's myself as a product executive, everyone from our sales team, or our service team, they all come with backgrounds in financial services. They are aware of the nuances and understand what is important to this client base, and I think it's a unique approach to a common issue that all companies have. I feel very strongly about the partnership aspect of our relationship."
One such example of this partnership and support comes from Wichita Falls, Texas-based Jacksboro National Bank, which started working with TriNet in November of 2006 and still uses its services today. Not only did Jacksboro see an immediate reduction in costs associated with administering employee benefits, but it was also able to offer more expansive benefit options thanks to its partnership with TriNet. Its administrative burden also fell as TriNet took over payroll and reporting duties, and provided support for onboarding and training employees.
As bank CFO Craig Anderle puts it, "Our experience with TriNet has been one of excellent customer service, time-saving processes, and money-saving products. I couldn't imagine trying to attract and retain quality personnel without them."
Whether it's a few or the entire suite of HR solutions a company chooses to outsource, one thing is clear. Enlisting a company, like TriNet, that puts your business needs first by providing dedicated resources and industry expertise, is key to attracting and maintaining a loyal workforce.
Advertiser Disclosure
CardRates.com is a free online resource that offers valuable content and comparison services to users. To keep this resource 100% free, we receive compensation for referrals for many of the offers listed on the site. Along with key review factors, this compensation may impact how and where products appear across CardRates.com (including, for example, the order in which they appear). CardRates.com does not include the entire universe of available offers. Editorial opinions expressed on the site are strictly our own and are not provided, endorsed, or approved by advertisers.