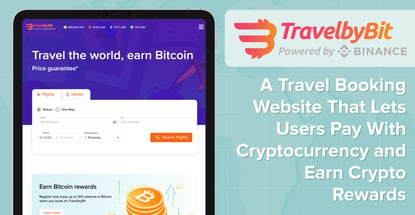 In a Nutshell: TravelbyBit was launched in 2017 as a way for travelers to use their cryptocurrency when booking trips and traveling. Thanks to a partnership with Binance, the platform has grown substantially and now functions as a full-fledged travel booking site. TravelbyBit also appeals to those looking to acquire Bitcoin through its rewards program where they can book using Visa or Mastercard and receive a portion of Bitcoin in return. The company also facilitates transparent donations via the blockchain. And its Visa debit card will launch in the near future, allowing users to spend crypto without being limited to the travel space.
Planning and booking vacations or business trips has never been easier, thanks to the internet and plentiful travel sites as well as direct-booking options through hotels and airlines.
Travelers can select flights, hotels, or Airbnb rentals from nearly any price level and date range.
But there is at least one audience that has largely been overlooked when it comes to travel booking sites — the crypto crowd. Of course, some vendors accept cryptocurrency as payment, but none of the major travel booking websites currently allows users to use their Bitcoin or Ethereum to pay for their next getaway.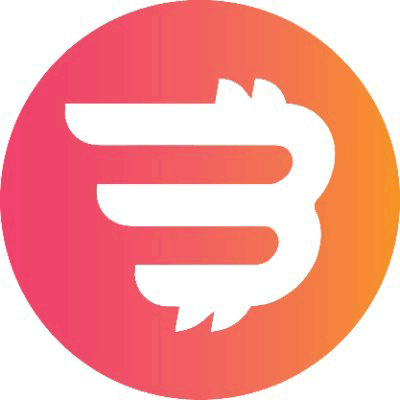 Now, thanks to TravelbyBit, travelers do have the option to book a trip using cryptocurrency as payment. And for those who don't have crypto to spend, TravelbyBit's rewards program lets them acquire Bitcoin by booking through its website.
The company launched in 2017 with a focus on facilitating point-of-sale cryptocurrency payments in Australia travel destinations. CEO and Co-Founder Caleb Yeoh said TravelbyBit received its seed funding from the Australian government in a bid to boost tourism.
"Australia went through a phase where it said, 'We really envy what Silicon Valley has, and we want to create our own startup ecosystem. And we're going to provide some funding and support and mentorship to a bunch of fintech startups,'" Yeoh said. "So we were very fortunate to be in the right place at the right time."
Yeoh said that, as TravelbyBit's point-of-sale network was growing in Australia, they were hearing feedback from frequent travelers and digital nomads who liked the service. The feedback led to TravelbyBit expanding to the full-fledged travel booking platform system that it is today.
It wasn't long before TravelbyBit entered into a partnership with the world's leading crypto exchange, Binance, which invested more than $3.5 million in the young company.
"Being advocates of cryptocurrency, we felt that it would be really important for the crypto ecosystem and the blockchain ecosystem to have a flagship company that specializes in the travel space," Yeoh said.
Users Can Earn Up to 10% in Rewards in Bitcoin
Yeoh likens TravelbyBit to the well-known travel site, Expedia. Of course, TravelbyBit's differentiating factor is that it accepts crypto payments. But for those who don't have crypto to spend, or are holding it as a speculative asset, TravelbyBit also offers a valuable proposition — earning Bitcoin.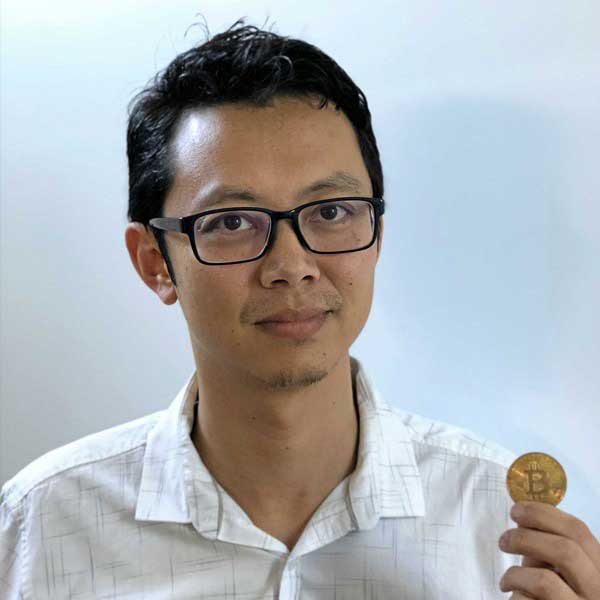 "We spoke to a lot of people and they said, 'We really like your idea — we love the concept of TravelbyBit — but we don't have a lot of Bitcoin,'" Yeoh said. "So they're not at the stage where they're prepared to spend Bitcoin and maybe wanting to collect more Bitcoin."
With those people in mind, TravelbyBit established its crypto rewards program. For users who don't want to spend their cryptocurrency, they have the option to pay with Visa and Mastercard and in turn, receive a portion of Bitcoin as a reward.
"When you make an eligible flight or hotel booking, you will earn TravelbyBit Status Points, which help you progress through the Status Tiers," according to the company website. "Once you accumulate enough Status Points required to progress to the next Status Tier, you will unlock a greater reward percentage."
Users are automatically given Bronze member status upon signing up for the Crypto Rewards Program — activating a 1% Bitcoin reward on hotel bookings and $1.50 in Bitcoin.
"Earn Silver status by spending US$2,000 on eligible bookings to unlock a 2% Bitcoin reward on hotel bookings and US$2.50 in Bitcoin reward on flight bookings," according to TravelbyBit.
The status tiers progress to Gold, Platinum, and finally, Titanium, which is for users who spend $90,000 on eligible bookings to unlock the 10% Bitcoin reward on hotel bookings and $30.50 in Bitcoin on flight bookings.
A Partnership with Binance Helps Drive Crypto Adoption and Facilitates a Transparent Donations Program
Yeoh said Binance has given TravelbyBit a mandate to continue to experiment with ways to grow the cryptocurrency ecosystem, including driving adoption and making crypto more usable in the larger finance world.
One of the ways TravelbyBit is doing this is through its charity program, which makes donations transparent through blockchain technology.
"We've partnered with Binance Charity, a non-profit organization that utilizes the efficiency, transparency, and accountability of blockchain technology to improve the lives of the 'Bottom Billion,'" according to the company website.
Binance Charity works on location to understand local needs and develop solutions for specific social problems, according to TravelbyBit. This includes continuously testing and improving their solutions to scale up their social impact.
https://www.youtube.com/embed/ATWnayeeeYQ
And TravelbyBit users can be sure their money is reaching the intended charitable organization.
"Normally, if you make a donation to a charitable organization collecting money on the street, God knows how many hands and middlemen it goes through," Yeoh said. "You have no visibility of whether the money reaches the recipient, or what portion may reach the recipient."
One of the highlighted charities on the TravelbyBit website is funding lunches for underprivileged Ugandan children so they stay in school and don't go hungry.
"We tack on a donation option whenever you book a flight on our platform," Yeoh said. "With the blockchain donation function, you can be sure that the money — once you send it to us — we can show that that whole sum is transferred directly to a blockchain wallet that goes directly to the school in Africa."
Yeoh said he believes the donations function is a very powerful use case for cryptocurrency and blockchain technology, which aligns with the company's goal to find ways to expand the ecosystem.
"We're trying to integrate different blockchain technologies into our platform — payments, donations, and a whole bunch of other stuff — to really build out the use cases for blockchain.
Preparing to Launch a Travel Rewards Debit Card
TravelbyBit is preparing to launch its new travel rewards debit card and is currently offering its users to sign up for early access to the card.
Yeoh explained how TravelbyBit values freedom and privacy in the digital payments ecosystem, and that he is personally an advocate of people's rights to use their money through their system of choice.
"We're seeing the growth of a lot of these super apps and wallets where there's a huge amount of centralization on one payment method or system," he said. "I think people's freedoms could potentially be put at risk when you have the centralization of payment systems."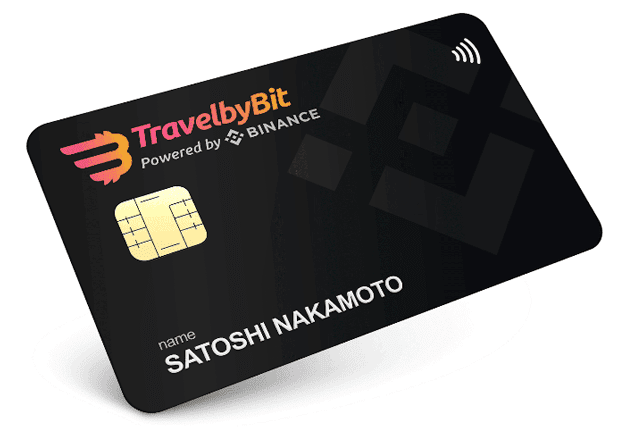 In China, for example, consumers in recent years have seen a huge shift away from cash and primarily make all their transactions using one of two digital payment apps.
The apps also include a social messaging component, and Yeoh said that, if users send anti-government messages via these structures, the government can ban them from making payments using the apps. This can essentially shut citizens out of participating in the economy and society in many ways.
Yeoh said cryptocurrencies and the blockchain allow people to work around these types of centralized systems and maintain their freedom.
"Regarding our credit card platform, we're seeing as well that there are a bunch of people, like digital nomads, who would like to transact outside the travel space and in their daily life using crypto," he said.
TravelbyBit's Visa crypto-backed debit card makes a lot of sense for these consumers, Yeoh said.
"It gives them a lot more freedom, so they are not limited to booking just for travel but there are a whole bunch of other expenses they could use it for as well," he said.
Yeoh explained that the debit card interacts with an app and functions as a Bitcoin wallet as well. Users will download the app and use their wallet to top up their Visa debit card by transferring their crypto balances to it, then use it anywhere Visa is accepted.
"The card itself would support not just Bitcoin, but the Binance BNB coin and the Binance stable coin — the Binance USD — as well," he said.
Yeoh said TravelbyBit plans to launch the card in the near future.
While TravelbyBit's main focus is on the travel industry, it's clear that the innovative platform is laying the groundwork for a long-lasting presence in the cryptocurrency ecosystem.
Advertiser Disclosure
CardRates.com is a free online resource that offers valuable content and comparison services to users. To keep this resource 100% free, we receive compensation for referrals for many of the offers listed on the site. Along with key review factors, this compensation may impact how and where products appear across CardRates.com (including, for example, the order in which they appear). CardRates.com does not include the entire universe of available offers. Editorial opinions expressed on the site are strictly our own and are not provided, endorsed, or approved by advertisers.