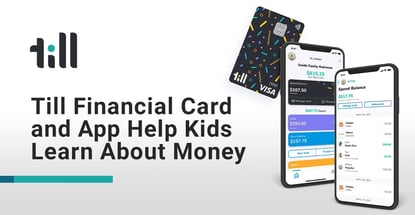 In a Nutshell: Till Financial is a collaborative family banking app and debit card designed to help kids become financially savvy. Young adults new to credit and finances often make money mistakes. Till Financial helps children and their families track expenditures, develop spending goals, and reward smart financial decisions. Later, when kids age out of Till's services, they are connected to a marketplace that offers them appealing debit, credit, and loan offerings. 
Many children in the United States are financially illiterate. Some problems that arise from a lack of understanding of money are impulsive spending decisions and asking parents for more money if they spend their allowance too quickly.  
Children primarily acquire their money habits from their parents. If a parent only emphasizes saving, for instance, children may not understand how to spend money wisely. Or young people may have no idea what to do with money when they turn 18 or 21 if their parents never talked to them about it.
There is a correlation between financial habits and personality, according to Geoff Williams of U.S. News:
"If your child is overly generous, he or she may overspend or give money freely as an adult…On the other hand, if your youngster is impulsive and undisciplined, he or she may spend money rashly as a grownup. And if your child is extremely fearful or cautious, he or she may be risk-averse when it comes to saving and investing money for the long term," said Williams. 
Despite how important it is for children to understand money, many parents do not teach them about it. 
Many parents are hesitant to talk to their children about finances. Fifty percent of parents polled said they did not take opportunities to speak to their children about money and spending, while another 25% surveyed said they were reluctant to do so. 
Parents should start teaching their children about money at a very young age. Older kids can be encouraged to save for short- or long-term goals, like toys or gaming systems. They can also earn money or allowances that they need to budget for activities and purchases. 
Another way parents can help develop their children's financial literacy is through Till Financial, a collaborative family banking app and debit card. 
Till Was Created to Encourage Smart Spending
Taylor Burton, one of Till's co-founders, had somewhat of a financially illiterate childhood himself. His parents never talked to him about money, so he didn't understand smart money moves as a young man earning a high income.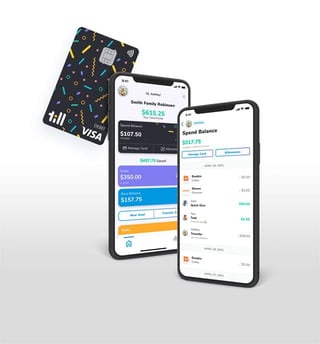 "I found myself at 27 working for PayPal, making a great salary, but I never had a credit card at that point," said Burton. 
That same year, he went to lease an apartment with his then girlfriend, who is now his wife. Though he was earning an income and she was in law school, the leasing agents asked that Burton remove his name from the lease. They said he had no financial footprint, which made him an undesirable renter despite his income. 
"I realized there had to be other people in that situation as well. That was my first understanding that there was a problem. It comes down to not getting that financial literacy growing up," said Burton. 
Though he wanted to help others in his situation, he didn't know how to put that plan into action until he was approached by another of Till Financial's co-founders, Tom Pincince.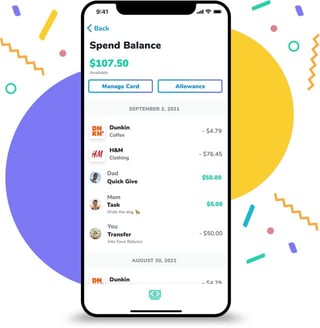 Pincince felt that he hadn't helped his adult children, who were 22 and 24 at the time, make smart financial choices. One of his kids, for instance, was paying to take an Uber half a mile.
Pincince and Burton, along with their third co-founder, Brian Chemel, started having conversations about how to make young people better financial actors. The trio recognized children needed more information about what it meant to spend wisely, not just save. 
"The reality is that, when a kid reaches 18 or 21, they aren't entering a savings economy. They are entering a spending economy," said Burton. 
Out of this conversation, Till was born. 
Money Tools Offer Real-World Practice
Till offers a suite of features that builds its users' financial understanding. 
"Kids learn by doing. That's what you see with our platforms. We put the emphasis on spending," said Burton. 
To sign up with Till, families must first download the app and receive the branded debit card. Parents can decide whether they want to fund the balance on the debit card or encourage their child to earn money through an afterschool job or by completing chores around the house.
Parents aren't the only adults who can connect with the child on the app. Till is focused on the idea of family, so children can link up with relatives, including grandparents, aunts, and uncles, as well as family friends.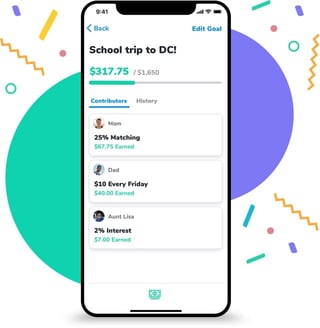 Kids are also encouraged to set spending goals that can be encouraged by their family support. 
For instance, let's say a teen wants to buy a Playstation. He or she can set a $500 goal for this purchase and then use their income or allowance to save up to buy it. Family members and friends connected with the young person on the app can applaud their progress or even set up matching contributions when they reach milestones. 
Till also lets parents, family, and friends set up automatic payments when kids make smart choices. For instance, parents can transfer $20 into their kid's account each week if they're spending wisely. Or an uncle could promise an automatic transfer of $150 once the child saves $150 of his or her own. 
All of these tools help kids become smarter spenders. 
"We want to remind kids that their living is not free. You have to pay for your school lunch. When you stop at the corner store and pick up those items, they cost money. When you don't see those added to your account, you're missing out on a learning experience," said Burton. 
Till Finance Helps Its Users Build Bright Financial Futures
The Till Finance app encourages children and their families to improve their financial literacy. The Till team doesn't plan to build a side of the business for adults nor does it court users once they come of age. Instead, the company offers a marketplace for its young adult users who are ready to move on to financial independence.  
This marketplace includes offers for college and car loans, debit products, and credit cards. 
"We take an origination fee, while our partners on the backend get a great customer who is a better financial actor than their peers. Our young people get advantages: a Chase vs. Chase Sapphire credit card, or better interest rates on college loans, for instance. This is one of those rare opportunities where we're able to create a three-way win," said Burton.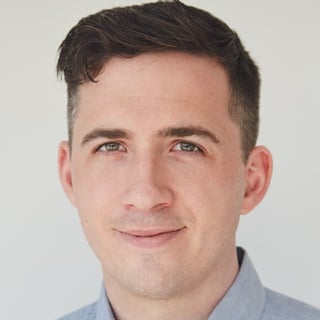 The Till team has been working on an alternative credit score concept for its users. Young users will soon generate a Till score as an alternative to a FICO or similar credit score that will give them an advantage in this marketplace when they come of age. 
"You may have a small credit footprint out of the gate, but that doesn't mean you shouldn't get the advantages of our platform," said Burton. 
Burton encourages parents to give their children opportunities to make their financial mistakes while they're still at home. That way, they can learn early in life about the consequences of money mistakes  without their credit future incurring the negative effects of their missteps. 
"When you send your kid to their first sleepaway camp, they are going to make mistakes. But you're also going to be surprised by the growth you see in your kid. We think the same thing happens with the card product. We're not trying to make the kid feel that they have Big Brother watching all the time," said Burton.
Advertiser Disclosure
CardRates.com is a free online resource that offers valuable content and comparison services to users. To keep this resource 100% free, we receive compensation for referrals for many of the offers listed on the site. Along with key review factors, this compensation may impact how and where products appear across CardRates.com (including, for example, the order in which they appear). CardRates.com does not include the entire universe of available offers. Editorial opinions expressed on the site are strictly our own and are not provided, endorsed, or approved by advertisers.