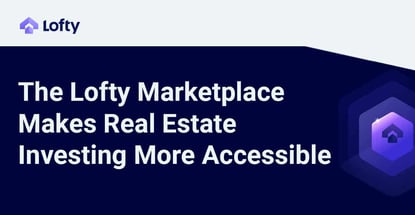 Our experts and industry insiders blog the latest news, studies and current events from inside the credit card industry. Our articles follow strict editorial guidelines.
In a Nutshell: Real estate is an ideal asset class for investment diversification, but purchasing and managing properties traditionally requires a lot of upfront resources. Real estate holdings are also highly illiquid, meaning an investment is not easily converted into cash. Lofty modernizes real estate investing by offering fractional shares of managed properties for as little as $50 with daily rent payouts and no investment lockup period. With Lofty, it's simple and easy to invest in real estate and start earning.
Real estate is one of the most attractive asset classes for maintaining wealth across generations. Adding real estate to an investment portfolio can be an ideal diversification strategy.
But buying and selling investment properties isn't easy, especially when compared with securities. Real estate transactions often take weeks or months to complete, and managing rental properties is expensive and time-consuming. And selling a home may take as much time as buying one.
It's no wonder many investors decide real estate is not worth the effort. But Lofty is prompting a growing number of investors to take a second look. The Lofty platform makes browsing and selecting properties and earning rent and appreciation as simple as buying stocks.

Capital costs are a considerable barrier to entry for many would-be real estate investors. When home prices trend higher, that barrier becomes more imposing.
An outdated transactional model puts off others who may have the funds to purchase investment properties. Closing periods of two months or more are standard in the traditional home buying — and selling — process.
Meanwhile, today's investors can buy and sell stocks online with a few clicks or taps. There's no need to hire a property manager and no unpredictability stemming from difficult tenants.
Lofty helps potential investors overcome all those barriers. Digital token technology enables Lofty to offer fractional property shares at a $50 entry price, and sales take place nearly instantly. Another advantage is that the platform handles most of the managerial burden without charging extra fees.
"We turn houses into tokens so everyone can trade them," said Jerry Chu, Lofty Co-Founder and CEO. "There's no more capital cost barriers, and you can sign up and get started in less than five minutes."
Marketplace Approach Increases Investment Liquidity
Lofty's unique marketplace model differentiates it from online real estate investment competitors. Tokenization lies at the heart of the Lofty solution.
Blockchain technology enables the sale of tokens —  or fractional shares of properties up for sale on Lofty — with the number of tokens based on the property's asking price. The tokens are individual shares in a limited liability corporation (LLC) that Lofty creates. In effect, the LLC puts each property under contract to list it on the Lofty marketplace.
That's different from real estate investment trusts (REITs), which are Lofty competitors. Lofty owns no properties on its platform, but REITs own properties and reinvest funds. REIT investors buy and sell fractional shares of the REITs themselves.
Under the REIT model, individual shareholders depend on each other for success, creating a far less optimal transaction process.

In contrast, shareholders own the LLCs on Lofty — not the investment trusts in the REIT model. Because Lofty is a pure marketplace with no ownership stake, Lofty only charges fees on transactions so the cost of doing business is much lower.
And because there's no lower limit on ownership, shareholders can dispose of their holdings as if they were stocks in a transactional process similar to that of popular stock trading apps.
"We've had people buy tokens and sell them 10 minutes later just to see if it was possible," Chu said. "That's an aha moment for them — they realize real estate has become liquid for the first time in history."
Lower Fees and More Transparency For Sellers
Lofty also solves common problems on the seller side of the equation, which explains why it attracts more desirable properties. It mainly sources properties organically through word-of-mouth, with sellers introducing the platform to other sellers. Since the platform launched in May 2021, the transaction volume has reached nearly $30 million.
Lofty has a web portal for seller applications. It is working toward a more open-door process where sellers can input a few property details and receive a nearly instantaneous offer based on demand-side data, including price ranges and potential returns.
Sellers of investment properties, especially rental properties, flock to Lofty because it offers far more transparency than the typical experience.
"Most investment properties aren't listed in mainstream realtor services because there's a tenant in there," Chu said. "You can't temporarily evict the tenant — that's illegal — so it's not easy to have open houses."
That means sellers end up working in a nebulous off-market environment. They must be open to in-person solicitations and respond to mailings from buyers looking to cast as wide a net as possible. There's a lot of time-wasting because it's difficult to tease out serious buyers from individuals looking for quick scores at below-market rates.
And with Lofty, there's no need for a realtor. Sellers pay a fee, but it's substantially lower than what they would pay a realtor. The platform takes care of photography, requires no in-person visitations, and sellers choose their asking price.
"It's a much better experience than what they receive through the opaque off-market system," Chu said. "And because we're a tokenized marketplace, if you want to sell a thousand properties, you don't have to find a thousand buyers."
Lofty Reduces Guesswork Around Real Estate Investing
Lofty has a learning center and blog to help users understand the benefits and responsibilities of transacting in tokenized real estate. The bottom line is that Lofty makes real estate investing cheaper and more accessible for buyers, and a better deal for sellers.
"What's unique about our users is they're focused on building a legacy for themselves," Chu said. "We have folks building retirement portfolios and holdings for their children to help them get started in life."
Before properties go up for sale, Lofty handles the appraisal and inspection reports and makes those documents publicly available. Buyers don't need a Lofty account to view them. Before they buy the tokens that signify investment in a property, buyers can do their due diligence and determine whether they agree with the listing price.
Properties become fully funded only when there's enough demand. Only then do they close through a traditional escrow process, where the LLC assumes ownership of the underlying deed and the buyer accepts the role of part owner.
"Properties that don't get funded don't close," Chu said. "Investors who have funded it up to that point receive their money back."
The LLC hires a property manager through Lofty to handle basic operations. The ownership group makes critical decisions based on one vote per token. And a secondary peer-to-peer market enables users to sell tokens to other users.
And no lockup periods or minimums impede token holders from exiting the market entirely. Those freedoms make Lofty a modern marketplace for real estate investing.
"Ultimately, our goal is to create a new transaction standard for real estate and to make it as easy to invest in as any other asset class," Chu said. "We want to create as much liquidity as you see in any stock market."