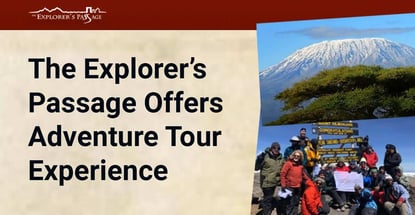 Our experts and industry insiders blog the latest news, studies and current events from inside the credit card industry. Our articles follow strict editorial guidelines.
In a Nutshell: The Explorer's Passage (TEP) is a travel company that follows environmentally sustainable practices to take travelers on immersive journeys through history and culture. The company offers curated adventures for travelers whose experience ranges from first-timer to explorer level. TEP is committed to sustainability and adheres to the seven principles of the Leave No Trace ethical code. Travelers also have the opportunity to earn and use card rewards by booking flights and hotels associated with TEP.
The world offers tourist destinations steeped in adventure and bursting with history. There are so many interesting places to explore that it is hard to know where to begin.
Of course hiring a tour operator makes the process easier and gives would-be travelers a better focus on where they want to go. But some people don't want cookie-cutter tours that drag them from one place to another and offer no excitement or intrigue about their destinations.
A tourist with a curious nature and courageous spirit seeks a meaningful and transformative travel experience. And that type of experience is something that Jeff Bonaldi, Founder of The Explorer's Passage (TEP), has always desired.

As far back as he can remember, Bonaldi dreamt of being an adventurer and exploring unknown and exciting places. He said he was always looking out the window in school and imagining being in some new and exotic land.
Eventually, Bonaldi had to get his head out of the clouds and ended up working in banking after college. And while he was fortunate to have a great job and friendly colleagues, Bonaldi still felt something was missing in his life.
After joining some friends on a hiking trip in New York — his first hike ever — Bonaldi's fire was rekindled and he wanted to do more.
"I remember feeling very connected to the earth and nature," said Bonaldi. "We hiked a 500-foot summit, which is really not that high, but it made me feel a sense of confidence and accomplishment."
With that renewed inspiration, Bonaldi went on many more adventures and then decided to create his own travel company called The Explorer's Passage.
TEP distinguishes itself from other travel companies in that it takes travelers on immersive experiences that not only tell stories rich in history, but are also environmentally sustainable.
Travelers can start by choosing a trip that ranges from one of four levels of effort — easy, moderate, advanced and explorer — based on the activity level guide. And if they wish, travelers can personalize their trips to their liking.
Marissa Cho, Chief Marketing Officer at TEP, said that about 80% of their travelers will take an existing tour and tweak it. "We're helping many of our guests plan bucket list trips, and so we offer them the flexibility to really customize and build their dream adventures. The attention to detail that we give to our guests from start to finish is unparalleled," said Cho.
The Explorer's Passage currently offers tours on all seven continents and in the Arctic region, and the company was rated among the top 10% of travel companies in TripAdvisors' 2020 Travelers' Choice™ Awards.
Following in the Footsteps of History
To really bring adventure travel to life and give guests a memorable experience, The Explorer's Passage has cultivated every trip so that history, art and local cultures shine through as the most significant part of the experience. And the company does so in a way that lessens the impact of travel on the natural environment and helps the people who live there.
One story that Bonaldi noted in particular is the story told through TEP's Myth of Mustang experience. Located along the Northern Central region of Nepal, Mustang is a place steeped in Buddhist history and is considered one of the most sacred regions on the planet.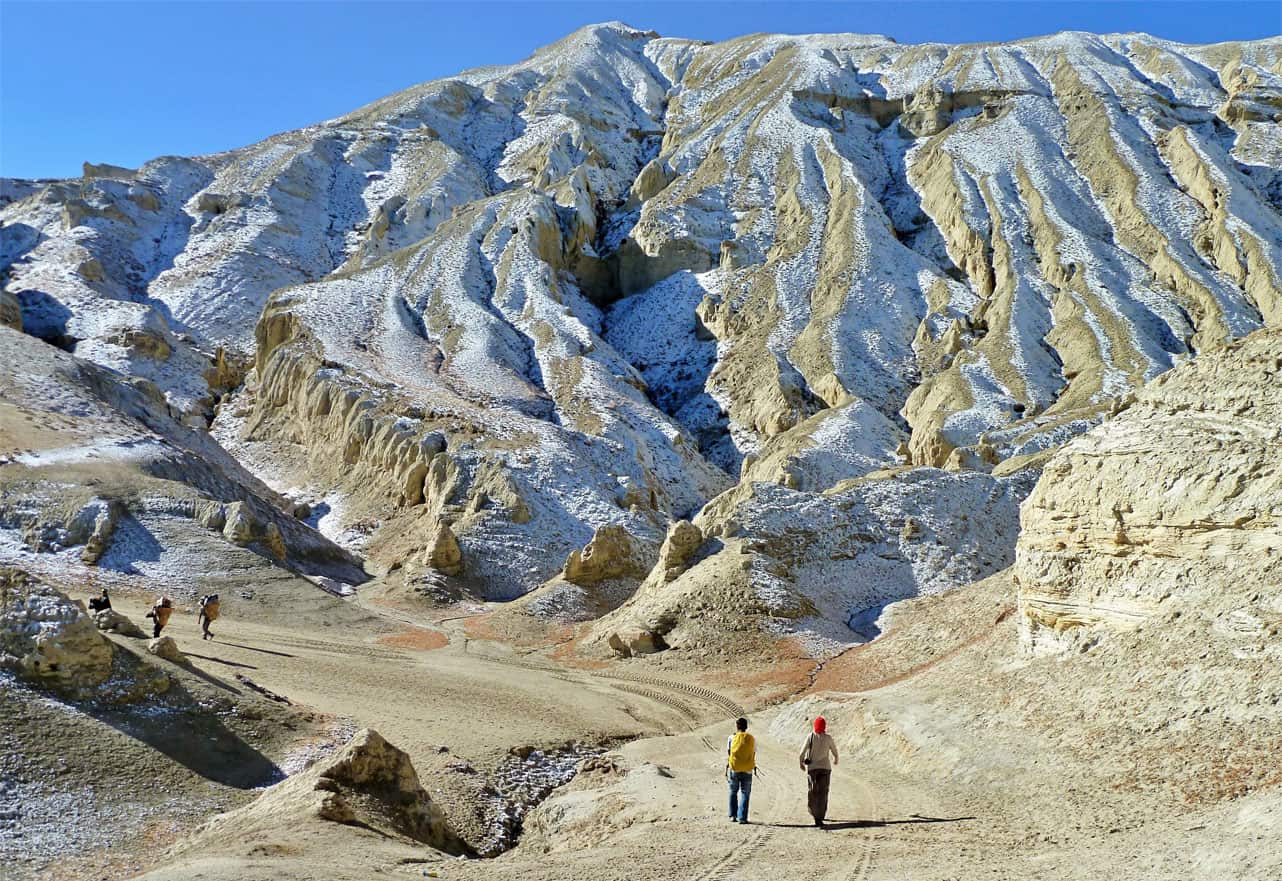 As guests travel the Upper Mustang Trek, they will discover the tale of the Second Buddha, Guru Rinpoche, who was said to have slain a demon along his path and stained the Dhakmar Cliffs crimson with the demon's blood. There is also a monastery with the shape of a heart in the ground that represents the demon's heart.
And as travelers enter the village of Kagbeni, they will see buildings decorated with Khenis, also called ghost eaters, which protect the village from evil spirits.
"All of the aspects of this story are embedded in the land, culture, and customs of the region. So we follow that path and bring it to life for our guests," said Bonaldi.
On Iceland's Laugavegur Trail, guests will discover the story of the Three Trolls of Vik. According to myth, seamen fought off three giant trolls whose bodies were turned to stone by sunlight and formed the great peaks that rise within the ocean off of Vik beach.
TEP provides many other tours wrapped in history and legends that are sure to captivate the curiosity of its guests.
Prioritizing Sustainable Travel Through Tours
While offering dynamic and once-in-a-lifetime experiences is important for TEP's clientele, the travel company believes that sustainability and giving back to communities is equally as important for the operation of the business.
As an example of its commitment to sustainability, TEP offers guests the chance to fly carbon neutral. As a proud partner in the Planet Care Program, TEP's travelers who book through Exito Travel (their air travel partner) can fully offset the CO2 emissions of their flights. This is achieved through Sustainable Travel International's diverse portfolio of offsetting projects, at no additional cost to guests.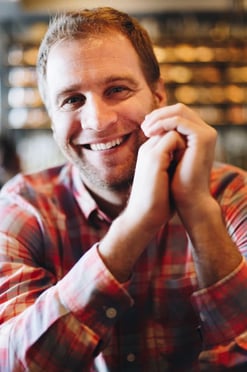 With its past charter trips to the Antarctica and Arctic regions, TEP cleaned 125% of its fuel CO2 emissions through eight renewable energy projects around the globe.
"It is going to be very difficult to stop the growth of travel," said Bonaldi. "There are so many people who are incredibly passionate about exploring this extraordinary planet. We do recognize that this does have an environmental impact. However, our goal is to set the standard for how travel should be done.
TEP is also working on many social impact projects that affect local populations.
Bonaldi said that, aside from taking a portion of the company's profits and giving back to help the environment and communities, TEP also hosts impact trips.
Next year, TEP will take a group of people who have gone through physical or mental hardships on a trip to Iceland. Bonaldi believes that the unique combination of being in nature, as part of a group in a shared experience, and participating in a challenging adventure which builds confidence, creates an extraordinary opportunity for growth that can have invaluable benefits for participants.
The Explorer's Passage is also a member of Sustainable Travel International, incorporates the Leave No Trace Center's code of ethics into its trips, and is a supporter of the Center for Responsible Travel (CREST).
Flexible Options on Using Card Rewards
Travelers can increase their air miles by booking international flights. And since The Explorer's Passage does not typically include airfare in its travel packages, card holders can fully take advantage of either earning or using reward points. But if guests would like to book with Exito Travel and help offset carbon emissions, TEP can arrange flight bookings through its B2B partnership.
Although travel credit cards typically have annual fees, cardholders who travel often can fully enjoy the benefit of earning more points for rewards or redemptions. Certain card companies are linked with airlines, enabling cardholders to take advantage of extra features.
Bonaldi said that, if guests have points accumulated with certain hotels that are part of their travel packages, then TEP can make arrangements so guests can use their saved points for these accommodations. In one example, TEP uses a luxury hotel in Cusco, Peru called the Palacio del Inka that is part of the Marriott brand.
"We're more than happy to do that and we pride ourselves on being very flexible in working with our guests on their requests to craft their dream adventures," said Bonaldi.
Whether booking flights that minimize carbon emissions or supporting local businesses, travelers can explore more sustainably as they experience one-of-a-kind adventures with The Explorer's Passage.