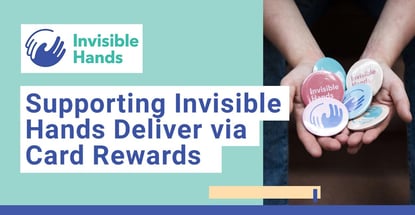 In a Nutshell: The COVID-19 pandemic presented U.S. residents with unprecedented challenges. Americans were instructed to keep their distance to prevent the spread of the virus. In the process, vulnerable populations were unable to access basic needs like groceries and medicine. Invisible Hands Deliver formed during the beginning of the pandemic to meet the needs of this demographic in New York City, Long Island, Philadelphia, and parts of New Jersey. As the country appears to be coming nearer to the end of the pandemic, the organization will continue to support these vulnerable communities while also focusing on the ongoing challenges of food insecurity in these areas, as well. The organization is supported by donations, and credit card rewards enthusiasts in our audience can turn their rewards into cash to donate to the nonprofit.
During the early days of the COVID-19 pandemic, an elderly man who lived in New York City caught COVID and was alone in his home. His family in Michigan was, of course, unable to visit him because of the uncertainty around safety precautions in those first months.
The man also did not want to leave his home for fear of infecting others. He was alone and running out of food.
His daughter in Michigan learned about a new nonprofit, Invisible Hands Deliver, and reached out to them to see if they could help her ailing father. Indeed, they could, and they did.

"His volunteer would deliver to him every single week and drop off food and medicine," said Liam Elkind, Co-Founder of Invisible Hands Deliver. "And then they would sit on either side of his door and chat about their lives and their fears and their joys. And they never saw each other. They wouldn't have recognized each other if they passed on the street. But they became friends."
The man's daughter relayed this touching story to the nonprofit because of the invaluable service Invisible Hands Deliver provided during an unprecedented moment in U.S. history.
"She wrote to us, saying, 'I want you to know that your help was not in vain. That reassurance and that relief, and the fact that you were able to address that deeper hunger of social isolation meant more to my father than you can ever know, in a time when I myself couldn't be there for him,'" Elkind said.
This is just one of many examples of how Invisible Hands Deliver has positively impacted lives since the pandemic began.
We recently spoke with Elkind to learn more about the nonprofit's origins, the services it provides, and how people can support the organization.
Springing Into Action During the Early Days of the COVID-19 Pandemic
Elkind said that, when he visited New York City in March 2020, it felt like the city was crumbling around him due to the quickly spreading COVID-19 pandemic.
"I was 2 years old on September 11 (2001), and I remember my mother telling me stories about how for months afterwards firefighters weren't able to purchase their own groceries because people would leap at the chance to help them," he said. "It was a reminder that in times of crisis, New Yorkers come together, Americans come together, people come together."
But during the COVID-19 pandemic, people were specifically told not to come together. Elkind said he saw his father, who is a doctor, putting himself in the line of danger for 19 hours a day working during the pandemic.
All of these observations and lessons came together to form the basis of Invisible Hands Deliver.
"I remember feeling so inspired by my father and his colleagues and doctors, nurses, public transportation workers, grocery workers — people literally putting their lives on hold and on the line, to help out those most in need," Elkind said.
At first, Elkind wasn't sure how he could be part of this movement to help those in need, but he felt compelled to do something, he said.
"I saw a post on Facebook from an old friend of mine, who said, 'Does anybody know of a volunteer service that would allow me to deliver groceries to the elderly on a volunteer basis,' and people were commenting on that Facebook post that it sounds like a great idea," he said.
But nobody knew of an existing organization that was structured for this kind of service.
Elkind said he reached out to his friends and said, "What if we build that organization?"
So, Elkind, along with Co-Founders Simone Policano and Healy Chait, put out a call to action. Within 72 hours, 1,300 volunteers had signed up.
It wasn't long before the new organization had thousands of volunteers and was receiving thousands of requests. The group officially incorporated as a 501(c)3 organization and hasn't looked back since.
How the Organization Supports Vulnerable Communities
Invisible Hands Deliver was founded on a mission to deliver essential items to those in need during the COVID-19 pandemic.
"In just a few months, we have organized over 10,000 volunteers and delivered over $1 million in food, medicine, and other necessities throughout New York City, Long Island, Westchester, New Jersey, and Philadelphia," according to the organization website.
Elkind said the nonprofit really focused on delivering essentials to populations in need. During the pandemic, this often meant delivering food, medicine, and voting ballots to elderly people, sick people, immunocompromised people, and people with disabilities.
And the organization is still carrying out these services.
"Let us know you need help, and we'll match you with a local volunteer in your neighborhood," according to the website. "You'll receive a call from your volunteer to confirm what you need delivered and coordinate payment."
Customers can call the store in advance and pay with a credit card, provide the volunteer with cash beforehand, or reimburse the volunteer via app, cash, or check.
And as the nonprofit was conducting this important work, Elkind said the team began to understand the greater, more persistent need that exists in underserved communities. The fact is these kinds of services are needed at all times, not just during a pandemic.
"My eyes have been opened to an even greater degree to the need in my community and the potential for community-based organizations to do really powerful work," Elkind said.
Elkind said that, in addition to its original mission to deliver essentials to those who are unable to go out and get them, Invisible Hands Deliver is turning its attention to food insecurity.
"Invisible Hands is also committed to fighting food insecurity — a crisis that's been exacerbated by COVID-19. That's why we're partnering with food pantries to ensure our neighbors can always have food on their plates," according to the organization.
Continuing the Mission in a Post-COVID World
The pandemic appears to be winding down in the U.S. But Elkind said that doesn't mean Invisible Hands Deliver is finished with its work.
"I think, as the U.S. exits the pandemic to a greater degree, and as COVID-19 abates, we recognized that the racial and economic disparities that have been unveiled and exacerbated by the pandemic will continue to pervade our society," Elkind said.
He said this means that among Invisible Hands Deliver's priorities going forward will be delivering essentials — such as food and medicine — to people who are experiencing food insecurity.
The organization actually partners with food pantries, mutual aid groups, and religious institutions to deliver free food to people in need and address the long-term injustice of food insecurity.
As a nonprofit organization, Invisible Hands Deliver relies on the support of volunteers and donations to keep it up and running. And there are a variety of ways people can provide support.
People can donate funds directly to the organization via the Invisible Hands Deliver website. Donations are accepted as a one-time contribution or can be set up on a recurring basis. And individuals may be able to bolster their financial support through their employers.
"Did you know more than 1,000 businesses will match their employees' charitable donations and volunteer time?" according to the organization. "See if your company has a matching gift program here. You might be able to double your gift to Invisible Hands at no cost to you!"
And, of course, Invisible Hands Deliver is a great way for our credit card rewards enthusiasts to use their card rewards for a good cause. While the organization is not set up to accept credit card reward donations directly, cardholders with flexible cash back programs can cash in their rewards for a statement credit and use the extra cash to donate to Invisible Hands Deliver.
Advertiser Disclosure
CardRates.com is a free online resource that offers valuable content and comparison services to users. To keep this resource 100% free, we receive compensation for referrals for many of the offers listed on the site. Along with key review factors, this compensation may impact how and where products appear across CardRates.com (including, for example, the order in which they appear). CardRates.com does not include the entire universe of available offers. Editorial opinions expressed on the site are strictly our own and are not provided, endorsed, or approved by advertisers.