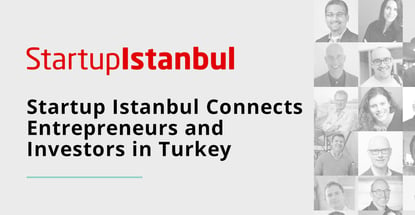 In a Nutshell: The Turkish city of Istanbul, situated near the Asia-Europe border, has long served as a gateway for global exchange. Since 2008, Startup Istanbul has fostered that connection for startups from around the world. Etohum, a leading Turkish accelerator and seed investor, organizes Startup Istanbul, an event that connects thousands of founders, investors, venture capitalists, and executives twice a year. The event offers coaching and networking opportunities and stages exciting Demo Day pitch competitions for a select group of top startups and scaleups. Contingency plans are now underway to host the event in October 2020.
Istanbul, Turkey, has a population of 15 million people and serves as a gateway between Asia and Europe. The ancient city's history stretches back centuries before the start of the common era, and it has been an imperial capital since the Roman Empire.
Today, it's one of the most popular cities in the world, and not only because of its history and culture. Modern Istanbul is growing into a global entrepreneurial hub that has seen hundreds of millions of dollars of recent investments in Turkish enterprises.
And Istanbul is well-positioned to expand its influence globally because Turkish business culture encourages entrepreneurs in emerging markets.
Startup Istanbul is a leading example of how Turkey aims to foster entrepreneurship. The event is a twice-a-year conference and pitch competition sponsored by Etohum, an accelerator and seed investor. Over the last few years, Startup Istanbul has received hundreds of thousands of applications from startups hoping to compete for investor support.
"Since our start in 2008, we've grown from a small local gathering into an international event," Etohum Founder Burak Büyükdemir said. "Now, more than 400 startups have taken the stage at Startup Istanbul, and more than $250 million in investments have been actualized."
And the event plans to continue that momentum into its next 2020 event, scheduled for October, even if it means going virtual due to the COVID-19 pandemic.
Attendees Build Connections Through Networking and Mentorship Opportunities
What started as a pure pitch competition designed to feed Etohum has morphed into a multi-day interactive conference staged in the Volkswagen Arena on Istanbul's European side.
Thousands of attendees and startups encounter more than 500 angel investors and VCs, all ready to nurture the next promising company to success. Past participants include Y Combinator and Microsoft Ventures from the U.S., and notable people like Steve Blank and Tim Draper.
Startup Istanbul also provides opportunities to engage with global enterprises, including Google, Paypal, Facebook, General Electric, SAP, and Mastercard — all of whom have participated in past conferences.
The COVID-19 pandemic turned the scheduled April 2020 Startup Istanbul into an extended virtual conference throughout June. Currently in Turkey, COVID-19 infection rates are decreasing, and the economy is on a tentative path to normalcy. But given that startups from 178 countries have applied for participation at Startup Istanbul over the past three years, plans for the next event, scheduled for October 2020, remain fluid.
"The goal is to organize a physical and online event together, but the alternative is to present it fully online," Büyükdemir said. "We have startups coming from Asia, Africa, Europe, and the U.S., and investors coming from as far away as London, Berlin, and San Francisco. So, we have to check the flights and travel restrictions everywhere."
Sponsors for October 2020 include Czech software firm JetBrains, and booth space is still available. The event also has a lineup of top-tier speakers who will supplement mentorship, workshop, and media services to help startups see their business inspirations through to fruition.
Top Startups and Scaleups Vie for Demo Day Recognition
The pitch competitions, called Demo Days, remain the heart of Startup Istanbul, according to Büyükdemir. A jury of industry and financial experts selected 100 game-changing startups in the early and growth stages to compete for final recognition on the last day of the October conference.
Ten scaleup finalists — companies that have pitched at previous Startup Istanbul events and are now showing substantial revenue or customer growth — will also make their cases.
"Demo Days are the spirit of the conference, and our real keynotes are the startups," Büyükdemir said. "Of course, we invite engaging speakers, and we take care to provide a great networking experience, but the pitches are the heart of the event."
The excitement grows each year because Startup Istanbul offers a chance to entrepreneurs who are often closed off from other opportunities. Countries, including Iran, which has been a source of many applicants, may be excluded from mainstream global investments.
Other top applicant countries include Pakistan, India, Nigeria, and Bangladesh. Alongside Iran, Palestine, Jordan, and other Middle Eastern countries also have strong participation rates.
"Historically and culturally, Istanbul is a melting pot," Büyükdemir said. "The value we bring to global entrepreneurship is our ability to gather all these startups together."
Many successful and well-known brands have emerged from Startup Istanbul. One is the Indonesian firm iGrow, a Demo Day runner-up in 2015. iGrow developed a cloud-based management platform that brings farmers, agricultural land, and investors together to produce high-quality food and sustainable incomes.
"Now we're receiving applications from Indonesian companies that want to compete with iGrow," Büyükdemir said.
Startup Istanbul: A Gateway to Global Entrepreneurship
Plenty of moving parts must align correctly for the upcoming Startup Istanbul to be an in-person gathering. Either way, it will live-stream much of the event just as it has in years past.
Büyükdemir said he sees COVID-19 as a temporary disruption, and much of his attention is directed toward potentially more significant global trends. He said that that's why he sees reason for optimism for Startup Istanbul, his city and country, and for entrepreneurs in general.
"I think Istanbul is on its way to becoming a center for emerging markets," he said. "Over the past few years, cultural, economic, and other factors have combined to generate huge entrepreneurial interest in Istanbul."
So much energy traditionally comes from American higher education institutions and entrepreneurial hotbeds like Silicon Valley. But Büyükdemir said he sees COVID-19 closing off those opportunities from people in other parts of the world. And that was already taking shape before the pandemic emerged.
But when one door closes, another opens, and Startup Istanbul's explosive recent growth offers evidence that entrepreneurship continues to grow globally.
"International connections have long been a source of the flow within Silicon Valley, and with fewer talented people graduating from U.S. schools, others will gain an advantage," he said. "And Istanbul will be among them because, in Turkey, we are very open and welcoming to other nations."
Advertiser Disclosure
CardRates.com is a free online resource that offers valuable content and comparison services to users. To keep this resource 100% free, we receive compensation for referrals for many of the offers listed on the site. Along with key review factors, this compensation may impact how and where products appear across CardRates.com (including, for example, the order in which they appear). CardRates.com does not include the entire universe of available offers. Editorial opinions expressed on the site are strictly our own and are not provided, endorsed, or approved by advertisers.