In a Nutshell: Sound Credit Union has demonstrated its strong commitment to the communities it serves by focusing on ways to support individuals through all waves of life. The credit union shows its support, in part, by donating to local organizations and encouraging volunteerism among its employees. It also promotes financial education efforts in schools and in the areas it serves through a variety of educational initiatives. We are recognizing Sound Credit Union's dedication to its service areas with our Editor's Choice™ Award for Community Commitment.
Credit unions are designed to provide support to individuals in ways that banks often do not, whether it's through delivering competitive rates to its members, above-and-beyond customer service, or bolstering the community.
Some credit unions live up to their community-oriented missions better than others.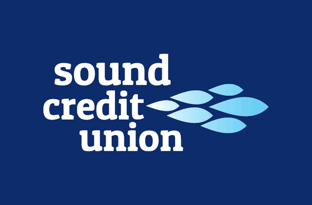 And then there are credit unions — like Sound Credit Union (Sound) in Washington — that demonstrate their commitment to giving back by undergoing a complete rebranding focused on helping its members, employees, and community through all waves of life.
The organization is also dedicated to delivering financial education resources to youth and adults alike and supporting local organizations in a variety of ways.
Because of these efforts and the positive impact it has had in the communities it serves, we are recognizing Sound Credit Union with our Editor's Choice™ Award for Community Commitment.
We recently spoke with Jennifer Reed, Sound Credit Union's VP/Public Relations, to learn more about the organization's initiatives within the regions it serves and how its rebranding reinvigorated a long-standing mission of service.
"We wanted to ensure that we're living up to our purpose of standing with our members, employees, and community through all waves of life," Reed said.
Giving Back Through Volunteerism, Community Support, and College Scholarships
Reed said Sound makes a point to connect and engage with the community and to ensure that its message of support is being heard.
"People helping people is the credit union philosophy," she said. "That is what credit unions are all about. We believe in doing the right thing for our members and communities."
Sound also reaches more people than ever since it acquired The Bank of Washington earlier this year, and greatly expanded its service area. Even before the acquisition, the credit union's engagement level with local organizations was impressive.
In 2018, Sound Credit Union supported 200 local organizations, including youth clubs, schools, parks departments, festivals, and farmers markets. Its support included monetary donations to help purchase equipment, create collective spaces, or facilitate family-focused events.
"In working with community partners at Woodland Park Zoo, Tacoma Metro Parks, and Tacoma Stars, more than 200,000 people were able to have fun and make memories with their friends and families at Sound sponsored events throughout the year," according to the credit union website.
Reed said that, with a diverse group of communities in the credit union's service area, the organization does not take a one-size-fits-all approach. It assesses the needs of each region before deciding how it can best contribute.
Not only does the credit union support causes and organizations at an institutional level, but it shows support by encouraging volunteerism as well. In fact, 275 Sound Credit Union employees participated in volunteer activities that supported the community in 2018.
"Our employees are invested in the communities we serve, giving time to local schools, community groups, and charitable organizations," according to Sound's website. "To help, Sound offers employees up to 8 hours of paid time to support their volunteer efforts."
Sound Credit Union also awarded $14,000 in college scholarships to 15 Sound members who are pursuing higher education.
Promoting Financial Education to Students and Underserved Communities in Washington
"In 2018, we took on a rebranding project. This gave us the opportunity to speak to our members, employees, and community about what they wanted in a financial institution. One take away was the fact that we need to help our communities with financial education," Reed said. "We had already been offering some financial education programs, but we really wanted to do more."
She said Sound visits schools ranging from kindergarten all the way up to the college level to teach students about financial education. The institution hosts financial wellness events, lunch and learn sessions and other financial education sessions at local schools.
"We base the lessons around what the teacher or professor is wanting his or her students to learn at the time," Reed said. "We created a customized Banking 101-type lesson that gets down to the basics of banking. We discuss things such as the importance of having a bank account or what a credit union is."
Other topics include learning about the importance of credit and how to start building credit.
"Sound also offers Social Security and healthcare seminars to our members and the community," Reed said. "We believe it is important that we provide resources to people that can help them prepare for every chapter of their life. Seminars like these are one way we can help people in our community."
She said Sound Credit Union has also partnered with some government agencies, including the Tacoma Housing Authority (THA), to deliver financial education to underserved populations.
"Late last year we partnered with THA and held a Bite of Reality simulation with a group of kids between the ages of 12-16. Each child was given a persona for the day. The persona included an occupation, income, family, debts and student loans. The participants then moved from booth to booth making daily financial decisions," Reed said. "Programs like Bite of Reality are a fantastic opportunity for Sound to work with our community and help to improve financial education for our youth."
Offering Products and Services with Members in Mind
Sound Credit Union's drive to support individuals and communities carries over into its products and services as well.
"There are a few things we've done recently that are meant to serve our members," Reed said. "For instance, to join a credit union, oftentimes there is an opening account deposit of $25 or $50. That may not seem like a huge barrier, but for some people it is."
She said Sound decided to eliminate the opening deposit to make joining the credit union easier for people.
"It seems like a small thing, but it's actually a big win for us," Reed said. "We also offer free checking accounts, and there are no fees associated with it even if you only have $1 in the account."
The credit union is also looking more closely at its internal products to see how they can improve upon them to make them even more accessible and beneficial for members.
"As a not-for-profit co-op, we return our profits to our members in the form of more competitive rates and less fees," according to the credit union website. "That's good for your wallet."
In addition to options for checking accounts, savings accounts, high-interest savings accounts, and health savings accounts, Sound offers a number of loan options for members, including home, auto, and personal loans.
The credit union also provides an array of banking options for businesses, including flexible options to help small and local businesses acquire the funding they need for success.
Reed said Sound Credit Union is always open to hearing feedback from area residents as well.
"As a local credit union, we value all the communities we serve and we are committed to making sure everyone feels welcome. We believe in making connections and doing the right thing for our members, employees, and community, and to stand with them through all waves of life," she said.
Advertiser Disclosure
CardRates.com is a free online resource that offers valuable content and comparison services to users. To keep this resource 100% free, we receive compensation for referrals for many of the offers listed on the site. Along with key review factors, this compensation may impact how and where products appear across CardRates.com (including, for example, the order in which they appear). CardRates.com does not include the entire universe of available offers. Editorial opinions expressed on the site are strictly our own and are not provided, endorsed, or approved by advertisers.