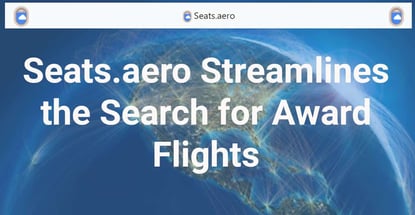 Our experts and industry insiders blog the latest news, studies and current events from inside the credit card industry. Our articles follow strict editorial guidelines.
In a Nutshell: Planning the details of an international trip can be a time-consuming endeavor. Seeking to fund a portion or all of the trip with credit card points can add another layer of complexity. Seats.aero streamlines the search for flights eligible to be booked with credit card points. It's free to use for travelers seeking flights departing within two months from the date of their search. Pro-account users can access expanded search options and enjoy additional features, including advanced search filters and text alerts. 
Airline travel can be a wonderful thing. Airplanes shuttle travelers all around the world in a fraction of the time it would have taken the traveler had they chosen another method of transportation. Professionals pilot commercial airplanes, allowing passengers to arrive at their destinations rested and energized.
But travelers frequently bemoan the problems airline travel can present. Long lines at the ticket counter, security-checkpoint inconveniences, and delayed or canceled flights can cause consternation for travelers. And those are just the issues that arise after a traveler has arrived at the airport.
Securing travel itineraries and coordinating vacation accommodations is a logistics exercise that requires patience and flexibility. Travelers seeking to redeem credit card rewards points for airline tickets can face additional complexities in booking suitable travel.
Ian Carroll has experienced frustration with finding airline tickets that are eligible to be purchased with credit card points. Carroll, a self-described frequent flier, has spent a great deal of time searching for the best flight deals and the most efficient way to spend his credit card points on travel.

"Airline websites can be very outdated," Carroll, the Founder of Seats.aero, said. "I started Seats.aero as a side project to help minimize the time I was spending searching for flight deals. I posted the Seats.aero program on social media and allowed others to use it for free. It really resonated with people — particularly those who've had issues redeeming their points for travel and those who've spent a lot of time navigating websites searching for airline deals."
After introducing the program online, Carroll soon realized the viability of Seats.aero as a business. Managing Seats.aero is now his full-time job.
"Seats.aero's value is conducting broad searches for flights," Carroll said. "I define a broad flight search as one that searches multiple dates and airlines for trips of a week up to a month or more. Seats.aero conducts those searches very efficiently."
A Pro Account Unlocks Additional Benefits
Carroll said he has accrued a significant number of credit card points over the years that are eligible to be redeemed for airline tickets. He uses Seats.aero to locate flights regularly. His frequent use of the site allows him to understand the user experience and identify areas of improvement. 
Carroll said airlines employ a different strategy to price their business and first-class seats than they do for economy seats.
"Airlines charge very expensive cash fares for business and first-class seats," Carroll explained. "Business travelers often book their flights at the last minute. If a seat on a flight isn't booked, then the airline doesn't make any money on that specific seat. As the airlines would rather sell the seat for a profit than have it sit empty, they will offer those seats in exchange for credit card points. That way, they're not undercutting their cash fares."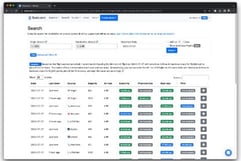 Seats.aero offers travelers two versions of its service. A free version enables users to search for flights scheduled for the two months following the date of the user's search. Carroll said the free version of the site is best suited for individuals who have credit card points to spend and want to familiarize themselves with the options Seats.aero provides.
Users who wish to search flight options extending past two months can enroll in Seats.aero's pro account.
Seat.aero's pro account is available for $9.99 per month or a discounted annual rate of $99.99. Carroll said users of the pro account can cancel their service at any time with no obligation to continue.
"The pro version is really geared toward advanced users who are trying to plan multiple trips or those who have accumulated a lot of travel points to use and are familiar with the point-redemption ecosystem," Carroll said. "We have a lot of users who enroll in a pro account, book their trip, and then cancel their account. Once they've earned more points, they'll come sign up for another pro account. And that's totally fine by us."
Points Provide Access to First-Class Experiences
Seats.aero provides users with unbiased search results. Carroll said the site does not receive financial compensation from airlines when travelers use Seats.aero to book flights. 
Carroll's affinity for travel inspires his work with Seats.aero.
"I've always enjoyed traveling and been motivated by a personal desire to see more of the world," Carroll said. "As I opened credit cards and began accumulating rewards points, I realized that using points was a far more affordable way to get me to the destinations I wanted to explore."
Carroll said flying in Lufthansa airline's first-class section is a travel experience he especially enjoys. The site offers a Lufthansa first-class finder to inform Seats.aero users of the airline's first-class offering. The tool can help users secure a first-class ticket with the carrier.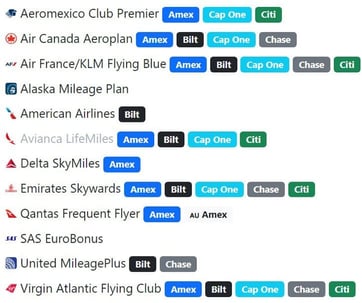 "Lufthansa provides a real first-class experience," Carroll said. "I've sat in Lufthansa's first-class seats a few times. It's a lot of fun and something that I still look forward to."
Seats.aero aims to provide users with transparent search results. Its transparency includes hiding mixed-cabin routings from search results.
Carroll said airlines sometimes present users with flight options that offer different cabin sections within the same one-way travel itinerary. 
"Airlines will offer business-class seats for the first flight of a trip but economy seats on the connecting flight," Carroll said. "Seats.aero users can hide those mixed results and have the confidence they are booking their flights within the cabin level they desire."
Seats.aero Rewards the Flexible Traveler
Carroll said users of Seats.aero's pro account can create alerts to stay informed of updates as flights and seats become available. 
Alerts can enable travelers to respond to flight changes quickly. Carroll encourages travelers to be flexible when they are planning international travel.
"People can grow frustrated when trying to redeem their credit card points for flights," Carroll said. "They have a fixed date in mind that they want to fly. They may also have a certain airport they're looking to fly into or an airline they prefer. To unlock the best deals, you can have a specific destination in mind, but I advise being flexible in terms of how you get there."
Seats.aero's interface enables users to be flexible and save time searching flight options. Carroll said some competitor sites force users to input a specific destination and date for their travel.
"Seats.aero allows users to search twenty dates simultaneously across multiple airports — all in a matter of seconds," Carroll detailed.
Seats.aero is a relatively small company — Carroll said his wife helps the company provide customer support — but it is growing.

Carroll is beta testing a new site, Rooms.aero, that allows users to search for hotel accommodations eligible to be purchased with credit card points. Carroll said Seats.aero and Rooms.aero are the only sites that allow users to search hotel and flight options by points.
Users who enroll in a pro account with Seats.aero also gain pro-account access to Rooms.aero.
Carroll has seen the benefits of travel in his life and wants to help others have similar experiences.
"The hardest and most expensive part of international travel to Europe or Asia is getting across the ocean," Carroll said. "Once you're there, travel within a particular region is so much easier. We can help you solve that difficult part."