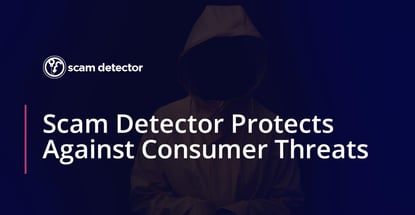 In a Nutshell: Threats from fraudsters looking to steal credit card and identity information are a constant in today's connected world. That's why millions of people in more than 190 countries have turned to Scam Detector for free daily updates designed to protect them from the latest scams. And threats don't end with credit cards — if something seems too good to be true, it usually is. That's why Scam Detector also helps consumers make smarter choices everywhere, whether they're in person, on the phone, or online with a potential fraudster.
Credit card fraud is a dynamic threat, and criminals are continually inventing new ways to scam cardholders out of money. In the past, that may have required someone to physically steal a card or account number, but today, various forms of card-not-present fraud demand constant attention.
And with so much business conducted online and over the phone, there's nowhere for consumers to hide. Any time someone uses a card to make a purchase, everything associated with the transaction could be vulnerable.
Fortunately, knowledge is the most powerful weapon in the fight against fraud. And the best way for consumers to protect themselves against card scams is to stay informed and remain thoughtful about their transactions.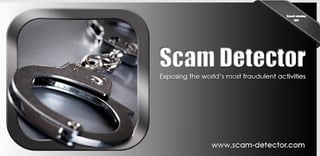 Scam Detector is a handy way to stay updated on the latest types of scams and fraud. It gathers daily updates in one place and makes it easy for consumers to understand what they need to do to stay protected.
Scam Detector even offers a weekly email newsletter that more than 50,000 subscribers access to learn about the newest scams.
Editor in Chief Sorin Mihailovici started Scam Detector in 2010 after his friend lost nearly $30,000 in a scam. It attracted media coverage and grew quickly, as one of the first websites dedicated to comprehensively exposing online fraud.
Now, it's the internet's leading fraud prevention platform, with millions of people in more than 190 countries using it to learn how to keep criminals at bay.
"We initially started exposing about 300 scams in 2010, and now, we're at over 1,400," Mihailovici said. "Whether it's card scams or travel scams, you name it, we've got it covered."
The Card Scam Landscape is Always Changing
Scam Detector's content is always free, and the site includes a trending section so readers can see all of the latest developments in one convenient location.
As COVID-19 began to take hold this past spring and summer, for example, Scam Detector started to address acts of fraud associated with the CARES Act Paycheck Protection Program in the U.S. It also tracked government-based financial assistance programs in other parts of the world.
What Mihailovici sees in surveying the card fraud landscape is that technology keeps creating new opportunities for criminals. What was once a straightforward cat-and-mouse game is now a much more complicated battle.
"The card scams of 10 years ago were much simpler than the scams of today," Mihailovici said. "Instead of just copying account numbers and stealing mail, scammers now use all kinds of ecommerce and phishing techniques, and it's a completely different ballgame."
The section on card fraud issues reflects that. In an article on no-credit-check loan scams, Scam Detector cautions against accepting income-based card offers online or over the phone and includes instructions for reporting potentially fraudulent activity to the Federal Trade Commission.
Another article summarizes card fraud types and recommends that online shoppers only log on to demonstrably secure sites and never click direct email links or report personal information over the phone.
Scammers are increasingly skilled at faking legitimate websites and manipulating individuals psychologically, especially during times such as a global pandemic.
"These phishing scams are so complex, so intricate, that they basically hijack people's account numbers in a way that it's even hard for even more experienced people to detect the red flags," Mihailovici said.
Detecting Red Flags of Fraud Wherever They Appear
Given the stakes, it's important for the team at Scam Detector to issue daily content updates. If visiting the site every day isn't yet someone's routine, its free weekly newsletter ensures that readers can stay up to date.
And it pays to be vigilant.
"With caller ID spoofing, scammers make you see the name of your financial institution on your phone. You think you're speaking with someone at Chase Bank, but in reality it's just an impersonator," Mihailovici said.
And with technology for cloning well-known destinations like PayPal and Venmo, it's amazingly easy for criminals to get you to upload your funds directly to them.
"I could make a replica of the Chase website within hours using code that's available to anyone who wants it," Mihailovici said.
The team of professionals at Scam Detector monitors fraud developments on a global scale using an array of tools. It then applies critical insight to stay ahead of the game.
"A good chunk of our information comes from Google Trends and Google Alerts," Mihailovici said. "So we're looking daily, every hour, at whatever has been Googled and using that to spur our research."
A lot of time is also spent surveying news sites — always as a starting point, not an end unto itself, with the team carefully vetting all content before it goes up.
"These could even be small sites from anywhere in the world," Mihailovici said. "Somebody publishes a story about a scam you've never heard of, and we're getting that right away, just as the article is published. We get tons of tips from those."
Scam Detector: The Best Protection is Common Sense
Scam Detector gleans useful information from its experts and the web, but another significant source is its own audience.
"Many of our 50,000-plus newsletter subscribers are very active, and they send us whatever they come across," Mihailovici said. "Not all of them are scams, so we have to do some work with that, but the ideas matter."
The newsletter reports on fraud wherever it occurs, not just when it pertains to credit cards. Scam Detector addresses scams related to specific sites, including Amazon, PayPal, and Venmo. It also branches out to cover everything from home and auto purchasing to job scams, so there's something useful for everyone.
Mihailovici has found a common thread running through all the mitigation advice on Scam Detector, with caution bringing its own reward.
"Now, there are all kinds of protection tools, including RFID wallets to protect the data on your cards," Mihailovici said. "But, from a practical standpoint, fewer people would fall victim to scammers if they took a common-sense approach. When it comes to card scams, the most important thing is never to input data on any website unless you are completely sure it has SSL encryption, meaning that the web address has an S at the end of the HTTP."
When seeking credit, it pays to go directly to the source rather than rely on the convenience of an online application.
"I would recommend that when you apply for a credit card, you actually go to the bank, or at least have a phone conversation with them, even if you're applying online," Mihailovici said.
Advertiser Disclosure
CardRates.com is a free online resource that offers valuable content and comparison services to users. To keep this resource 100% free, we receive compensation for referrals for many of the offers listed on the site. Along with key review factors, this compensation may impact how and where products appear across CardRates.com (including, for example, the order in which they appear). CardRates.com does not include the entire universe of available offers. Editorial opinions expressed on the site are strictly our own and are not provided, endorsed, or approved by advertisers.