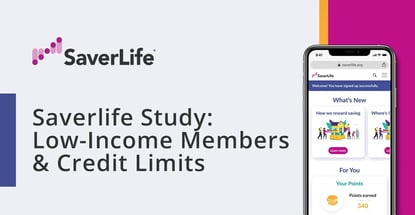 In a Nutshell: The past year has been challenging for millions of people across the country in a variety of ways due to the COVID-19 pandemic. Health and financial issues are certainly chief among those challenges. SaverLife has been following the economic impacts of the pandemic on its users and observed that credit card debt increased by 5% from 2019 to 2020 for low-income users. Meanwhile, credit card debt increased by 211% for those earning more than $50,000 per year. This data suggests that low-income households are maxing out their credit cards and may be forced to seek other ways to make ends meet. SaverLife helps people stay on track with their finances by incentivizing saving money and providing users with a variety of opportunities to begin saving and stay on a healthy financial track.
For much of the past year, businesses and individuals in the U.S. have been met with numerous unprecedented and certainly unexpected challenges.
The COVID-19 pandemic has cost more than 500,000 U.S. residents their lives and wreaked havoc on the health of millions more. The virus also threw businesses and schools for a loop while people guarded their wallets and cautiously watched the economy.

Certain industries thrived during the pandemic — as did a number of billionaires who saw their wealth increase significantly — while many independent businesses struggled and even shuttered their doors permanently.
Similarly, major stock market investors watched their assets soar while low-income individuals struggled more than ever to make ends meet. It only makes sense that these individuals from low-income families would be forced to turn to credit cards from time to time to get by.
A recent study from SaverLife confirms this to be true among its members. Low-income users not only increased their credit card debt but data indicates that many of these individuals may have hit their balance limits and have nowhere else to turn from here.
SaverLife users who earn more than the low-income threshold of $50,000 per year also increased their credit card debt over the last year.
We recently spoke with SaverLife Director of Research Tim Lucas and Director of Communications Shana Beal to learn more about the results of the study and about the SaverLife platform.
Low-Income Households Have Been Met with Unique Challenges in the Past Year
Beal said that SaverLife has been closely following how the economy and SaverLife users have been affected by the pandemic over the past year.
"People are being creative," Beal said. "We looked at some data toward the end of the summer when the extra unemployment benefits were running out, and they were reaching the end of their runway."
She said the company heard stories about how people who were not able to log enough hours at one job began looking for another job to make up for it. People also began talking more to their landlords if they anticipated challenges in paying their rent.
Watch on
"We're trying to provide resources for our members so that they realize there are options besides taking out high interest loans," Beal said. "Based on what we're seeing in the forum is a lot of people are talking about giving coaching advice on how to negotiate with your landlord and wondering what protections they have."
She said SaverLife has seen time and again over the past year that many low-income consumers are not aware of what kind of benefits and protections are available to them. But SaverLife's financial coaches are ready and available to provide users with guidance.
"It can feel pretty hopeless," Beal said. "And (these benefits) are not well communicated to people. We want people to know that you can call your utility company and see if you can put yourself on a payment plan. There are options."
The company wants to help users understand how to take advantage of every option available to them when it comes to saving money, particularly in these challenging times.
"Also, when you can save $5 here and $1 there and put it away — everything counts," Beal said. "And you'll also have the skill that you need to build (savings) back up."
A Notable Year-Over-Year Rise in Credit Card Debt
"Since the pandemic started, what we've typically been looking at is how a series of different financial measures for a group of people who joined our platform at the beginning of 2019 has changed," Lucas said.
The company is essentially comparing 2019 data with 2020 data for these SaverLife users, and monitoring further changes as well, he said.
"One of the biggest surprises for us is how similar savings rates have been with some of the major differences being around when the stimulus hit, we clearly saw more money going into savings," Lucas explained.
After July, when the expanded unemployment insurance ended, the company observed more money coming out of people's savings accounts.
"The interesting thing with credit card debt is that we've seen it going much, much higher," Lucas said. "What gets lost in the data that the mainstream media presents is what's happening to people at the lower end of the economic spectrum. We've been looking at the data and seeing that median credit card debt for our population is much higher."
He said this is because people are working far less while trying to pay expenses that continue to rise.
At the time of our conversation, SaverLife was preparing to publish a report that illustrates this point through the lens of parents who have been forced to homeschool their children.
"Not only are they earning much less because they're having to make really difficult choices about caregiving, but at the other end of the spectrum they're spending much more," he said. "And the government safety net hasn't necessarily been flexible enough to adjust to that."
Ultimately, out of the 2,000-plus low-income members SaverLife observed, the company saw that year-over-year credit card debt climbed by an average of 5%, according to the company.
"This can be attributed to the fact that 73% of SaverLife's nationally representative member base report being unemployed, or underemployed, and the fact that spending on staples, such as groceries and utilities, for most families have increased due to distance learning," according to SaverLife.
However, when SaverLife looked at credit card debt for members earning more than $50,000 per year, it discovered that credit card balances rose 211% from 2019 to 2020.
"This discrepancy suggests many if not most low-income people have approached or are soon approaching their credit card limits," according to SaverLife. "While a 5% increase for low-income populations may not sound like much, given the fact that balances have increased as much as they have for people at higher income levels may signal that lower-income people have hit balance limits, and may be running out of liquidity."
SaverLife Helps Create Prosperity Through Savings
Those familiar with SaverLife won't find it surprising that the company is paying such close attention to low-income earners during this challenging time.
"We've been around as a company for about 20 years, and our mission has remained the same which is to help working families create prosperity for themselves, their families, and for their futures through savings," Beal said.
The company has done this in a variety of ways over the years, but in the past five years, SaverLife has really focused on leveraging technology to bring the most savings to as many people as possible.
"SaverLife (formerly EARN) is a nonprofit on a mission — to inspire, inform, and reward the millions of Americans who need help saving money," according to the company. "Through engaging technologies and strategic partnerships, we give working people the methods and motivation to take control of their financial future."
Through technology, the company has been able to scale up its platform and now has nearly 500,000 members across the country who are saving thanks to SaverLife, Beal said.
"We know that many people aren't necessarily ready to start saving," she said. "We always talk about saving as the thing we want to do tomorrow. So we try to make it fun and engaging. We have prizes you can win. There are various competitions that we run — races to save $100 and $500 that you can win prizes for."
The company also facilitates a forum so SaverLife users can engage with each other, Beal said. The company website also offers up an extensive library of resources from certified financial coaches that SaverLife users can quickly and easily access.
Telling Stories to Dispel Myths About Poverty
SaverLife is always looking for new ways to engage users and help people save money. It also seeks ways to raise awareness about the importance of saving money and dispelling myths that persist about poverty.
Beal said SaverLife launched a website this year about those hardest hit by the pandemic that directly addresses the often misunderstood stories of people who are struggling financially.
"For example, I think there's a myth out there that people take large infusions of cash and spend them on things they don't need. And that isn't true," Beal said. "That's not what we've seen in our data over the years, and it's not what we hear from our members. They're using it to buy food, pay off debt, cover medical expenses, and most importantly, save."
The new website will quash these preconceived notions about poverty by exploring real-life stories of people facing financial hardship and how they are handling it.
Advertiser Disclosure
CardRates.com is a free online resource that offers valuable content and comparison services to users. To keep this resource 100% free, we receive compensation for referrals for many of the offers listed on the site. Along with key review factors, this compensation may impact how and where products appear across CardRates.com (including, for example, the order in which they appear). CardRates.com does not include the entire universe of available offers. Editorial opinions expressed on the site are strictly our own and are not provided, endorsed, or approved by advertisers.