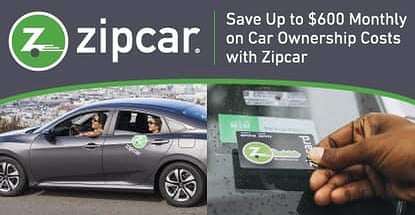 In a Nutshell: Navigating big, congested cities can be hard for someone who's on foot. For some people, owning a car isn't an option. Surveys have found that car ownership costs the average consumer more than $700 each month when factoring in the cost of gas, insurance, loan payment, and other maintenance fees. Meanwhile, members of Zipcar's car-sharing service have been found to save as much as $600 each month by avoiding those fees and paying only when they need a car. Zipcar has more than 60 makes and models of vehicles available to reserve by the hour or by the day across the globe. Reservation fees covering gas, insurance, maintenance, and 180 miles of driving. Members can reserve a car online or through a mobile application, go to the designated self-serve parking area where the car awaits, and use their Zipcard to unlock the vehicle. //
Anyone who has ever lived or vacationed in a big city knows how difficult getting around can be. Taxis and ride-sharing services are costly for short-distance trips and even more so for longer rides. It's a whole other story if you need to move large items.
While some residents of congested cities choose to purchase a car, the cost of maintaining a vehicle can extend well beyond its monthly loan payment. While a recent survey found that car owners reported spending an estimated $345.40 a month on their vehicle, the true the average cost is more than twice that amount.

"What people don't think about when they're estimating what they spend on their personal car is hidden costs like gas, maintenance, insurance, and tolls," said Katelyn Chesley, Public Relations Manager at Zipcar. "It's a lot more than just your monthly payment."
Zipcar makes it easy for people around the globe to maintain access to transportation without paying the costs associated with vehicle ownership. As the largest car-sharing network in the world, Zipcar members pay a membership fee of $7 per month, or $70 annually, to get their own Zipcard. The card allows members to reserve cars that are located in parking lots across every major city and most small- and mid-sized metro areas.
"You can make a Zipcar reservation on our website or mobile app, even if it's just seconds before you want to drive it," Chesley said. "You then walk up to the car, tap your Zipcard on the windshield of the vehicle and the doors will unlock. The keys are tethered to the steering wheel, allowing you to take your Ziptrip to wherever you want to go and return the car to the same spot."
Reservation rates, which are charged either hourly or by the day, include the price of gas, insurance, maintenance, and the allotted 180 miles of driving per day.
"Our service is designed mostly for those who live in large, congested cities where personal vehicle ownership is not easy or convenient," Chesley said. "We take the hassle out of owning a car while still providing people with access to transportation."
Chesley said the average Zipcar member saves $600 per month by paying for a car only when he or she needs it, instead of incurring the costs of constant upkeep that come with a personal car.
Reservation Fee Includes Gas, Maintenance, and Insurance
Reserving a vehicle from Zipcar requires adherence to the company's Six Simple Rules. These include reporting any damage inspected on a car before the reservation period begins, keeping the car clean and free of any trash or personal items, not smoking in a Zipcar, returning the Zipcar on time and to the proper parking spot, keeping pets in carriers, and, most importantly, making sure the car has at least a quarter-tank of gas at the end of a reservation.
While the price of gas is covered under the reservation cost, drivers may be required to stop at a gas station to put fuel in the vehicle if it falls below a quarter of a tank.
"There's a prepaid gas card in the visor of every car," Chesley said. "Members are responsible for filling the tank, but they don't have to pay for the gas out of their pocket."
The reservation rate also includes basic insurance for the vehicle, but a more comprehensive damage-fee waiver can be purchased as an add-on to the reservation agreement.
reservation periods can be extended beyond their agreed-upon time if the vehicle is not already reserved for another member during the requested extension.
More than 60 Makes and Models of Cars Available
Zipcar gives members a choice of more than 60 different types of vehicles, from economy to luxury, to match whatever the occasion may be.
"We have vehicles ranging from small economy cars to luxury cars like BMWs and even pickup trucks and moving vans," Chesley said.
So whether you're moving within the city, going to the grocery store, or headed out on the town for a date, Zipcar has a vehicle to match your mood.
"We offer such a wide range of vehicles because we like to think of ourselves as an alternative to car ownership or truck ownership where we offer the community a variety of vehicles that enable them to ditch the keys to their personal car," Chesley said.
Plan Your Ziptrip by the Hour or by the Day
Zipcar's green logo can be found on vehicles around the globe, but the company isn't content with its current status as the largest car-sharing network in the world. Chesley said the goal-oriented company has a clear vision of where it wants to go over the next several years.
"Our broad plan for the future is to have more cars in more places," she said. "The overall vision is to get to a point where car sharers outnumber car owners, and to do that, we need to make our service even more flexible and more convenient."
Future reservation options that will be a part of what the company calls its "Comprehensive Suite of reservation Options" are being tested in major markets around the world. Members in Boston have access to one-way reservations that allow vehicles to be returned to a location that is different than where they were picked up. In London, a "floating service" is being tested where members can return their vehicles anywhere within a specified zone instead of a dedicated parking spot.
"Our cities are only becoming more congested and more difficult to get around, so the more we can discourage personal car ownership, the better it will be to live in those big cities," Chesley said.
Advertiser Disclosure
CardRates.com is a free online resource that offers valuable content and comparison services to users. To keep this resource 100% free, we receive compensation for referrals for many of the offers listed on the site. Along with key review factors, this compensation may impact how and where products appear across CardRates.com (including, for example, the order in which they appear). CardRates.com does not include the entire universe of available offers. Editorial opinions expressed on the site are strictly our own and are not provided, endorsed, or approved by advertisers.