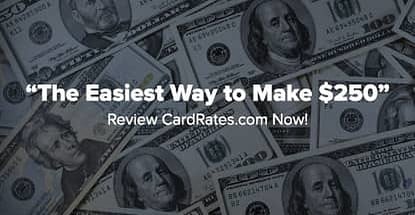 credit card news
Our experts and industry insiders blog the latest news, studies and current events from inside the credit card industry. Our articles follow strict editorial guidelines.
We aim to be the top resource on credit cards, and we need your feedback on how we're doing. Please take a minute to review us and you can win $250. Only 50 entries will be accepted.
Step 2: Review Us on TrustPilot
One more step! To complete entry, you must submit your review of CardRates.com now:
Are we a "5-star" site? (we hope so!)
Review must be 15+ words and thoughtful/relevant.
Discuss our resources for credit cards, financial news, guides, etc.
Is our site easy to use? Do you like its design?
After submitting your email, you'll then be asked to rate us and provide a 15-word (or longer) review of our site. Simple! And again, we'll never email you unless you win the $250.
This will be a short contest, as we expect to hit the 50-entry limit very quickly. The winner will be chosen randomly and sent an an email alert once we reach 50 total entries. By entering, you are agreeing to abide by our very simple Contest Rules. Thanks in advance for your awesome review of CardRates.com, and good luck winning the $250 large!