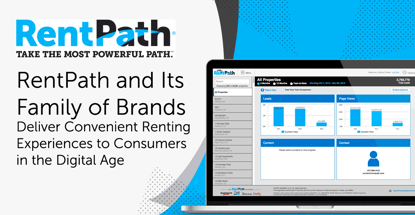 In a Nutshell: RentPath maintains a family of leading brands focused on making the rental process painless for modern renters. Rentals.com is geared toward helping seekers find the perfect single-family home, and its RentPay solution allows renters to pay any landlord through a convenient electronic process. Apartment Guide, RentPath's longest-running brand, focuses on potential renters looking for the ideal apartment but who may need a little extra guidance along the way. And Rent.com is aimed at helping renters who know what they want to move nimbly through the renting process with as few headaches as possible.
Back when I was a graduate student in a new town, I moved into a different rental property every year I was in school — then again after I graduated. And again.
College towns tend to have an abundance of rental properties available, which means the selection of properties and the rental experiences can vary broadly. My very first apartment was in a large complex geared toward graduate students and young families.

My second rental was a condo owned by a quirky older woman who was very discriminating about who she rented to. She only accepted checks as payment (although electronic payment methods were available), and she was known to stop in unannounced to check on one thing or another.
Thankfully, I'm now my own landlord. But younger people are staying in rental properties for longer than they have been in the past thanks to the rising housing market, student loan debt, and other factors.
While we have covered the mortgage industry from numerous angles in the past, we thought our readers would be interested to gain some insight into the state of renting and one of the leading companies helping to make renting as convenient as possible — RentPath.
RentPath combines today's technology with an understanding of various renting demographics to deliver a high-quality and less stressful rental experience. Although many consumers may not know RentPath as a household name, renters likely recognize its flagship brands — Rentals.com, Apartment Guide, and Rent.com.
We recently spoke with RentPath's Ryan Davis — Chief Product and Marketing Officer, Business — and Krista Nordlund — Chief Product Officer, Consumer, to learn more about RentPath's brands.
"Renters are always looking for different types of homes or apartments," said Nordlund. "Depending on the queries they're entering online, different audiences will reach one of our various sites. They're often all starting with the same intent."
Rentals.com Focuses on Single-Family Rentals and Allows Families to Pay Any Landlord Electronically
Rentals.com is the RentPath brand primarily focused on providing a convenient experience for those seeking single-family and smaller homes, said Davis.
"Millions of unique visitors come to The RentPath Network to find single-family houses, apartments, condos and townhouses for rent," according to the Rentals.com website. "Rentals.com is also a powerful tool for property owners and managers. It increases rental responses and delivers accurate reporting and tracking for proven results."
The company recently introduced its RentPay solution, which simplifies making monthly payments for many renters.
More than 43 millions households pay rent each month in the U.S., according to Rentals.com, and 80% of them are still paying with a check or cash. Many times this is due to the landlord's hesitancy to adopt forms of electronic payment.
"There are a lot of landlords who own only one, two, or three rental homes," Nordlund said. "For many of these people, it's not their primary business, which explains why they're not accepting electronic payments."
But Rentals.com identified a gap in this process because many renters today prefer to pay electronically rather than mail a check or cash — or possibly even drop off a check to the landlord.
"Through its enhanced RentPay solution, ANY renter can pay ANY landlord online via eCheck, debit, or credit card, regardless of whether the landlord has an account with Rentals.com," according to a press release.
Renters simply submit their payment online to Rentals.com, and the company mails a check to the landlord, regardless of whether he or she is registered on the platform.
Other convenient features on Rentals.com include the ability to search thousands of up-to-date property listings on the website. Renters can search by preferences including price range, location, number of bedrooms, and even by school district or neighborhood.
The Long-Running Apartment Guide Focuses on Facilitating Rentals for Multi-Family Communities
"Our longest-held brand is Apartment Guide, which readers may be familiar with as the books that used to be available in seemingly every grocery and convenience store in America," Nordlund said. "We printed our last book in 2014 and have been fully digital ever since."
She said that Apartment Guide today is geared toward the renter that needs a bit more help selecting a property than do other renters.
"We've gone deep on the amount of detail that we provide for each property," Nordlund said. "We invested heavily in acquiring more user review data for the large number of apartment communities that we service."
This in-depth information helps renters who are new to renting or who haven't rented in a long time become more comfortable with the process.
"We're trying to build an experience that can assist renters through that decision-making process and give them helpful tips and tools," Nordlund said.
Apartment Guide also makes it easy for potential renters to ask questions about the process when they may not know what their next steps should be.
"With an unmatched search capability, amplified by constantly refined tools and industry insights, Apartment Guide provides consumers with a clear and simple guide to apartment living through content-rich apartment listings in a user-friendly format with Internet, mobile and social media solutions," according to the Apartment Guide website.
Apartment Guide also employs first-to-market apps for iOS and Android devices and provides strategies for social media, such as Social Ads Express.
"By using proprietary, first-party data from its websites, Rent.com and ApartmentGuide.com, RentPath is able to provide specificity, speed and unmatched value in reaching consumers who are currently looking to rent," according to a press release.
With a Focus on Younger Generations, Rent.com Provides Resources to Help First-Time Renters Along the Way
RentPath acquired Rent.com from eBay in 2012, according to Nordlund.
"It's been successful both as a brand and as a consumer platform for us," she said. "Our intent is offer a user experience for renters who know what they're looking for — decisive renters who are confident in their decision-making and want to move nimbly through the process."
This site is designed to support that quick decision-making, she said.
Whereas Apartment Guide is focused primarily on apartment queries, Rent.com brings in users looking for a broad range of options, from houses, townhomes, condos, and other property options.
"Whether searching for an apartment or home, renters can make informed decisions with valuable information like HD photos, 3D floor plans, and certified ratings and reviews from actual residents," according to Rent.com.
Rent.com is primarily focused on the millennial demographic, but the website provides categories for a variety of renter types, including first-timers, experienced renters, pet owners, students, budget-conscious consumers, high-end rental seekers, seniors, and military members.
Potential renters can search through houses and apartments in trending cities, including Atlanta, Boston, Minneapolis, and Nashville.
The website also provides a convenient Moving Center section where renters can receive free moving quotes, explore moving tips, direct questions to moving experts, and access other valuable moving resources.
RentPath and Its Mission to Make Renting Easier for All
"Our goal is to make it easier for renters to find and live in a place they love," according to the website. "Until we touch every renter, in every rental property across the world, our job is not complete."
Davis said finding and securing a rental is often a painful process for consumers.
"RentPath's mission is to take away the pain and stress from the process," he said. "It's easier to book a hotel room than to book an apartment, and it shouldn't be."
Advertiser Disclosure
CardRates.com is a free online resource that offers valuable content and comparison services to users. To keep this resource 100% free, we receive compensation for referrals for many of the offers listed on the site. Along with key review factors, this compensation may impact how and where products appear across CardRates.com (including, for example, the order in which they appear). CardRates.com does not include the entire universe of available offers. Editorial opinions expressed on the site are strictly our own and are not provided, endorsed, or approved by advertisers.