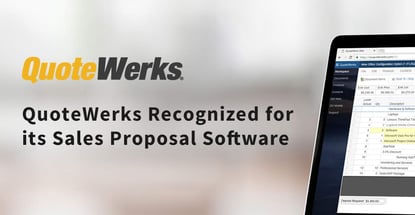 In a Nutshell: In 1993, John C. Lewe IV led an IT company and needed software to provide customers and prospects with price quotes. When he couldn't find a satisfactory solution on the market, he taught himself how to program and built QuoteWerks. Lewe's creation has steadily grown into a market-leading sales quoting and proposal software. For its commitment to serving 86,000 businesses in 101 countries, QuoteWerks has earned our Editors Choice™ Award for Top Quoting Software.
John C. Lewe IV was the energetic and ambitious leader of an IT consulting firm in 1993. He saw the efficiencies that software brought to office tasks, including calculating and word processing.
But when it came to communicating price quotes and seeing them through to the sale, he was on his own. He would manually flip through product catalogs and type up proposals in Word, Excel, or an equivalent.
Instead of just accepting that inefficient situation, Lewe decided to do something about it. He taught himself how to program and the distributors had their catalogs available on floppy discs. Then, he integrated that information into a program for automating price quotes.
It was originally intended for internal company use, but Lewe's creation, which became QuoteWerks, proved to be highly desirable. Now, more than a quarter-century later, QuoteWerks serves more than 86,000 businesses in 101 countries.

QuoteWerks saves businesses time and money and makes sales processes more effective for those on both sides of the transaction. And it is the leading sales quoting and proposal software solution on the market.
"Talking to customers, I can tell you that quoting times decrease dramatically with QuoteWerks," said Brian A. Laufer, the company's Vice President. "What would take three or four hours of research to get pricing availability from different vendors goes down to 10 to 15 minutes."
A lot has changed since QuoteWerks was founded, but one thing that remains the same is the company's commitment to its customers. Feedback has driven much of the change that turned QuoteWerks into an industry leader.
For continually delivering what its customers need to help their businesses run better, QuoteWerks earns our Editor's Choice™ Award for Top Quoting Software.
Innovation Keeps the Company Ahead of the Curve
Laufer said he was the second employee hired by QuoteWerks in 2000, and he remembers the company had about 500 customers when he joined. And today's team still provides the same personalized customer service.
"Any one of our customers can pick up the phone anytime, give us a call, and ask a question," Laufer said.
Part of the reason that's possible is that QuoteWerks functions so seamlessly. When Laufer started with the company, only a handful of competitors were on the market. A quick Google search for quoting software today, however, returns at least 100 QuoteWerks alternatives.
"We've found ways to differentiate ourselves from the very basic quoting tools out there," Laufer said.
Although early versions of QuoteWerks were successful in automating proposal and invoice creation, the end document was always a static PDF or RTF. When a sales rep emailed the PDF to a prospect, the rep had no way of knowing whether it was ever opened.
One of QuoteWerks' most important differentiators revolutionized that process — the advent of QuoteValet. The product signaled the company's move away from PDFs to dynamic document management.
"QuoteValet quotes are interactive, and the rep is notified when a customer first views the quote and each additional time they look at it," Laufer said. "Now the rep knows how interested that prospect is in the quote. Not only that, customers can electronically sign and accept the quote and provide payment."
QuoteValet documents integrate with more than 80 distinct payment gateways and facilitate a level of interactivity Lewe could only have dreamed about in 1993.
"Reps can even allow customers to make changes to proposals on their own so they don't have to go back and forth," Laufer said.
Integrations and APIs Bridge the Gap Between CRM and Accounting Platforms
Payment gateway integrations are just part of how QuoteWerks works within existing business software environments. The key to the platform's lasting success is building in a wide range of integrations in response to customer requests and changes in the marketplace.
"Basically, if you come to us with a payment gateway, it's going to work out of the gate," Laufer said. "And we actually have more than 55 native integrations in QuoteWerks, plus APIs that allow third parties to write integrations as well."
The most fundamental native integrations are with customer relationship and professional services packages — the foundation of the sales approach for many businesses. It also offers integrations with accounting platforms.
QuoteWerks bridges the information gap between those two crucial business aspects and puts sales teams in charge of driving revenue as opposed to manually connecting prospects to products.
"With large businesses that use tools like Salesforce, sales managers want reps to create opportunities," Laufer said. "With QuoteWerks, when you create a quote, the opportunity is automatically created for you. And it has the level of detail that was already in the quote, so it saves a ton of time."
Lewe's original idea of integrating vendor and distributor data has also carried through to the modern QuoteWerks product. The product enables customers to create quotes with lease options through integrations with Great America and several other financial providers, in addition to payment integrations.
Third-party providers sell QuoteWerks add-ons through its marketplace, which shows how far the ecosystem has expanded around the products.
QuoteWerks: Products for Companies of All Sizes
Not surprisingly, QuoteWerks caters to the IT industry. But IT isn't the only sector where QuoteWerks caters to the IT industry given that that's where Lewe and Laufer both got their start.
QuoteWerks has several editions and fits businesses of all sizes while keeping SMBs top of mind.
"Licensing is based on concurrent users, so if you have a small company where you have five people who need to do a quote but only one at a time, you only need one license," Laufer said.
The Standard Edition includes basic contact database integrations and quote-creation tools, while the Professional Edition includes additional accounting integrations and baseline CRM integration.
At the top of the list is the Corporate Edition, which is built for scalability and synchronization and includes integrations to high-end customer relationship and systems administrator platforms.
No matter where the business falls on the QuoteWerks pricing spectrum, the product saves time and effort — and time is money.
Meanwhile, QuoteWerks continues to include new functionality — up to 200 new features every year — to stay abreast of the competitive landscape and ensure the product remains a go-to choice for tens of thousands of businesses and counting.
Is Lewe still tinkering away as a programmer in front of a 1990s-era monochrome monitor developing those new features? Probably not — he has developers to help him now. But the spirit that fueled Lewe's original creation is still alive at QuoteWerks — and it earns the team our Editor's Choice™ Award for Top Quoting Software.
Advertiser Disclosure
CardRates.com is a free online resource that offers valuable content and comparison services to users. To keep this resource 100% free, we receive compensation for referrals for many of the offers listed on the site. Along with key review factors, this compensation may impact how and where products appear across CardRates.com (including, for example, the order in which they appear). CardRates.com does not include the entire universe of available offers. Editorial opinions expressed on the site are strictly our own and are not provided, endorsed, or approved by advertisers.