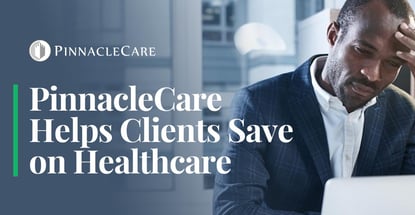 In a Nutshell: PinnacleCare isn't a healthcare provider or an insurance agency. Instead, PinnacleCare health advisors and support staff work with those entities to help individuals weigh all of their available options. That expert advice can help patients choose the best strategy for a positive outcome. As the U.S. healthcare system grows increasingly tech-centered and complex, more employers, employees, and families turn to PinnacleCare for consultative services that generate better results and lead to fewer credit catastrophes.
The U.S. healthcare system is complex and filled with competing interests. Many people question whether health care decisions they make will result in the best outcome.
The healthcare system has become a realm of technology and specialization making consumer decisions on the right course of action increasingly complex.
Not only do the right health choices access some of the best care available, but the wrong moves can consign consumers to uncertainty, undesired outcomes, and even credit-busting financial disaster.

That's why PinnacleCare, a concierge health advisory firm, aims to bring the system's positive benefits to more people. The organization helps its clients navigate the healthcare system and insurance companies. PinnacleCare works with individuals, families, and employers to help people get the care they need while managing the cost of that care and maintaining their financial standing, including their credit scores.
PinnacleCare, led by CEO Miles Varn, MD, accomplishes that by building carefully vetted and lasting relationships with top specialists.
"We have what I would call side-door access to the top health systems," Varn said. "We're not pushing anyone out of the way or jumping the line, but because we help our clients organize and educate themselves, we make their appointments much more efficient for the physicians we work with."
Dedicated case managers and support staff conduct the important coordination work that makes those efficiencies possible.
"Our goal is always what's best for the patient," Varn said. "Better care, fewer unnecessary procedures, and more volume and experience lead to lower costs."
Plans Designed to Improve Access and Engagement
PinnacleCare was founded in 2001 to fill a market gap so evident it was surprising no one had filled it before, said Varn.
"People have financial advisors and legal advisors they can trust to take care of their real estate and other assets," he said. "But they don't have healthcare advisors."
Almost 20 years later, PinnacleCare individual and family memberships continue to provide professional guidance and support for managing client health care needs. Its staff of former health care administrators, nurses, and social workers, among others, draw on their institutional knowledge and provider relationships to generate the best possible outcomes.
Soon after its founding, the company incorporated services for organizations and employers. PinnacleCare group memberships integrate with existing company insurance plans to help employers achieve better ROI based on improved employee engagement and better managed treatment plans.
Watch on
"When we first started working our way into the employer world, we'd hand our prospective partners a book of anecdotal stories about the lives we'd saved," Varn said. "They'd read that and ask, 'OK, but where's your data?'"
Today, more than two dozen academic institutions and private providers contract with PinnacleCare to perform remote second opinion work.
"Companies want to make sure that when they're spending $2 million a year to treat hemophilia or some other high-cost condition, they're spending those resources wisely," Varn said.
PinnacleCare shares that expertise with local practitioners to optimize diagnoses and treatments throughout their systems.
"It ensures that decisions are thoughtful and in the best interests of the patient," Varn said. "We've grown over time, but the cultural backbone of the company is still that service to individuals and families."
Cost Transparency Fosters Balanced Decision-Making
PinnacleCare's broader view helps patients avoid unnecessary procedures and ineffective treatments — and provides transparency in the cost of health care. Getting the big picture on provider costs can mean the difference between a manageable health care outcome and one that — from a credit or financial perspective — can be detrimentally life-changing.
"For most of us, and I include myself in this, you have to think about staying in-network and then staying either local or regional," Varn said.
PinnacleCare can deliver elite-level resources and expertise in cost-sensitive environments. That might mean facilitating a remote second opinion with a top specialist and bringing that expertise to a local practitioner. That strategy may save someone from undergoing an expensive but unnecessary procedure.
"Having the information necessary to make those financial decisions is important for most people, especially because of increasing out-of-pocket costs and deductibles," Varn said. "We've got to be thoughtful."
A routine colonoscopy performed by a gastroenterologist in a hospital setting may be billed at $4,000, for example. The same procedure, performed by the same gastroenterologist in an outpatient setting, could be billed at $800.
Even if the cost were somewhere in the middle, many patients , would need to put an expense that large on their credit cards
"We're increasingly going to find businesses to facilitate that type of transparency for consumers in terms of costs," Varn said. "In New York, you can do your MRI at an academic medical center and spend $2,000 or go to a center in midtown with the same type of machine and spend $750."
PinnacleCare Promotes Positive Plan Management
PinnacleCare health advisors coordinate client appointments and facilitate access to emergency resources when needed. Health advisors will even accompany clients to their medical appointments.
"The health advisor maintains the relationship with the patient or family, but in the background, we have six medical directors who work with them to ensure their intelligence is broader," Varn said.
The health advisor also spearheads 24/7 access to universal care records created and maintained by PinnacleCare.
"We collect those records from all over, review them, and organize them, and then recommend different ways to improve health or comply with treatment strategies," Varn said.
Its research team produces content about disease and treatment options and risk benefits, also addressing a wide range of other health-related topics.
"The research team performs the objective function of assessing providers. Finding out who's the best based on credentials, training, and experience," Varn said.
When emotions run high in dealing with real-life health situations, PinnacleCare knows how to engender confidence.
"With a breast cancer called DCIS, we know there's a 30% misdiagnosis rate," Varn said. "So for every DCIS case, wherever it comes from, we do a second opinion, usually at Johns Hopkins. We've now had three women who were initially diagnosed with DCIS who didn't have it."
All three women had been scheduled to have surgery, radiation, or chemotherapy. The misdiagnoses had the women contemplating unnecessary treatment and worrying that the cancer could return — emotional suffering they should never have experienced.
"That's where a company like ours can help people," Varn said. "We're connected to all the U.S. health system has to offer, and you will have the best opportunity for a great outcome."
Advertiser Disclosure
CardRates.com is a free online resource that offers valuable content and comparison services to users. To keep this resource 100% free, we receive compensation for referrals for many of the offers listed on the site. Along with key review factors, this compensation may impact how and where products appear across CardRates.com (including, for example, the order in which they appear). CardRates.com does not include the entire universe of available offers. Editorial opinions expressed on the site are strictly our own and are not provided, endorsed, or approved by advertisers.